How to Win Google-owned SERP Clicks
Updated 8.17.2023
Many who have adhered more to an "it's always worked" search marketing plan are feeling the shakeup in new Google search results. Zero-click searches cause worry about losing clicks through to websites.
Is Google the ideal place to connect with consumers? Even if you end up with zero clicks to your website? If you gain an offsite click or phone call that wins a new customer, does it matter that the person never visited your website? This article seeks to provide answers.
Whether a search query is text or voice-based, Google's AI Assistant strives to garner more action and to transcend competitive smart speakers. The result is that Google SERP entities are overtaking much of what users see. To compete in this new and more visual search, it helps first ferret out how Google appears to bucket rankings for different types of users and search queries.
Google's new "About This Result"
There is a new reason to embrace entity recognition. Google's new "About this result" provides people with a description of the site, indicates factual content, and whether or not the website provides a secure connection. This info is no longer just for branded search but will display in a lot of YMYL queries. This means that the possibilities for improving your CTR are exciting. It's expanding to include "insight about what the site says about itself, what others are saying about the site, a link to top news coverage & related information."
Society overall no longer has the patience to scroll to the bottom of a Google search results page nor much reason to. If your site is slow loading or not ready for featured snippets, which are at the top, are you ready to accept that another business is showing up? What if the answer to "What is SEO?" is "Showing up in Google SERPs"?
People want the best answer now; they know of Google. They trust Google to provide it. How you are going to win both onsite and offsite clicks should be part of your business strategy going forward. So let's define what a Google SERP is. Service-based businesses can win featured snippets on the SERP as well as eCommerce types. They each have unique opportunities.
What are Google SERP features?
A Google SERP is any Google Search Engine Results Page (SERP) feature that is new and is distinctly different from a traditional organic result.
SERP Features are specialized display results on SERPs that are meant to provide users with quick and helpful information. Google intends for these to require minimum user effort. These features include AdWords and Product Listing Ads, Related Answers, Instant Answers, Knowledge Panels, Things to Do, Local Packs, Image Carousels, Featured Snippets, Top Stories, AMP, Discover More Places, etc.
An agile and fast turn-around marketing team are necessary to win and keep SERP featured snippets.
Is the Worry About Losing Clicks to Google a Valid Concern?
Google is aware if these shared "zero click" concerns.
The answer is "that depends". Danny Sullivan posted on Twitter that at Google internal "Ranking Fairs" he posted "webmaster ecosystem concerns" that he hears, with this image included and following text below. As our Google Search Liaison, I really appreciate this effort.
Unclear how stats produced by this third party
Doesn't reflect "traffic" might rise overall
Doesn't explain types of searches, such as if things like whether or calculations included
May count search refinement as "zero click"
Doesn't even define what "no-click" means
SEO is more effective than ever for lead generation; it has proven afresh as a key business performance driver. Yet, search is ubiquitous, increasingly vertical, demands immediacy, is more visual, and is enormously topical. This evolution includes a shift from website solutions to platform solutions. And Google owns an enormous platform!
Create a network of high authority properties around your brand that will properly reference who you are. Featured snippets offer multiple benefits for any business that can use them effectively. Earning them means that you rank in position zero, which is the ultimate ranking spot possible without paying for advertising.
The Power of Real-time SEO Featured Search Results
Many traditional elements of SEO carry over into today's digital marketing workflows and is nearly synonymous with "change". New breakthroughs for search marketing professionals begin with live, real-time data that right-now drives research and new strategies to produce in-the-moment visibility. Your business can show up faster in Google immediate answers.
Marketers see trends developing and actually recognize that they are already established. Insights in this article will enable you to predicatively produce or optimize content to capitalize on what may at first seem to be a threat. Your business has the chance to displace competitors pre-emptively by learning how to respond to Google's intent to keep users clicking within Google desktop and mobile search results.
What we learn from RankBrain is that consistently creating high-quality content that users actually want to consume and share will encourage them to interact on your site more. This investment in organic search engine optimization will improve your SERP rankings. This also factors into trust, which then plays into winning rich results.
Consider the percentage of modern-day search queries that answer a question or produce a combination of rich results above the standard blue links. Only by observing consumer behavior and your competition will you know which clicks have moved to Featured Snippets, People Also Ask boxes, Knowledge Panels, rich local map features, images, or other enhancements such as Google Quick Answers. It is now even possible to browse flights, hotels, jobs, events, and other searches that were previously only available via external websites – directly on Google.
If you rank well for answers and keywords that you're not intentionally targeting, and you assume this will last, know that another business will eventually come along and steal this position. Today, it is best to build out new pages for them or adjust your existing content strategy to win more featured snippets.
This article will help your business find how to gain topic subsets that can compete for the best richly featured Google SERPs in each space. Carve out a nice niche for yourself. Focus and think big; competition always comes.
Clicks from Highly-visible Google Rich SERPs
As search experts, we are pressed to keep pace with Google's evolving landscape and the increase of answer-focused rich results. If an e-Commerce site has JSON-LD markup implemented correctly now impact bottom-line revenue streams. New and more SERP enhancements and featured rich results nabbing "position 0" means less organic traffic that most businesses have been relying on. Your business cannot afford to bury its head in the sand if this unsettling trend will stop that way. Updates to Google's interface are resulting are fewer organic blue links to external websites. Rather users prefer the highly visible and immediate data information presented in Google-owned assets within the SERP.
As the digital marketing community, it is easy to fit the shoes of how changes to Google's changing interface impact our worlds, but with the need to be customer-centric, hearing the opinions of the typical Internet user is paramount to survival online.
At Hill Web Marketing, we research to understand better how users search, how they engage Google's search results, and both the type and the quality of information that gets consumers more often.
Coming up on the last quarter of 2023, the big question is how to win clicks in Google's Search Generative Experience. Since the goal is a better user experience on the SERP, your search marketing goals need to align. We start by determining the most important SEO KPIs and setting up multiple reporting metrics.
One metric we always track is where SERP clicks come from via Google Search Console reports.
Google's Changing Landscape is More "Off" Your Websites
Is Google favoring its own SERP and sending people to websites less often?
Definitely. Many organic opportunities are diminishing as Google Search provides more business details and answers in its own immediate search pages. Historically, most businesses have heavily depended on Google to bring them organic web traffic; but recent Google algorithm updates rely heavily on BERT and NLP, which makes SEO wins more challenging than it used to be.
The increased use of mobile devices and voice search means that adopting new digital technologies is needed to gain visibility in modern Google Rich Cards. Consumers are not concerned with a business's need to track the customer journey, they want immediate and point-on relevant answers. The brands that are quick to gain a deeper understanding of today's fast-paced customer journey, and leverage this knowledge to predict and deliver personalized web experiences, win the customer.
Integrating your Google Analytics and Google Ads will uncover deeper insights and help you better manage both organic and paid search.
Where does Google extract an answer summary from?
"The summary is a snippet extracted programmatically from what a visitor sees on your web page. What's different with a featured snippet is that it is enhanced to draw user attention on the results page. When we recognize that a query asks a question, we programmatically detect pages that answer the user's question and display a top result as a featured snippet in the search results. We provide our clients with SEO and SEM Reports that show where you have gained a featured snippet.

Like all search results, featured snippets reflect the views or opinion of the site from which we extract the snippet, not that of Google. We are always working to improve our ability to detect the most useful snippet, so the results you see may change over time. You can provide feedback on any Featured Snippet by clicking the "Give Feedback" link at the bottom of the box." – Google Webmasters Support**
Google is committed to making improvements. So expect evolutions. We are told, "When a user asks a question in Google Search, we might show a search result in a special featured snippet block at the top of the search results page." It is their SERP, and they are the king of it.
Google Innovates New Ways to Answer Users Questions in Immediate Results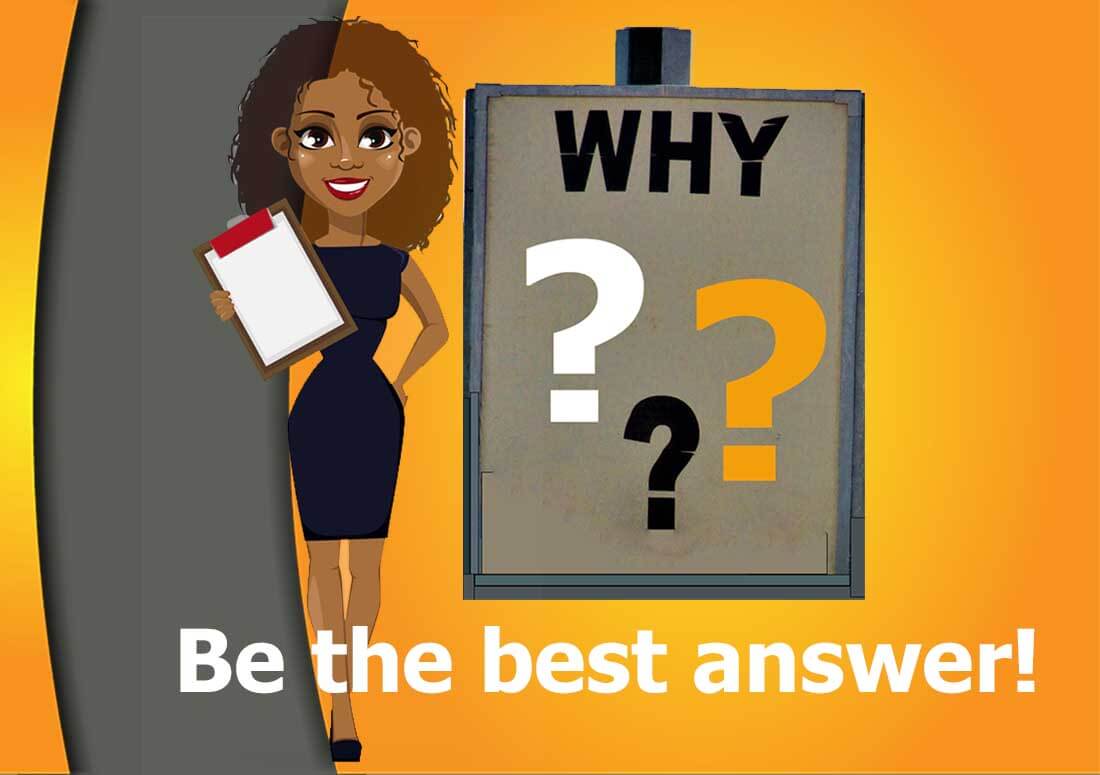 How do you win SERP features?
6 ways to win SERP features:
Do market research to identify similiar search phrases.
Select your query type and target accordingly: Question, Preposition or Comparison Query.
Provide the best answer to user's questions.
Make your content better understood with article structured data markup and other types.
Incorporate your targeted query in page headings and sub-headings.
Format your content in a SERP Feature friendly manner.
While many wondered what became of Google Plus engagements and relationships once the platform retires, Google let us know that "You can now embed a stream of posts from a Google+ search in the new Google Sites". Google doesn't mind "failing forward". It's growth and services come from trails, tests, and better adaptions.
It also builds on its previous launch and certainly Google has a plan in mind. Many suspect that the search engine has tired of the hefty numbers of poorly optimized sites it had to pull from and is doing something to circumvent the need for them. Or, indeed, Google is cognitive that it's a business that relies on revenue streams just like every other business. Why wouldn't it be keeping its revenue growth and survival in mind? It's the dominance factor that worries many.
Google now provides "Short Names"; which is the ability of a business to create a custom, short URL for users to quickly access their Google Business Listing. It works by entering the short name URL in the browser's address bar, for example, "g.page/[yourcustomname]". When I customized mine, g.page/hillwebcreations, it leads directly to a Google site which automatically populates my Google Posts.
18 Types of Features Snippets on the SERP
Start by optimizing for conversational phrases. This is your opportunity to offer a preview of your content and increase chances to improve mobile organic CTR.
1. Answer Boxes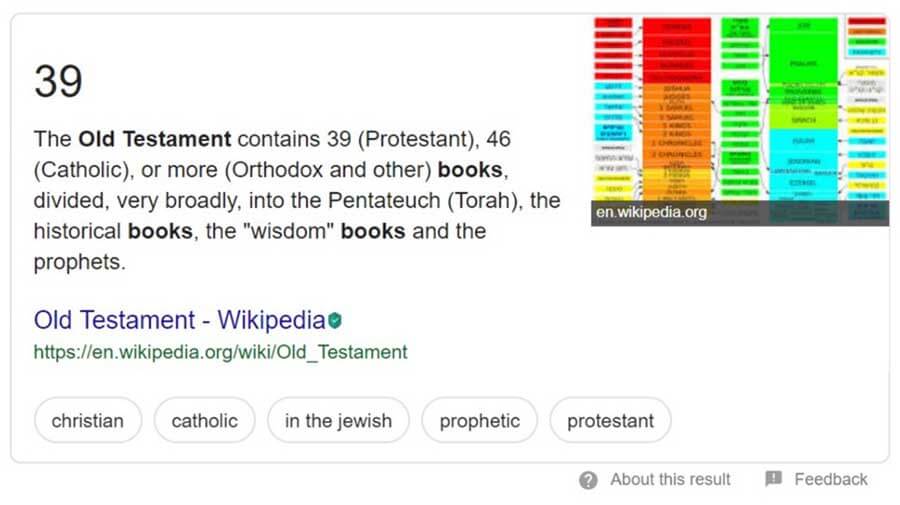 Look at this example chocked full of answers! When I ask "how many books are in the old testament?", I can further indicate my intent by selecting from the bubble menu between five different types of Bibles. With a huge volume of search queries coming in the form of a question, the types of Answer Boxes is taking many forms, for example:
A Reformatted Knowledge Panel (consisting of the answer with expandable links)
Simple answer box (no expand option)
Unit converter
Time converters
Google Translate
Calculator
Dictionary definitions
Google showing users cornerstone answers in the clickless SERP that visually dominate its most valuable real estate is causing many digital marketer's to stop in their tracks. It forces us to face the question: Where is all this headed?
2. People Also Ask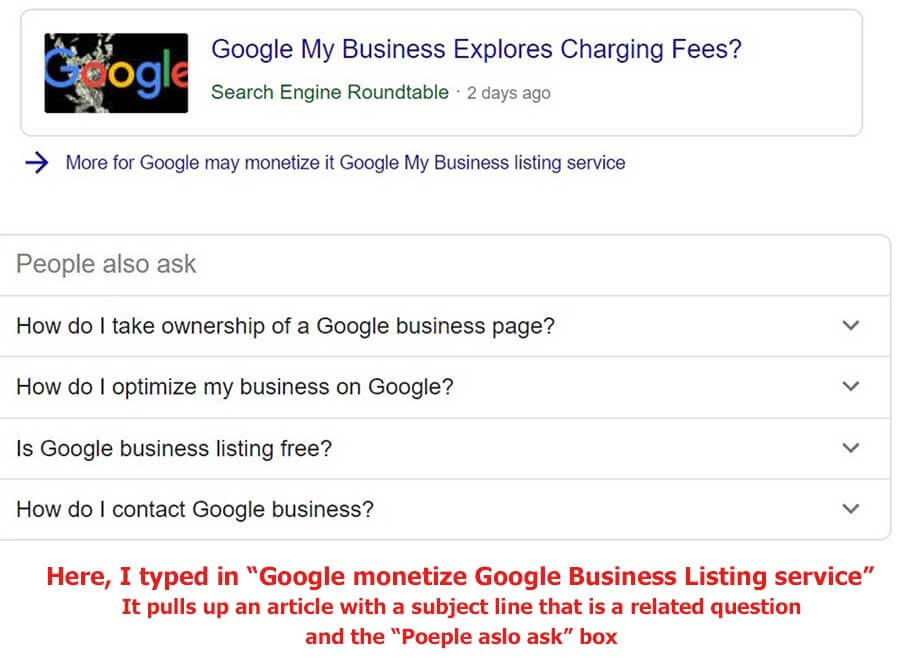 Also call "Related Questions". As voice search becomes more a way of daily life, your local businesses can be there with answers by focusing on optimizing your websites. By putting in place answers to frequently asked questions for local information and concisely answering general information, you are ready when they ask.
It's rare that a single marketing case study definitively answers a question that has been pondered by advertisers and researchers for decades. But the questions people also frequently ask can be keep shallow and short, yet very effective.
These are algorithmically-generated questions that Google associates with the user's search. Each question expands by clicking on the right-hand arrow and is similar in appearance to a Featured Snippet. Related Questions are integrated into organic results and where they show up in SERPs currently varies.
Try a search phrase in Google and observe the section called "people also ask" that is displayed. It is typically found under the featured snippet in position zero of the search results page. When optimizing a web page for featured snippets, why not also optimize for "people also ask" queries? Note how this is a condensed way to present SERP results in a table. When you click on a "people also ask" query, the drop-down reveals content scrape
On mobile devices, People also ask content consistently wins the zero position within the mobile SERP. In our tests every time they showed up, they were always above other organic results. To win in Minneapolis local search marketing, we provide solutions and answers that local residents need.
3. Searches Related To
You'll find this if you skim to the bottom of a Google search results page, where often a section called "Searches Related To [phrase searched]" gives searchers more options. Currently, often four to eight phrases are listed, depending on the amount of related data that Google can source. They are additional search phrases that one can consider preparing optimized content for, as a high number of these also gain rich-featured snippets when searching them directly. It is another way Google Search is trying to best answer the searcher's query, much like People Also Search For SERP results.
We are finding these displayed with sets of image thumbnails or as the more commonly found two-column list. Notice the huge amount of space that Google is dedicating to this SERP feature!
4. Site Links

Currently Google automates site links at their sole discretion.
"We only show sitelinks for results when we think they'll be useful to the user. If the structure of your site doesn't allow our algorithms to find good sitelinks, or we don't think that the sitelinks for your site are relevant for the user's query, we won't show them," says Google.
5. Knowledge Cards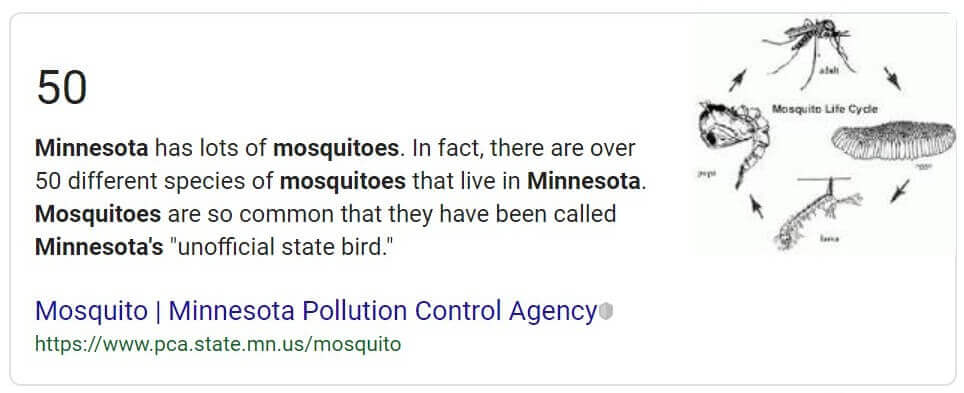 Featured Knowledge Cards only exist on the SERPs.
Examples: Google's weather card offers a smaller illustration but populates the temperature graph and the chances of precipitation in the bottom details. Well-known sports entities have new cards with a stat tab that informs followers to know how a player performed in recent events.
6. Rich Cards
Google rich cards are an additional way for companies to increase visibility in highly visual search results. Most often rich cards rely on structured markup (schema.org) to exist and are displayed at the very top of the page when queried. Users seem to find them alluring.
These appear much like the sponsored product ads from Google Ads, but rich cards can be gained organically. Google clarified that the rich cards for a particular search phrase may be a mix of websites or multiple rich cards from the same source.
Ensure that each required field is correctly mark up with JASON-LD in order for you to have changes to gain a rich card. Take advantage of filling in any additional fields to further enhance your rich cards. Often these start as a recommendation and later become a required entity.
7. Top Stories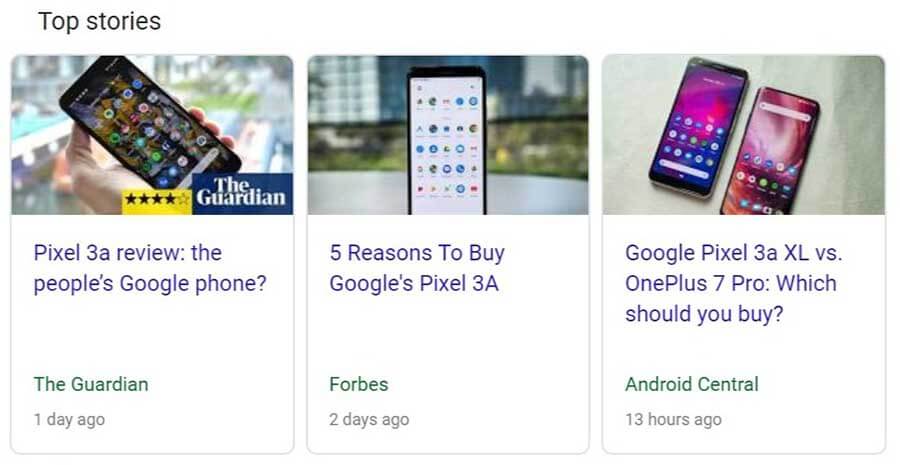 In December 2016, Google switched-up its news results and is now displaying Top Stories. This looks more like what already existed in mobile searches. Currently, it displays a card-style set of stories to present readers with the most relevant stories of the day. Google indicates that the update was in the works for months, and wanted to more closely match its mobile version. Google Top Stories remain powered by Google Search versus Google News, meaning that it continues the effort to avoid fake news and to include a broader list of results.
8. Similar Products Carousel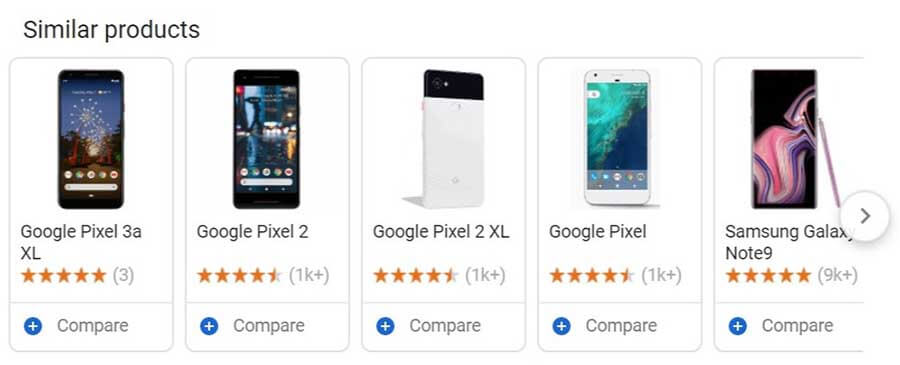 Product carousels are evolving and taking various display forms depending on the number of items in the carousel and the search intent. If you're searching for the top SUVs in 2019, for example, you may see stacked images along with basic price details, ratings, and the number of reviews. Shoppers have the chance to use this for making the click closest to their interests. In this case, the click will more likely be from a prospective buyer with high purchase intent. Or they may be presented with the handy option of comparing the details of similar products right in SERPs. Google continues to update schema integration; find new wins in rich results in Google Search Console insights.
9. Detailed Products Comparison Card
This takes the buyer one step closer to a purchase without ever leaving Google's prime SERP space. Here is an example of a detailed product comparison carousel which produces individual product cards when clicked on. Notice how much information the reader has without clicking anywhere! But what if your product did not show up here? If the shopper never sees your brand here, it definitely diminishes your chances of gaining the sale. Test and fix broken and depreciated product schema for better product visibility in SERPs.
10. Price Information and Travel Boxes
The travel industry is intensely competitive. And Google shows up immediately with more information than airline ticket shoppers have ever had before. A full table of carriers, flight length, type of flight, and price put the most important information immediately in front of buyers. The Google Shopping tab provides a lot of product details, which can be pulled from paid ads as well as from your Google Business Profile products.
Examples of Expanded Google Flight Information Modules:
Prior to Google's advancements to search pages, the glory days of digital marketing let travel brands focus solely on optimizing website pages based on their content, so they could appear as high as possible in natural search results, and bid against Google Ads competitors. This was purely keyword-based and gained text ads on the right-hand side of the organic results.
If I can see this when searching for a flight to visit my son in Washington DC, I know immediately who offers the best price. It's truly a flight finder embedded right in the SERP. It's a handy feature from the user's point of view. However, some flight airlines may be as thrilled about it.
This flurry of concise information entity additions to SERPs, with only an extra click, lets searchers gain more information directly from Google. And when it comes to Google's own services, such as modules for Google Flight Search and Hotel Finder, the information found on Google-owned SERP real estate is quite staggering. This is different from indexed pages on your website; it is new off-site search marketing.
11. Google Dataset Search Results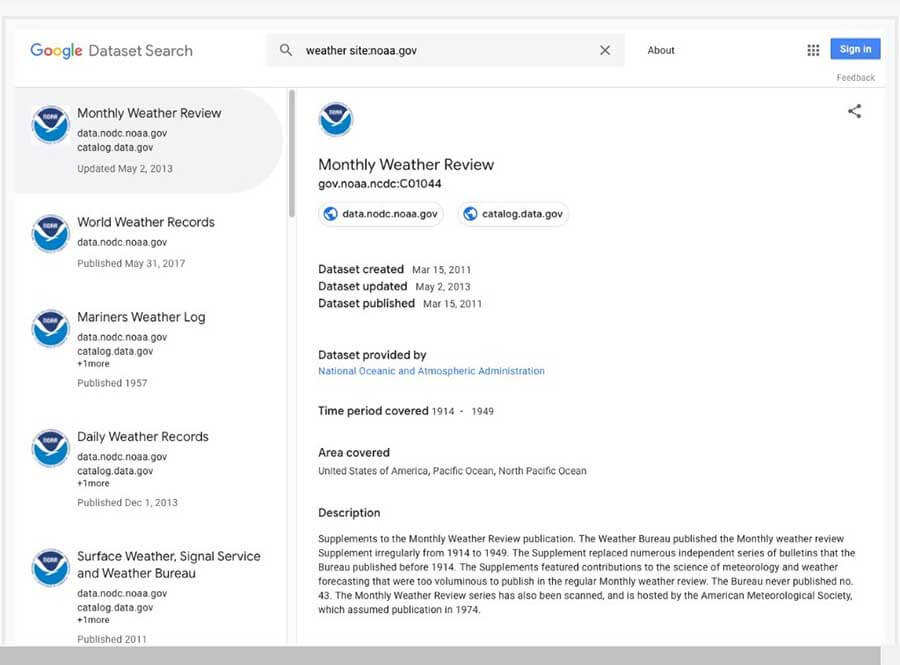 Your structured content can fill the need for bringing in relevant traffic sources.
If a user triggers the Google Dataset search result when seeking information, instead of returning websites, GoogleBot returns a list of databases.
Basically, if we define a Direct Answer as something that lets the prime user gain information without a click to a website as the source, there is a ton of data entities here. Each entity in a Google Cloud Firestore mode database has a key that uniquely identifies it.
Datasets are easier to find when you provide supporting information such as their name, description, creator, and distribution formats as structured data. Google's approach to dataset discovery makes use of schema.org and other metadata standards that can be added to pages that describe datasets. The purpose of this markup is to improve discovery of datasets from fields such as life sciences, social sciences, machine learning, civic and government data, and more". Learn more about Google Data Sets Search.
12. Discover More Places
A "Similar Places List" or a "Top places List". The latter is a non-sponsored list curated by any content provider and must be independent. Once you have gain followers for your brand, it is possible to show up in Googe Now Cards or Google Discover.
If your business gains visibility in such a list, consider it an honor as such lists come from real people, namely reviewers. Becoming listed here makes your business given the assumed status of a real trend and a trusted place of business.
13. Featured Video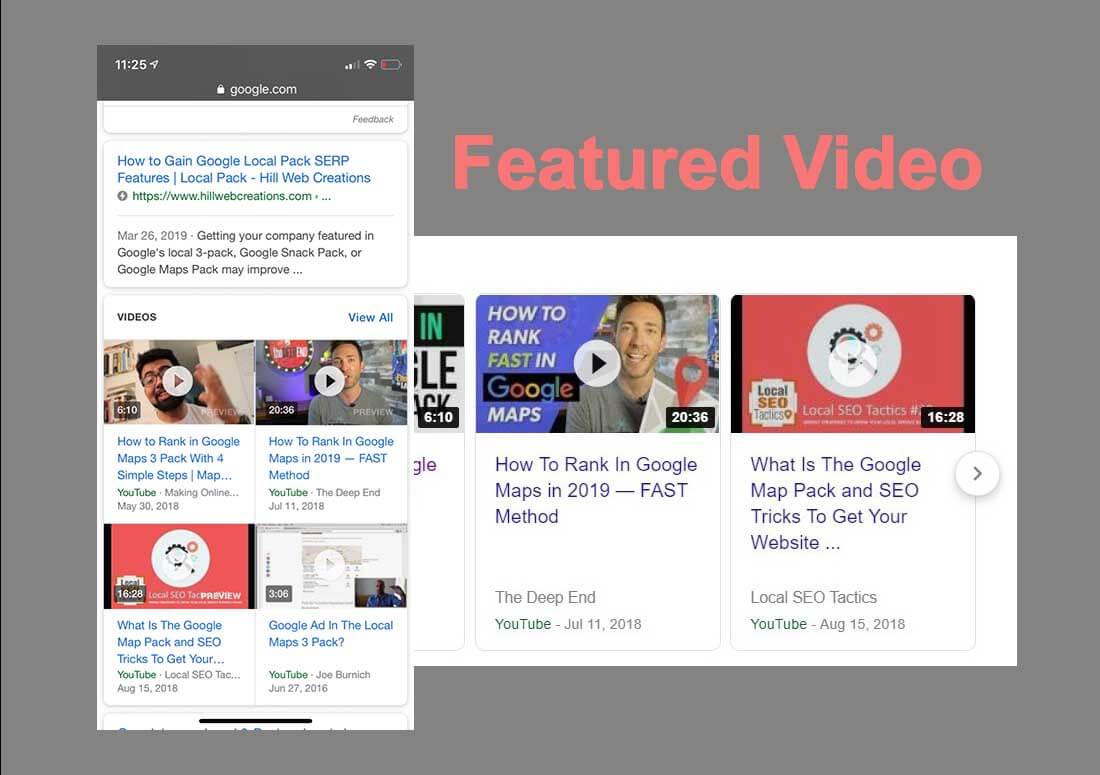 Video marketing, video how-to's, video news clips, etc, are all on the rise as a format on content that people prefer. Businesses should embrace video content to match what users want.
Strikingly simple, an optimized video has a good chance of winning clicks from a Video Featured Snippet. Add corresponding text in natural language on the web page where it resides, then add video structure data according to best practices. This text then outlines the details and steps users can visually follow. It may appear in a separate quick answer box or within the description of the video (YouTube description). A video link to its corresponding article URL is provided. Then upload it in your video sitemap and add linking to your article from the description of added to your YouTube video.
14. Local Featured Events Zero Position Box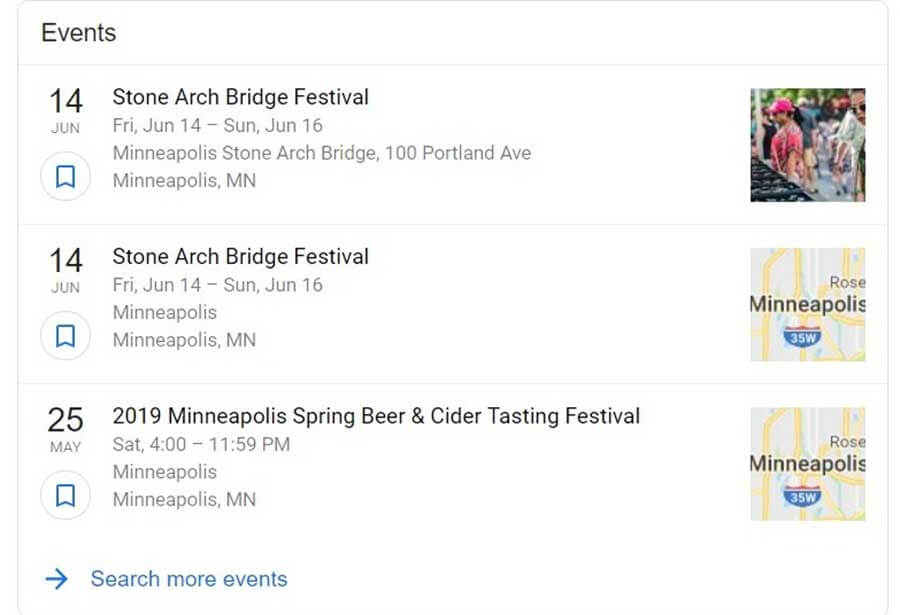 Here is an example of where a business that is using event mark up and/or Google Post for events has another chance for valuable visibility. This is a great way to get notice of your events out to the general public to increase ticket sales.
Currently it is like free advertising on Google. Not only that, if the user clicks here in Google SERPS, it will take them to a link to a direct website for making a purchase. This will further stretch your event advertising dollars.
15. Featured Lists or a Table Snippet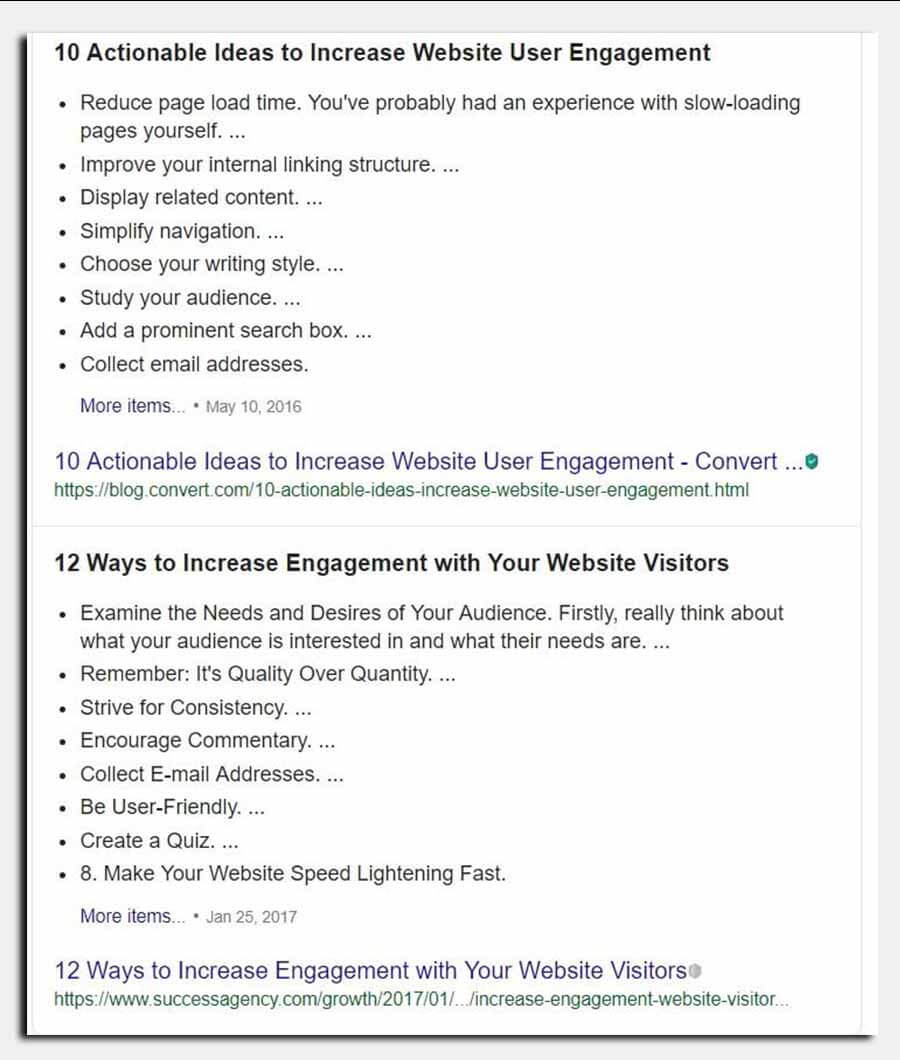 Any business can gain a competitive advantage by using lists in their content. With SEM you pay for keywords, that in my experience, can show up right here. And they include a link to your web page for users to read more. Lists and tables put information in easy to consume format. They enrich your articles and expand your reach when Google sources them in its SERPs.
Keep them concise. A featured snippet cannot be gained if your lists are too wordy.
16. Google Local Maps Pack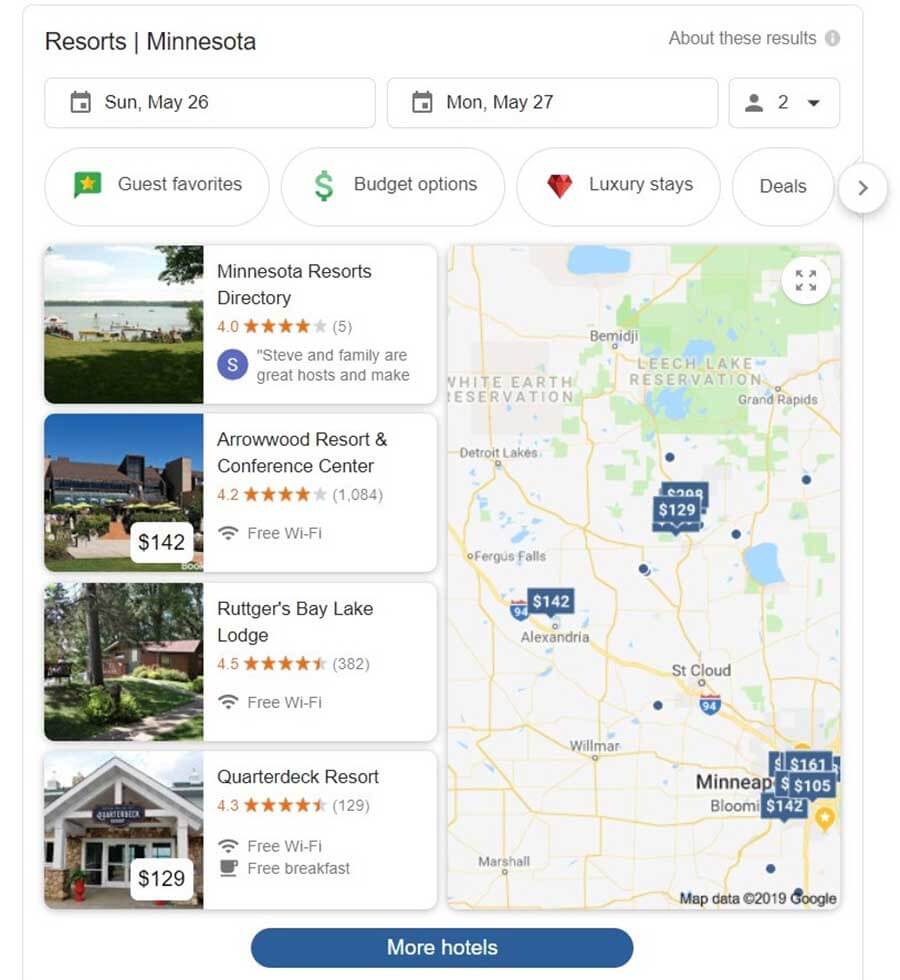 When a person searches in Google, often Google responds with very different search results. Sometimes it a website. But one of the most often presented featured results is the Google Local Listing Map Pack. It quickly tells consumers where to shop, of reviews and consumer ratings, offers, which can lead to where they do business. Learn how this works and why it is a powerful local marketing strategy for your local company.
Consumers notice that right underneath the three options they have the opportunity to click on "More places", which expands to more local options and details. This presence in search is vital for the success of any local business. Our society is on the go and often needing in-the-moment services.
17. Ask a Follow Up (Question)
The Ask a follow up (question) is a new SERP feature in the beta version of Google's SGE. It is meant to help people find answers faster. This supports a more conversational way for users to find solutions from trusted sources. It is meant to be very intuitive on mobile devices.
We have known for years that because users are conducting more search actions from mobile devices, businesses must adjust to mobile-first indexing. Google encourages all the websites to prioritize mobile usage and done much to encourage fast loading sites.
This unique feature tells users that the pages that will load faster than those without it. While search engines read code, this mark is a standard for mobile-first indexing and lets people know that your page is prepared to load fast for them.
18. Knowledge Graphs and Panels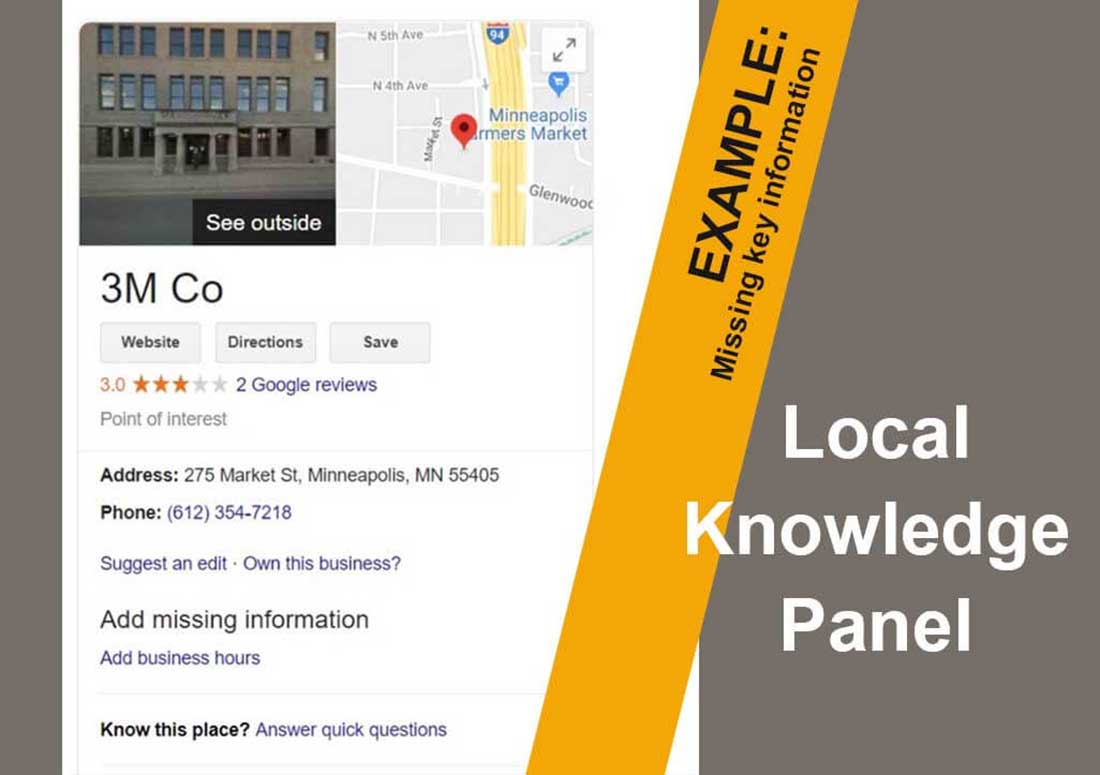 The area is typically on the right-hand side of Google search pages and has expanded to many versions and types. What major search engines choose to display depends much on the type of business and how it's owned and operated. This image represents a huge international brand, but its missing core optimization for populating key AI details in it's Google Knowledge Panel. Ah – the opportunity that awaits!
4 possible scenarios where your Knowledge Graph result may vary:
Online-only companies
Business having a few locations
National business with a high volume of locations and sales
A business owning just one location but recognized as a strong brand
Page One Google Search Results with Zero-Clicks
What is a zero-click SERP?
A zero-click SERP provides a quick answer displayed directly at the top of a Google search result. The search intent of the person is met without having to click any traditional search result blue links. And interestingly, long-form content is winning more featured snippet answers.
Overall, Google is leaning heavily on structured data implementation; be sure to stay updated on the latest Google Structured Data Guidelines. While the Google Structured Data Testing Tool is very useful, it often reflects more code-based results than it can keep current.
People searching seem delighted to explore their newly upgraded search result options. Marketers who understand which search results can produce high traffic volume are finding it worthwhile to go after featured snippets.
"The dirty secret is that structured data, in fact, polarises your content, making it a binary decision in the search results. Your content either becomes EXTREMELY attractive… or… on the dark side… becomes so useful and structured, that Google can simply assimilate the structured data as its own and put it into its knowledge graph… thereby answering the question for the user with no incentive for the user to click through to the site." – Dixon Jones***
But this is no reason to back away from efforts to gain more presence in Google search real estate. You just have to be savvier with your marketing strategies. Jones said, "If you create content that can then be assimilated into the knowledge graph, you need to ensure that the user still needs to engage with you, to be able to complete their transaction."
Your business website has to earn your way here. For example, it's hard to create a perfect product page. However, by doing so, you have a better chance of winning clicks on Google Search.
Google first pays attention to:
People who use their search engine
The Search Giant's Partners and Stakeholders
Paying customer's (Google Ads)
But if you offer the best answer or merit being rewarded a top position in organic search, it is yours. At least it can be (temporarily).
Users are known for visual parsing. It is a growing factor for search marketers. The future is not the same as the past. Hill Web Marketing believes that sustaining and improve organic search performance means embracing change. Google is not and will not be a one-size-fits-all SERP.
So what other case studies or research have been conducted that may shed additional light on the impact of more Google's assumed attempts to keep users on its own turf?
Wikipedia Case Study on Google referral Web Traffic
Duane Forrester, long-time Bing representative, and skilled SEO was reported as stating at PubCon that "Wikipedia's traffic dropped by 21% after Google launched their featured snippets". Barry Schwartz's Mar 8, 2019, Forrester: Wikipedia Lost 21% Of Their Traffic After Google Featured Snippets Launched article is a good read for publishers seeking to ferret out if they want featured snippets in Google.
Later, Wikipedia concluded that "Google refers are actually trending up over the last couple of months." Wikipedia's Google referral report compared both unsampled and sampled logs to determine if Google is passing more referers, while acknowledging that "it could also indicate that a chunk of our traffic, with no referer, has been decreasing – which could conceivably be Google-sourced".
Are you onboard and wanting to stand out in rich SERPs?
Google-owned Entity Properties Encompass Your Bigger Web Pressence
Most importantly, think big. Think beyond your website to your web brand presence. A digital marketing process needs to start with understanding where your business needs to show up. Both search engines and consumer requirements can guide and influence your content writing, technology solutions, and marketing investments for maximum effectiveness.
Planned and built with fluidity in mind, you can manage a myriad of SERP changes, web front-end adjustments, and marketing tweaks. But if you are rigidly traditional and only process a single solution, missing a presence in Google-owned search results may force your businesses and brands into rethinking it later. Timeliness matters when it comes to SEO, SEM, and PPC.
Google reviews are powerful as they can show up multiple places, for example, Google may choose to add them to your local pack results.
Are People Adjusting to Featured Snippets and the Expanding Knowledge Panel?
This is harder to answer as with each passing week Google test more features and new featured snippets seem to become a standard. Naturally, those who are searching say that their responses fluctuate since what is displayed in the snippet can change from search to search. A concern has been commonly shared among digital marketers that snippets rob traffic once gained from traditional organic search results.
Moz's study brought further assurance that this isn't much of a real worry as only 22.1 percent of survey participants "indicate that they generally read the snippet and consider their question answered without clicking the blue link".
Hill Web Marketing's findings are quite the opposite. It seems that both people and search engines seem to trust a business that can show up as a Rich Card in Google Discover, in a mobile carousel, feature-rich local map pack, or an answer provided by Google Assistant.
Responses vary by age group:
It may follow human nature that long-time Internet users in the age bracket of 70-100 years old are likely to search as usual. Moz found that they are "170 percent more likely to continue searching, depending on the answer in the snippet". This should clue digital marketers to adjust for our youngest searchers (13–18) who are reported to be 220 percent more likely to be content with their question answered with Google-owned SERPs and never clicking through to the business website. These up-and-coming searchers, shoppers, and future business owners tend to demand an immediate response, while senior adults remain longer to research and take in a variety of results.
Understand age and demographic differences involves targeted marketing research.
SEOs & Google-owned Real Estate in Search Results
The truth, this isn't new. Human nature often reacts to change. SEO's cannot relax into set-up processes; SEO seems and is more difficult, but it has not died. Keep up with changes in how content is ranked and observe the number of visits through organic traffic. Ingenuity, observing consumer preferences, content gaps, any pages that are slow or outdated, adding missed industry-rich schema, servers that hang, etc., can create a place for your business in the evolving Google SERPs.
Barry Adams draws much attention to the conversation on Twitter+ and believes it is about time we wake up and recognize what is happening. "I find it hilarious that SEO's are suddenly annoyed that Google is aggressively taking over some verticals with in-SERP features. They've been doing that for years." (March 15, 2018)****
As we study results, often when the query includes a potential transactional action, more often than Google Ads also display. Google's expanding dominance on their own SERP real estate has triggered a lot of panics. Rather than fret over changes, a positive sentiment will create a mindset that can find new opportunities in the midst of this.
"Often we cannot control what's happening, but how we respond to it matters. If users respond favorably to their experience with new local pack features, new ways the Google Assistant provides answers, advanced Google Image Search, Flight options, booking options, new video and map driving features and map ads, then one approach is to value the user's choice.- Jeannie Hill
Maybe these new SERP features are depressing your CTRs, but before you risk freezing in frustration, simply move on, embrace what you cannot control, and seek to gain more featured snippets. Users' search activity is intuitive and will forever evolve, which prompts Google to implement new search features to remain the King of Search. We can thank Google innovations in new SERP displays for bringing new business your way.
Much of the changing SEO landscape boils down to this:
Google Doesn't Have to Use Your Website
Google has been stock-piling trusted entity extractions, entity classes, entity properties, and Association Scores from millions of web pages to build a repository to draw upon for search results. When Google first announced the Knowledge Graph as early as 2012, we learned that it planned to prioritize things (entities) and not strings. That process has rapidly come in play as GoogleBot mines structured data for its entity extractions.
It is no longer dependent in the same way on mining information found on the web such as pages, documents, images, and links. "In web crawling, a node is a page, and an edge is a link between pages; in data crawling, a node is an entity, and an edge is a relationship between entities. It's an evolution in thinking about the web and " according to Bill Slawski, owner of seobythesea.com
Websites are becoming more obsolete as the initial place where customers find you in search. Expect that your website will simply be one aspect of a formula Google utilizes to deliver the best answer to a searcher's inquiry. Your website will still have value. However, its role is changing. It may become used more like an online business brochure or identification card.
To gain and maintain visibility in these new rich-featured search results, your site needs to have a measure of domain authority and be rich in fact-based and trusted information about those entities. Your level of "correctness" plays into Google's trust factor. Google is very capable of pulling your brand information into its featured answers and knowledge graph from multiple sources, not just your website. A well-populated Google Knowledge Panel can help you get links to your social media profiles' visibility.
Answer Featured Snippets in Google Search are normal search results, emphasized with special layouts, and are different from Knowledge Graphs. They are an equal opportunity for businesses of all sizes who want to win more customers.
Truly Interested Users Still Click on Featured Snippet URLs
Are no click searches on the increase?
Since Google continuously iterates on existing things and strives to add new benefits to searchers, expect its algorithms to get even smarter. The current percentage of no-click searches varies by industry. As you can see from above, the travel and hotel niche is vastly affected. Healthcare niche sites should leverage the new GMB features.
SERP Enhancements will always impact user clicks. Winning more clicks is worth testing and tweaking. If you're targeting high search intent, we advocate testing and monitoring the above strategies. Build out an experiment and run it to determine if your web traffic benefits.
"In some instances, yes they're (Google) using a landing page, but I think Google's fine with them staying on the SERP. I know this is a problem with SEO as well with Knowledge Cards not getting people to your page most often. You might be optimizing your content but then they're just living on the SERP as all their answers are already available. Even if the users get all their information from the Google My Business listing then Google is still winning as they're serving the core customer base of searches." – Zack Bedingfield with Mordy Oberstein
Optimizing for featured snippets adds a level of complexity to SEO. We love the data science aspect of it. By identifying SERP trends, extrapolating user information, and implementing strategies based on performance-driven results, you can continue to improve the volume of clicks to your website.
Set your sites beyond pure ranking positions. Study SERPs to uncover the types of content present, where each content type is displayed, how it is positioned, and how much real estate each content piece occupies. For example, the knowledge graph is of significant size and can point out your evergreen content. By focusing on areas that will have the greatest impact in organic search's richly visible results, you stand a better chance to catch consumers' attention, and therefore clicks, and ultimately sales.
SEO has advanced far beyond simply optimizing for keywords and search engines. The practice of SEO actually impacts every aspect within a business. All search engines seek to reward the searcher with a great user experience. That means that you should do so too.
The bottom line for every business is revenue. And your business can win clicks from Google-owned SERPs. To know where you stand and to uncover new opportunities, conduct website audits for strategic mapping insights. And for those in the medical niche, maintain your healthcare business profile on a daily basis.
If you Gain Featured Snippets; You Gain More Traffic
aHrefs conducts studies that are trusted. Josh Hardwick found that, "you're getting 31% less traffic by NOT owning the Featured Snippet position, even if you rank #1." The April 19, 2018 article titled How to Find and Steal Featured Snippets talks about "You + featured snippets = more traffic (ALWAYS)" and lays to rest fears of losing traffic for this reason,
Use Ahrefs to discover what featured snippets you are already showing up for and which ones that are possible to go after. Here is how: Site Explorer -> Enter domain -> Organic keywords -> SERP Features -> Featured Snippets -> Target domain must be featured. Create your fresh content wisely to enhance your site attributes for mobile rich features.
"we consistently won 8-12% of the snippets that we optimized for versus the natural win rate of 1-2%. These results were statistically significant. For posts that moved into the featured snippet, we saw an overall 10.5% increase in the number of clicks from the SERP, a 10.13% click-through-rate increase, as well as a net positive impact on post traffic." – Hubspot
Typically, we focus on increasing your SERP click-through rate instead of swapping rank positions. Another reason it's a GREAT idea to run "SERP health checks" on a regular basis is to discover new opportunities for winning clicks on the SERP. You can discover insights that you'd lack otherwise. Such as, if you face a sudden decline in web traffic, it could be because you lost your visibility for an important SERP feature. Or like this morning, I found hacked content.
SERP monitoring tool are helpful – but experience and live testing is better. We leverage both to check SERP feature status for your important queries. In order to rank for certain SERP features, we help you focus on understanding the SERP before optimizing your content. For examply, Google changed how FAQ rich results and HowTo schema markup work.
SEO and SERP optimization review:
"Working with Hill Web Creations and Jeannie in particular, has been spectacular. We have never worked with a more conscientious or passionate partner, especially in the areas of SEO and PPC. The level of detail is staggering and far beyond our everyday knowledge of Google and website. Jeannie works on our website all the time, aggressively finding new ways to increase rankings, speed up performance, and squash errors and broken links. We couldn't do it without her. I would highly recommend Hill Web Creations to any company looking for short-term and long-term results." – by Tom Lauck owner of Hivemind Studios, written on March 31, 2016
Hill Web Marketing provides services to gain visibility in Google's immediate SERPs and win calls and clicks for your business. Projects typically begin at $3,500 (offer good through 7.31.2024).
SUMMARY: You can win Google-owned SERP clicks
Embracing essential featured snippet optimization can be a clever business solution. Partner with Hill Web Marketing; spend more time making your site fantastic by providing more value to readers. We help businesses find opportunities when little relevant content is available on the web for the given query. This is your chance to gain visibility. Nothing substitutes technically clean code that empowers you to capture featured snippets. Our forte is optimizing content for Google's highly-visible featured snippets.
Your business can both be current in its SEO practices and prepare for tomorrow. Request a SERP Analysis
Additional Resources:
A Guide to Google SERP Features
** developers.google.com/search/docs/advanced/appearance/featured-snippets
*** dixonjones.com/seo/structured-data-a-dirty-little-secret/
**** twitter.com/badams/status/974190772139560960