How to Personalize your Google Assistant Directory Page
Updated 11.4.2022
With the rise of voice search, personalizing your own Google Assistant Directory Page and early adoption of this structured-data powered content is allowing publishers to claim their brand new Google Actions page in the Assistant directory.
Given the exploding number of ways to use the user-savvy Assistant throughout the day, preemptive structured data implementation may result in winning a surprising competitive lift once it propagates through your indexed pages. From starting the business day with a news briefing to setting a reminder alarm for a key business meeting, planning your travels on Google Maps, and almost anything else. To customize your Google Assistant Directory Page for mobile search, we'll cover the core settings and features you will want to set up.
Google is growing the number of devices that integrate Google Assistant. First, there are the sundry voice-activated speakers from Altec Lansing, Anker Innovations, Bang & Olufsen, Braven, iHome, JBL, Jensen, LG, Klipsch, Knit Audio, Memorex, RIVA Audio, and SōLIS (listed alphabetically). Its capabilities surpass the need for speakers to smart displays. Google announced that Google Assistant intends to operate "new smart displays from four companies, including JBL, Lenovo, LG, and Sony." Currently, it is already functioning on "over 225 home control brands and more than 1,500 devices." The Assistant can help send web traffic to your AMP landing pages.
First, let's answer some common questions.
What is the Google Assistant?
Google Assistant is an AI-powered virtual assistant created by Google for voice-activated searches. It is largely available on mobile and smart home devices. The Google Assistant engages in two-way conversations and can respond with cataloged answers and related images. It enables people to get help anytime, anywhere.
What are common uses of the Google Assistant?
Google Assistant is intended to support common daily tasks and immediate conversations when people ask questions in order to complete tasks. It doesn't provide links to websites like text-generated searches. Like Siri, the Google Assistant can partner with your Android phone to accomplish a variety of tasks. This may include setting alarms, locking up, checking the weather, adjusting lighting, creating a shopping list, or playing music. Like Siri, it readily manages many home automation devices.
Also, as of December 2019, users can now control Chrome directly from a Pixel 4 smartphone using the new Google Assistant.
Is Google assistant continually listening?
If your phone or other connected device is turned on, your Google Assistant is always listening. However, it is possible to delete your Assistant recordings. Alexa, Siri, and similar assistant services also always listen. They are always alert and waiting for their activation word, allowing them to take actions according to your commands.
'Hey Google, that wasn't for you' can delete commands Assistant that you didn't intend for it to hear.
How to Personalize your Google Assistant Directory Page
Expanding Google Assistant capabilities include smart home commands to assisting new search queries. 9to5google.com offers this handy table.
The commands have been revamped recently from that carousel interface to a grid of cards with visual recognition.
| | | | |
| --- | --- | --- | --- |
| Check financial markets | Get directions | Manage personal info | Remember important info |
| Check news | Get good news | Manage photos | Set alarms |
| Check sport scores | Get info about animals and plants | Manage reminders | Set timers |
| Check weather | Get info about history and events | Manage shopping lists | Translate |
| Control lighting | Get nutrition facts | Notes and Lists | Use calculator |
| Covert units | Get random numbers | Play audiobook | |
| Find fast food recipes | Get trivia | Play fun sounds | |
| Find food and drink | Have fun | Play games | |
| Find services | Manage messages | Play music | |
| Find stores | Manage orders | Play podcasts | |
Using Google Assistant Actions is a primary functions to achieve the desired results.
What are Google Assistant Actions?
At this time, Google is sending a notice to US podcast, recipe, and news publishers who have already preempted into either Accelerated Mobile Pages (AMP) or structured data markup. The company has developed Google Assistant "Actions" specifically for those content types, so users can ask the Assistant to return content from such publishers.
Here is the content of Google's notification that many are receiving:
Google Assistant helps a user find the information they want, including content from publishers across many of Google's platforms, e.g., Search, News, Maps, and more. Now we're making it even easier for users to find content with the Google Assistant's browsable Actions directory.

Specifically, for U.S. English podcast, recipe, and news publishers who have invested in structured data markups and/or Accelerated Mobile Pages (AMP) we have presented the ability to find content from such providers as "Actions" (things people can ask the Google Assistant to do), each with its own auto-generated directory page in the Google Assistant's Actions directory.
"The Google Assistant is designed to provide help and information across a variety of platforms and is built to bring together a number of products — including marketing on Google Maps, Search, Google Photos, third-party services, and more. For some of these products, we have released specific evaluation guidelines, like Search Quality Rating Guidelines. However, the Google Assistant needs its own guidelines in place, as many of its interactions utilize what is called "eyes-free technology," when there is no screen as part of the experience."
Advancing Functions of Google Assistant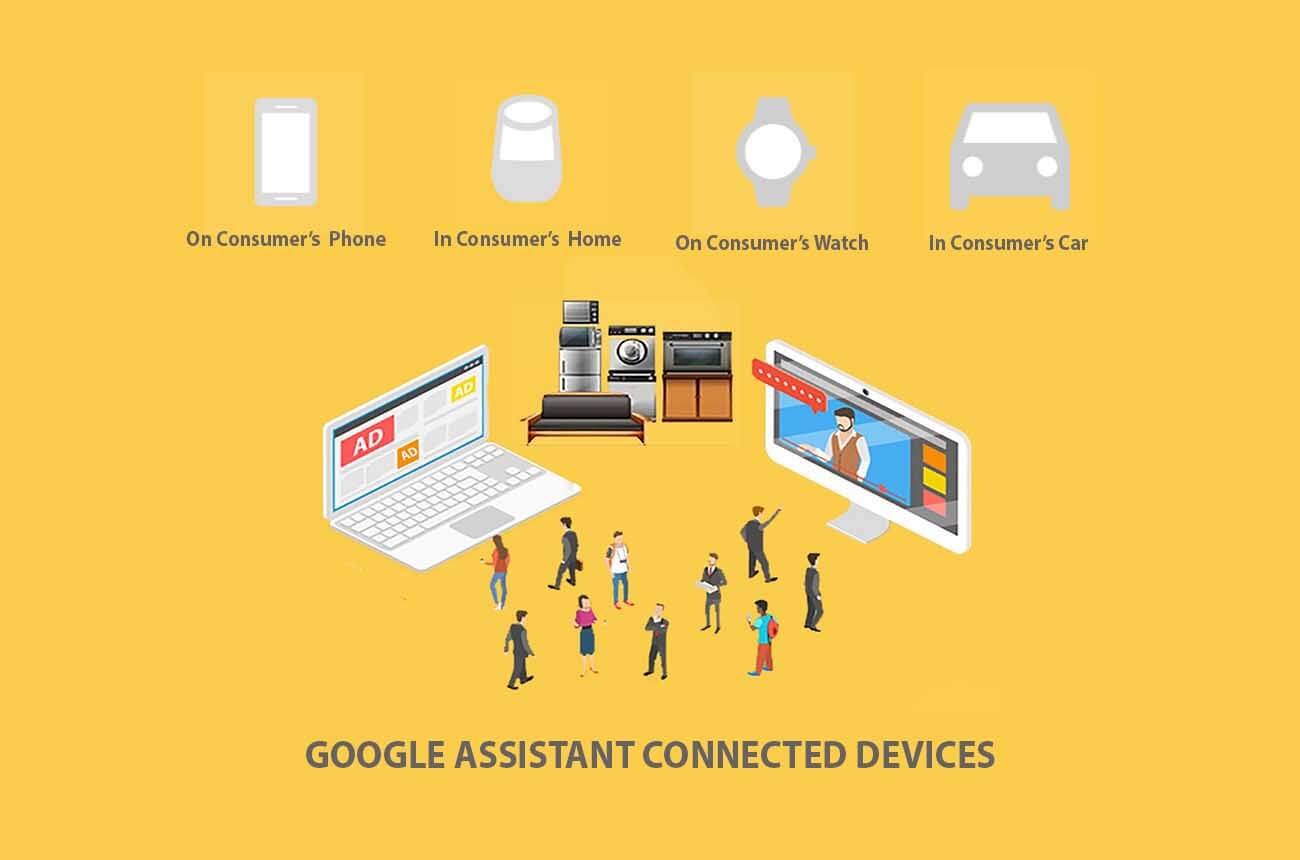 Consumers can hardly buy a new device today that doesn't already integrate Google Assistant.
Google Assistant isn't just a core aspect in your Gmail, Google Maps, and YouTube services, but it is turning out to be one of the most valuable Google products today in the years ahead. It's now more universal and more revolutionary than you are aware of.
Depending on the Geolocation of the individual conducting the search, the consumer may see local pack results. For voice-activated searches, they may have Google local pack results read aloud to them by a Google Assistant.
When the "Google Assistant" is spoken of, many instantly imagine asking Google about a calendar date or if rain is forecast tomorrow. That's now kid stuff to what the Assistant can do. it can also control your property's smart lights, text message your next client, send you reminder notices of where you parked, and much more on top of that.
Google Assistant now is behind the functionality of Google Home smart speakers, as well as the newly announced Google Home Hub. These speakers have made using the Assistant's a simple setup-and-use feature for anyone. Employing these functionalities will help your business reach wider online audiences by getting in front of users who love the mobile-first world. Site architecture needs to support mobile device users for optimal performance.
Google Assistant's Interpreter Mode
Google Assistant continues to add practical features that make everyday tasks easier. Now human-to-human conversations, when both parties speak a different language, are simplified. This may happen often if a foreigner suddenly needs medical care, or a tourist is trying to book a hotel room.
A new feature in Google Assistant, called Interpreter Mode, empowers the digital to become an in-the-moment language translator between two individuals that are attempting a conversation in the same physical space. You'll need Google-powered smart displays and smart speakers to use it.
Google Assistant Actions with Staged Rollout
Text to speech is now easier in the Assistant as well as improved release management capabilities.
Announced at Google I/O 2021, actions may either "Automatically rollout on approval" or "Manually rollout after approval". Then, you can select either "Full rollout" or "Staged rollout". What I like about the staged feature is that you can specify locations for a percentage of users. For reaching target audiences, the ability to narrow your actions to a specific geo-location is helpful.
Google Go set to integrate with Google Assistant Go, Google Discover, and Google Lens
Google's dedication to perceive and respond to the needs and expectations of mobile users who want a lag-free Android experience is evident. Google launched Android (Go Edition), which is suited to run on smartphones with limited resources or capacity. In Android Go, the suite of Android apps is crafted for smartphones with low power and can be identified by the suffix "Go" when it follows the standard app name.
These apps include Google Go, Assistant Go, Files Go, Gmail Go, Maps Go, and contribute recently to Google's Gallery Go. Gallery Go is a lightweight media gallery app announced in July 2019 for Google for Nigeria. Google Assistant Go is intended to work better on entry-level devices that rely on a variety of Internet speeds. The app comes pre-installed on Android (Go edition) devices.
The Google Assistant is taking over some Google Now's territory in the Google Home and the Google Pixel phone space. It is definitely integrating more.
Is OK Google the same as Google assistant?
The Google Assistant is not identical to the Google app, which is just for Search and works on both Android and iOS. Many mobile users find this confusing since the Google app is activated to the same wake word as Assistant: "Okay, Google." While the Google app has several features that overlap with its Assistant, such as voice search, others are unique.
The Search Engine Marketing industry has been experiencing a solid growth rate over the previous decade and is expected to gain prioritization in forthcoming decades. Thus, it is essential to identify all investment opportunities, upcoming market expansive opportunities, integration with voice activation challenges, market dynamics, and technological advancements to strengthen footholds in Google Search.
Early Preparations to Make Your Google Assistant Page Work Effectively
Prior: Add Schema – If your site already had adhered to Google's Guideline's for structured data markup for news articles, aggregated reviews, the Google-prescribed RSS for podcasts, and recipes, your content already qualify for the opportunity to be a Google Assistant Action. Out-of-the-box, Google's announcement suggests "U.S. English" content, and we don't know when that reach will expand, but expect it. Hopefully, we will see organization and industry recognition markup rolled in, as this will include more business sites.
Gooogle's intent is to make applicable content more visible and discoverable to users. Google has auto-generated its Assistant directory pages with the various actions that are associated with matching some types of content from a website. These are the commands that are available and ready to use within Google Assistant to help users find content on your site.
We've learned that valid, appropriate structured data markup makes content already optimized for Google Assistant. Technically, there is one more step to take if you want to customize your actions directory – add Speakable schema markup.
Google Assistant Now Understands Speakable Content
For individuals established as a news publisher, it is now possible for your content on the Google Assistant to gain more visibility by implementing Speakable markup according to Google's July 24, 2018 developer documentation****. "This feature is now available for English language users in the US and we hope to launch in other languages and countries as soon as a sufficient number of publishers have implemented speakable. As this is a new feature, we are experimenting over time to refine the publisher and user experience."
It is implemented by using the property's target type SpeakableSpecification. Talk on the Google forum is suggestive that this will help the Search Giant to start learning what content is about even more significantly. This may be another stage in machine learning to further auto-identify what specific web content is about. Similarly, the context of a speakable content seems less of an invitation to click and more of a summary section of the article. On a voice-only device, the user doesn't "click" on anything, which makes this seem less motivating to an ad-driven digital publisher unless monetization strategies change.
Schema.org explains the property speakable as "Indicates sections of a Web page that are particularly 'speakable' in the sense of being highlighted as being especially appropriate for text-to-speech conversion in conversational AI. Other sections of a page may also be usefully spoken in particular circumstances; the 'speakable' property serves to indicate the parts most likely to be generally useful for speech". Follow us for current updates to structured data best practices.
You can use schema to help users identify solutions that your business provides.
Actions on Google – Google Assistant Directory Page
Google Home offers multiple account setups, it relies on voice recognition to sort out user query preferences and which resources to connect them to.
1. At this time you have to already have the right type of content for Google to send you a notice.
2. Claim Your Actions Directory Page – If you don't already have one, watch for a Google Search Console notification to help you claim your actions directory page. Then you can customize it, or unpublish it f that is preferred.
3. Make Customizations –After taking the steps to own your Google Assistant directory page, it is possible to edit your name, description, and brand logo so that you can suggest how they are displayed by Google Assistant. If this directory page remains unclaimed, the search giant's auto-generated version will still function and the actions available will still work with Google Assistant.
Go to Actions on Google. It's a platform for developers gave for extend Google Assistant's reach. This robust and emerging ecosystem lets you develop actions to engage users on Google Home, Pixel, and many other surfaces on which Google Assistant is expanding. You might also be prompted to configure voice activation, for me, that meant simply repeating "OK Google" three times.
4. Advertise – People can find your apps for the Assistant via Google's App Directory* that works on both the web and mobile. Now you can promote and market your apps with better results that take advantage of Artificial Intelligence. The app directory lets users discover your app content quickly. It is quickly becoming the primary focus for mobile advertisers.
The Assistant support helps users listen to the news they want and make a change order by going to their Google Account and settings in their Google Home App. By following the above steps you can make it easier for users to find your business details and your latest news. It is possible then to leverage Deep Learning without a deep knowledge of how it works.
A Bit of the Google Assistant's History
The "Internet of Things" network continues to expand capacity to make search more personalized and a matter of simple "speaking" to find answers versus an act of doing.
According to Wikipedia**, "The Google Assistant was unveiled during Google's developer conference on May 18, 2016, as part of the unveiling of the Google Home smart speaker and new messaging app Allo". It's a standalone app for iPhone and iPad owners. Most of the same functions we are familiar with on Google's own operating system, work right here. As a digital "conversational" assistant, it makes getting what you want hands-free via search much easier.
Focus on Producing Relevant Search Results: One of the most noteworthy announcements at the Google I/O 2017 came from by Google CEO Sundar Pichai. He laid out the company's planned roadmap for Android, Google Assistant, Google Home, virtual reality, and more. Initially, it was on the Google Pixel and Pixel XL phones, as well as used with Google Home and then Android Wear 2.0. It was surprising just how well Google Assistant can see and understand the world around us. It analyzes users with the help of your smartphone camera. The technology called Google Lens helps it assess your surroundings and produce relevant results. This is one favorite use: just point your phone lens at Wi-Fi login credentials and an Android phone is able to use that information to log on to that network.
Talk about Actions: A Oct 4, 2016 tweet from Google included the following video introduction:
It talks about linking the Google Assistant straight from the Google search bar and positioning it as your own personal Google – a way of pointing to personalized search. Google's recent announcement tells more about what Google Assistant can do for you, emphasizing the number of models supported and how it makes over a million Actions possible.
Google seems to be going beyond its original plans for Assistant and putting effort into expanding its powerful natural language search capabilities. The competitive arena of voice and personalized search has several major challengers like Amazon, Microsoft, and Apple, each vying for dominance of the smart assistant and smart device market.
Google continues to depend on structured data markup to assist in providing content matches for the Assistant, meaning that search marketing strategists who invest in both may find a welcome competitive edge. On October 19, 2022, Google stated: "Nearly 85% of the 42,000 U.S. women diagnosed with breast cancer every year have no family history of the disease. It's why early diagnosis is so important, and it's why we're introducing new features to Google Assistant." ** In fact, people conducting healthcare research for answers, there are many ways this AI tool is helping people take early steps to protect themselves against breast cancer.
Improvements in Voice Interactions with Technology: Enrique Alfonseca, Staff Research Scientist for Google Assistant wrote a December 21, 2017 article titled the Evaluation of Speech for the Google Assistant. As Google often does, it clued publishers, webmasters, and business owners into new digital marketing changes ahead of time, especially as the mobile-first world comes alive. The information is helpful as search engine optimization spends offer the best ROI is SEOs remain fluid and adjust to maximize new opportunities. By continually providing more answers your audience needs, your content can add value when people search for additional answers.
Industry wide adoption: Yesterday, January 10, 2017, DISH unveiled its compatibility with the Google Assistant. now offering multi-language voice control to Hands-Free TV experience. Last year the company advanced by building a robust suite of voice control features, including a new DISH voice remote. Niraj Desai, DISH vice president of product management, says***, "We're pleased to be working with the Google Assistant to offer our customers the ability to control Hopper's video experiences through the Assistant on speakers and phones."
Google Launches On-Device Speech Recognition for 10x Answers
"Running on-device, the next generation Assistant can process and understand your requests as you make them, and deliver answers up to 10 times faster. You can multitask across apps — so creating a calendar invite, finding and sharing a photo with your friends, or dictating an email is faster than ever before. And with Continued Conversation, you can make several requests in a row without having to say "Hey Google" each time." – Manuel Bronstein, Google's vice president of product development
Bringing you the next-generation Google Assistant, published May 7, 2019 referenced the Google IO 2019 event where a new milestone was announced. Taking recurrent neural networks further, the GA now uses completely new speech recognition and language understanding models. This is accomplished through Cloud 100GB of models using AI to powers the Assistant to function locally on your phone.
"This breakthrough enabled us to create a next-generation Assistant that processes speech on-device at nearly zero latency, with transcription that happens in real-time, even when you have no network connection", says Google.
Google Assistant Users: What this Means for your Business
It's simple: Google Assistant users on mobile devices can buy your products and services with frictionless transactions.
Sara Kleinberg, Head of Ads Research and Insights at Google, posted on January 5, 2018, a number of Google Research statistics on its Voice Assistant and how real people use it. Titled 5 ways voice assistance is shaping consumer behavior, she reports that "72% of people who own a voice-activated speaker say that their devices are often used as part of their daily routine". ****
As Internet users increasingly look for spoken responses, both former display end results and optimization for voice-activated searches must adapt. The person asking the question or speaking the command may not use or look at a screen. Even once someone activates Google Maps for directions to a local business, driving instructions can then be "spoken". Your web pages need to be prepared for useful speech results. If that means mobile-optimized content that prompts the voice response is sourced from the web, Google wants to provide that searcher with a link directly to the original source. Modern eyes-free solutions mean that there has to be a way to generate a relevant audio response.
Google clues us in as to how they do this: "we use a combination of explicit linguistic knowledge and deep learning solutions that allow us to keep answers grammatical, fluent and concise".
Google's intent is to connect people to the information that they are seeking. Google Assistant integration focuses on cross-service data sharing with the intent of making services online more useful for users. You can add news sources by starting with a long press on your device's home button. People are also better informed about Google's stronger emphasis on user-driven control over how their data is used, and stored, in addition to other privacy-based account settings. This means that site owners won't necessarily have access to that consumer data until the user permits them to use what's shown on the card.
Metadata is not meant to be used as a data object on its own; semantic search add that component that is logical and can really help with content linking. It lets you provide personalized user experiences. Machine learning creates linking data across content silos so that relevant answers are provided to user questions. How content on your site is connected helps provide structure for practical results that work for users. It also helps Google Assistant to leverage that data.
Google Assistant makes it easy for shoppers to purchase items without going to a third-party site, thanks to an update that integrates Google's own payment systems. It is easier to say your orders out loud to Google Assistant by selecting to pay from your saved Google wallet information (pretty smart of any vendor). Then a buyer only needs a fingerprint to authenticate the order. Other E-commerce Voice Assistants like Alexa and Cortana work the same way.
Google Assistant's news sources are influenced by user choices. They can go to Google Assistant on their phone, click on the Voice model and retrain their personalized voice model. We can help your brand become a topic hub informational source if your product or content falls within their interests.
Google Voice Assistants Access My Calendar for Scheduling
Think of how many times a day that someone in your office checks their business calendar to schedule events, meetings, and calls.
According to data from the Voicebot Smart Speaker Consumer Adoption Report 2019, Access my Calendar is the sixteenth most popular use case of smart speakers, coming in at 21.2% monthly use and 11.4% daily use. Madeleine Iribarrentalks in her April 10, 2019 G Suite Upgrade Brings Google Assistant Calendar Functionality article *** about new G Suite integrations with Google Assistant with Calendar app.
The addition of this calendar feature may be a front-runner to additional G Suite Google Assistant functionality in the future. The search giant is seeking broader Google Assistant adoption in general for enterprise-level companies; so anytime that an added convenience simplifies daily routines, it is a smart decision.
Google Assistant Makes Podcasts, Recipes and News Easier to Find
Here are a few additional ways to use this powerful Assistant:
Check email correspondences
Find out "What's this song?"
Check business news: Talk to Marketing Shot Chaser
Set your office or home's interior temperature
Control the lights in your storefront or home to create a buying mood or restful stance
No typing is required. The ease of simply making a request or statement and the Google Digital Assistant can set your Nest Thermostat and toggle between heating and cooling modes with simple voice instructions. with so much, one can do in a day, who doesn't love it that you needn't lift a finger? By using the right SEO techniques you can use Speakable markup to assist with voice-activated search queries.
For individuals who worry that Google may be eavesdropping in on too many of your activities, you can listen to and delete your Google Now voice history. You can find detailed how-to steps for editing your Google Assistant Android Central******. Use Google Posts to promote key product messages that you want consumers to hear most.
Adjust your marketing plan today to improve your content into an Action. Update your web pages that have already integrated into Google's Index. Start with pages ready for Google AMP news, recipe markup, and live podcasts. They can each be more discoverable through the Assistant, just by claiming and refining your listing in Google's directory. It can also recognize multiple voice profiles for various individuals, so it recognizes who is engaging with and modifies its responses accordingly.
More Recent Integrations within Google Assistant
Asos adds Google Assistant voice-powered shopping.
The Enki chatbot makes it easy for buyers who are searching for products using photos from the web or those taken with a phone camera.
MLB fits Google Assistant into broadcast and social commenting during playoffs.
Google Home Hub's Smart Display with a similar design language to pre-existing Home devices.
Book a ride from Uber, Lyft, and more just by talking.
Digital Wellbeing downtime and filters
Google Assistant apps work for monetization with IAPs and subscriptions for Actions.
New voice commands incorporated for Sony Xperia XZ3 features including 4K HDR recording.
Can place phone calls and book business appointments for you.
It is becoming more widely available on third-party manufacturer smart speakers.
"Your Google Assistant will keep track of not only all your search activity but also where you were when you made your request. Google assures this data is kept secure and private. If you'd like to review your activity history and see the details, you can access it straight from the Google Assistant settings." – Tom Westrick, Android Central Technology Journalist
"Your Super Duper Website content in the Google Assistant: Expect Google Assistant to feature more strongly in SEO in 2018. It is part of a push toward voice and interactive device search." – Journal Xtra*****
Google Assistant Set-up Services
We help Minneapolis businesses claim and set up their Google Assistant Directory Page. This includes managing your structured-data powered content that allows your company to claim your brand-new Google Actions page. Image recognition, voice recognition, real-time translator, winning rich cards in SERPs, adding sourced, factual content, and contextual text recognition are a core part of this service. If your page already exists, a full technical SEO audit reveals fresh opportunities.
Call Hill Web Creations at 651-206-24510 for set-up that starts at $1,500 (expires 7.31.2023).
What can Google Assistant Do?
When you ask Google something, whether you simply say "Hi Google", "Ok Google", or "Where's my phone, Google", help is immediate.
Digital marketers looking at how businesses and content creators can improve ad campaigns and effective SEO strategies will need to keep voice search in mind. By performing a consumer data analysis, you can learn who to craft your communications in a manner that users prefer.
Google Home and Google Assistant are relying heavily on snippets from websites ranking in "position zero" and have been awarded one of those coveted featured snippets. This has prompted more marketers than ever to optimize for featured snippets. Once webmasters better understand the Assistant's capabilities, they can optimize a site's performance to give it informational answers.
Understanding voice search queries and the role of a personal Google Assistant helps us better understand the query types that surface and feature snippets. As marketers, devoting buy-in and resources in order to provide users with the best answer is the best chance for winning promotions to position zero.
In turn business can gain brand credibility if Google determines that they provide the best answer to the searcher. Whether they make an immediate call from a Knowledge Graph or click to a web page from the Google Home app, the user is in control as to how they chose to connect with your business.
Early Adopters in Assistant Search
The role of the search giant's assistant is still in early adoption and growth, but no one is questioning its expansion. It is best to gain executives' attention now and advocate for something like, "We are discovering that more people are searching for branded queries in voice search and reaching zero results! By adjusting resource allocations to create a prototype for Google Home and Assistant search, we can fulfill navigational queries and question answer gaps that are currently going unmet and recoup this investment."
SEO managers can optimization without knowing exactly which queries are from voices, as we could do mobile-user optimization without precise mobile query data; yet understanding the distinctions of voice search will help GoogleBot and marketers be more accurate when helping searchers find exactly what they're asking for when using voice search. A website audit will uncover otherwise un-noticed opportunities.
Google Assistant Local Service Providers
The Google Assistant is designed to help consumers find and connect with local service providers and brands that get in Google News. Currently, there is no charge for these local services on the Assistant for every business that passes the Local Services screening process. If your business would like to become a Local Services ads participant to add local services on the Assistant, Google offers an interest form to fill out.
Applications require accuracy. Google uses the phone number and provided business details in your ad copy, and currently, inline editing is not available. For companies who wish to use a dedicated and tracked phone line, fill in that number during the application. The digital assistant matches will be made by location and services to sift out less valid leads and improve lead generation success.
You can manage your ads through the website's new directory or using Google's app to turn on and off your ads. Google notes the time it takes for you to respond to leads, and request reviews (if you have the consumer's email contact) and may limit the use of the services if you don't provide good follow-up responses. You also have access to phone call recordings in the system.
Google is adding on industry niche providers while testing and updating, so stay tuned to communications about set up and advertising opportunities.
Google Assistant Supports Google Maps with Broader International Integration
The Google Assistant is playing a larger role in Google Maps, and with the search giant's recent announcement at MWC 2019 is that will be increasing. It started out in English at the beginning of 2019 and is expanding to more languages.
This fits a very practical user need. It is simply how people prefer to use voice commands; an uptick of 15x more voice assisted-use when reading texts and sending messages is proof.
Other announcements during the event highlight the expansion of international support for Assistant. This seems to have roots in the competitive race with Amazon to sell more smart speakers and be loaded on more mobile devices. This ongoing race for improved voice technologies will benefit the end-user and, hopefully, keep costs down.
The good news for Google is its marketing strategy seems to be effect – and now wonder, they are The Marketing Lead worldwide.
Numbers in Q1 2018 reported that Google sold over a third of all assistant devices. The same thing happened in Q2 Additional sales percentage gains happened in Q2, with Google climbing to sales of 5.43 million smart speakers in contrast to Amazon's 4.12 million Echo sales.
Voice commanded a huge share of talk at CES 2019. For folks who flourish in the industry of consumer business, they are planning on chatting with Google Assistant in some realm or another. The Google Assistant added new technology to assist visual search results. It uses AI (Artificial Intelligence) to decipher the content and context of images and return a list of related search results.
The secret to winning clients is often a matter of taking the lead in new technologies that your users are using. That means having the ability for your business to show up wherever they are. It means providing the information that they want. In order to do that, you are best to prepare your website for discoverability. If you are ready for the pace of innovative search that pushes boundaries and plans ahead to be where more buyers are shopping, it is time to take action.
New technology includes using advanced and custom Local Business schema markup.
Final Thoughts
We expect the future approach of more businesses to be to creating their own AI to offer platforms that assist developers in making their own AI. So optimizations for Image recognition, voice recognition, real-time translator, and contextual text recognition will continue to be important. This aids user conceptual search.
* https://developers.google.com/actions/distribute/directory
** https://en.wikipedia.org/wiki/Google_Assistant + https://blog.google/products/assistant/google-assistant-offers-information-and-hope-for-breast-cancer-awareness-month/
*** http://about.dish.com/2018-01-10-DISH-to-work-with-the-Google-Assistant-bringing-multi-language-voice-control-to-Hands-Free-TV-experience
**** https://webmasters.googleblog.com/2018/07/hey-google-whats-latest-news.html + https://www.thinkwithgoogle.com/future-of-marketing/emerging-technology/voice-assistance-consumer-experience/
***** https://journalxtra.com/seo-marketing/claim-websites-google-assistant-directory-page/
****** https://www.androidcentral.com/google-assistant + https://voicebot.ai/2019/04/10/g-suite-upgrade-brings-google-assistant-calendar-functionality/