Moving to a mobile-first marketing focus is helping search experts to build proper bids in Google's Money Machine, AdWords. Learn how to operate very targeted mobile marketing campaigns by evaluating your ad copy, landing pages and CTR.
In the last five years, mobile marketing and in-app advertising have been successful forms of digital advertising that are recording the fastest growth and technology advancement. Most businesses have embraced the mobile revolution and are investing more in advertising on mobile devices. This places a higher priority on how to build your own mobile marketing strategy around search intent, mobile ad relevance, and winning rich featured snippets in mobile SERPs. Our Mobile Advertising Checklist can help.
First, let's answer common questions asked by our clients.
What is mobile advertising and how does it work?
Mobile advertising is the strategy of creating meaningful connections with people using mobile devices to send marketing messages to buyers. This is best managed by digital marketers who know the best places to advertise and use SMS messages, banner ads on mobile websites, or by ad placement within mobile applications. Typically places this work well is within a news app or game.
Do AI, Machine Learning, Relevancy, and Transparency Shape Mobile Advertising Trends?
Yes. Mobile advertising relies on qualities of Ad stability and click-through rate (CTR) predictability. Ad testing and innovation by digital marketers who embrace necessary changes quickly tackle low-performance issues. Paid mobile marketing managers who innovatively and incrementally approach their mobile campaigns can to de-risk mobile projects and learn quickly how to obtain a successfully targeted mobile campaign. This article will help you gain better returns for your mobile advertising spend and avoid common mistakes when setting up new advertising campaigns.
Entrepreneurs in the mobile space need to anticipate and spot upcoming video advertising opportunities and mobile marketing trends that will impact their business. Artificial Intelligence and machine learning are being leveraged to enhance the customer experience of mobile apps as well as for mobile marketing automation services, and improving mobile conversion rates. Machine Learning is helping companies increase conversions and predict buying behavior. The goal is to build one-to-one relationships with every one of your mobile users and offer relevant messages. An efficiently launched and finely-tweaked mobile marketing campaign can become the big bang in impacting SERPs, traffic, user engagement, and mobile conversions. Along with voice search, AI, and machine learning, every SEO professional should be paying more attention to users across devices.
Mobile is increased in importance to the extent that as of 2020, Google provides Core Web Vitals Metrics. Every business now has more free tools and reports to optimize for the mobile user.
Endeavor to respect Google as your marketing partner when using their platform. Remember that the company is dedicated to matching content to search intent and is only charging you per click. Or your products may even be showing up in organic mobile product carousels. Your responsibility is to make the most out of this mobile marketing opportunity. It is up to you to ensure that you are showing the best Ad at the right time to the right audience. Google cares about clicks so it rewards efforts that produce Ad clicks. And Ad clicks, in turn, need to sustain a sufficient level of purchases.
What is Mobile Display Advertising?
Mobile display advertising is a form of digital advertising that works on mobile devices such as smartphones and tablets that have wireless connections. Smaller screens on mobile devices mean that this form of digital advertising requires image and text adjustments for small displays. It also means that your communications benefit from being concise.
What Planning is needed Before Executing a Mobile Display Ad Campaign?
Delivering ads to target mobile audiences comes down to having and meeting clear and realistic revenue goals.
Plan sufficient time to validateof your mobile display Ad Campaign strategy. It is money that comes back. At the end of the day, because businesses are paying for this, it must be profitable for continuous mobile marketing investments. Google trends can you choose your keywords can be used in tandem with other tools. The individual marketer who knows how to interpret user datasets can also be able to better match semantically related search query terms.
" As the size of data collections to be searched grows, it is no longer enough to correctly return query results that match query terms entered by a user." – Google
Earned search engine marketing uses search engines to reach target audiences, while paid search can benefit a company with the goal of extending revenue gained by SEO. If a user is on their mobile phone that has a limited connection, mobile ad delivery can be both efficient and display your ads on Google Search, Google Maps and Mobile Shopping Carousels, as well as a host of other platforms.
The Mobile Experience Matters Before and After Shoppers Visit a Storefront
Conduct a mobile friendly test and learn what content has high bounce rates.
As your marketing research teams strive to build your omnichannel and in-store mobile advertising strategies, know what consumers search for before and after they travel to your store location. They may be providing in-depth guides or product information, tracking down sales and coupon codes, or feature comparison shopping, predicting their intent will help get you ready to anticipate and deliver on those needs.
High bounce rates can be a clear indicator that your landing pages need revamping to become more useful to mobile users. Stephanie Cao, Omnichannel & Local Marketing at Google, says in her August 2019 Yes, shoppers are using search in your store. Here are several statistics that support why you need to go over your mobile marketing checklist more than once.
15% growth in mobile search queries that take place in a store in recent years.
In-store digital shoppers are 4X more likely to search on Google for the retail brand of the store they're currently in compared to the next highest competitor, and there are 6X more Google searches for the retailer than for "amazon."
41% of shoppers wish retailers would do a better job of sharing inventory information.
Internet users use their mobile devices for almost 70% of their Internet searches to gather information, buy products or conduct navigational searches.
We use the Google Search Console a lot to test how GoogleBot views a particular mobile URL. Under the item Mobile Usability Report or Mobile Usability, you can see areas that still have the potential for improved mobile optimization.
Your 20 Point Revenue-Producing Mobile Marketing Checklist
1. Ensure your Website and Apps are Mobile-ready
2. Understand Searcher Intent
3. Sufficient Mobile Ad Impressions
4. Optimize for Ad Clicks and Conversions
5. Smart Keyword and Choice of Search Phrases
6. Well-optimized Headlines
7. Display URLs
8. Allocate Budget for Technical Mobile SEO
9. Craft Mobile-focused Ad Copy
10. Optimize Mobile Spend and Bid Strategies
11. Use Micro-moments to the Fullest
12. Strive for a High-Quality Page and PPC Score
13. Know the Value of a Sale
14. Combine Metrics for Better Mobile User Insights
15. Mobile Local Ad Optimization
16. Leverage Video Ads
17. Use Mobile Apps and Implement MobileApplication Schema
18. Be Transparent
19. Use Multi-variant Testing
20. Have a Better Mobile Landing Page Than Everyone Else
Mobile Ad Revenue is Exploding; here is how you can get in on it!
1. Ensure your Website and Apps are Mobile-ready
The days are past when only a desktop version suffices; your websites and mobile applications must work seamlessly across every mobile device. To enhance your website for mobile marketing means responsive design and excellent load time, which are best achieved with Accelerated Mobile Pages (AMP). Getting under three-second load times will boost bottom lines. Based on Google's mobile page speed research reveals that as page load times take even one second to seven seconds longer, the bounce rate gradually increases by 113%.
Neither users nor Google tolerates non-optimized, poorly navigable pages much: hard to click buttons and tabs, disproportionate or fuzzy images that do not scale to the page, and unreadable content that requires finger zooming can ding your site.
With smartphone users growing exponentially year-after-year, ensuring that your sites and apps mobile-friendly is fundamental. Otherwise, you'll likely see a loss of a considerable chunk of traffic, clicks, and customers.
2. Understand Searcher Intent
Search engine marketing, whether through organic SEO or paid methods is strategically simple. If you are a home remodeler in a small town, and someone searches for "home remodeler" and includes the name of the town, then there is a high chance your site can meet the intent of the search that was performed. Getting in front of the right buyer at the exact time they have a requirement is smart marketing. Commonly, commercial terms are highly competitive across both paid and organic search. For most businesses, there are multiple opportunities for brand-building and targeting relevant customers higher in the marketing funnel. To improve your mobile reach means developing a better understanding of the intent behind search keywords and getting your mobile content in front of viewers fast.
3. Sufficient Mobile Ad Impressions
You need a sufficient number of Ad impressions to trust your data test results. The impression numbers let you test more variations at once. If low, only do two Ad variations. In this case, we typically kill the ad test and go with the control if there is no clear winner.
4. Optimize for Ad Clicks and Conversions
Minneapolis Google Ads marketers have a goal of getting that search to result in the form of a lead with the strong potential for a conversion. It is about the searchers' intent and providing the user with what they are looking for before being aggressive in pursuing ways to convert.
The mobile buyer's emotions and preferences for transparency, privacy, and immediacy tell you what is important and digital marketers can take advantage of it. Your tracking pixels tell you more about consumer preferences. Mobile advertisers depend on seeing and expressing the value of a strong and well-structured Ad foundation when creating new Google AdWords and Bing Ads mobile campaigns.
When optimizing for better Google Ad conversions, frequently test and fix any incorrect schema markup. This will also ensure your organic search rankings remaining up.
5. Smart Keyword and Choice of Search Phrases
Since you are paying per click, it is important that you know how your keywords are performing and their value. Review stats found in the data that your marketing produces to come with the CTR you need. A quality score will make your AdWords campaign profitable. The keyword, Ad, and landing pages are closely related. Each one's role is unique and a great AdWords manager understands what each one does and how it relies on the other. Relevancy is key. For example, If you offer a 20% discount within your Ad Copy on a buyer's next car repair order, make sure you show that on the landing page where the user will arrive.
To find the actionable keywords to target that might be found at the bottom of the sales funnel. The search begins often with a head keyword and then continues with a more specific landing page that can convert people. The story begins with a keyword, the landing page answers buyer questions, address concerns, and gives a clear path to purchase. By running your landing pages up against something else, you can make tweaks that lead to the very best landing page per paid search campaign.
Know which of the historical keyword queries to prioritize. It takes time to know who your audience is, where your audience is, and the language they use when searching. Once you have the knowledge of hyper-targeted search keywords it becomes the foundation of your mobile Ad campaign.
6. Well-optimized Headlines
Make your headlines clear, relevant, and rich with promises. If someone is going to click on it, it should reward their choice. Make the time they spend arriving at your desktop or mobile landing page meaningful. Google has recently divided Ad headlines into two parts. They can be used to relate to the search while avoiding the use of superlatives. Stronger buyer sensitivity to ad experience and more sophisticated targeting begin with an enticing title.
Google Product Data permeates many areas, including titles and descriptions. Google Express has retail ratings that influence how your mobile ads show up and how often.
7. Display URLs
You can reach your ideal customers while they're on the go with ads on mobile devices; for image ads, your campaign must have opted into the Display Network. Display URLs test how to best use the 80 characters.
8. Allocate Budget for Technical Mobile SEO
You'll pay more if you skimp on technical mobile SEO. While there are plenty of landing pages factors that are binary, meaning either good or bad, having your code technically correct on your landing pages is critical. Google makes it simple to locate issues such as if your JavaScript doesn't load right, images need caching, and whether or not the keyword (or search query) is reflected with the landing page's content. If a landing page is only built to convert, you may nofollow the ones that aren't engaging users and tend to generate duplicate content issues. Canonical links can also relieve duplicate content that otherwise wastes your site's crawl budget. We lean on nofollow tags more on web pages that an Ad points to over-relying on the canonical tag.
9. Craft Mobile-focused Ad Copy
Include not only keywords, CTAs, and specific details of your products and services, but also add phrases like "purchase easily on your smartphone," "order on mobile," "mobile user's special," etc. Use the natural language of your buyers that invites the purchase. Then optimize your AdWords campaign by using mobile ad extensions. Specifically, leverage sitelinks, call extensions, click-to-call ads, and local extensions (such as location, affiliate location).
10. Optimize Mobile Spend and Bid Strategies
If you favor automated bid strategies, try out Google's Smart Bidding tool. Should you choose to go the manual route, bid your ads to top-performing search results and make sure to test and optimize them to target your mobile marketing goals. This will help keep your campaign with your spend limits.
11. Use Micro-moments to the Fullest
According to Google's user behavior study****, the typical buyer's micro-moments are heavily sourced from mobile. Ninety-six percent of customers with intent to buy reach for their smartphones when wanting to find something online or entertain themselves. Here is where your mobile paid advertising spend needs to nab their click.
Consumers' shopping micro-moments are different in each retail category. Learn the exact moments that your ideal customer shops for products like yours and then adjust your PPC bid during those time frames.
Think with Google** also states that, "at the beginning of the shopping journey—before consumers have started thinking about specific products or brands—they rely on their mobile devices to provide inspiration and to help fine-tune their design sensibility. Fifty-seven percent of searches in I-need-some-ideas moments occur on mobile, up 35% year over year".
12. Strive for a High-Quality Page and PPC Score
Generally, having a "7" AdWords quality score is considered good, but we shoot for higher. Load time on mobile landing pages is a critical aspect of SEO and one way that organic search and paid search benefit from close integration. A sufficient mobile SEO budget is needed to understand mobile buyer preferences, different audience targeting options, ad impressions and click ratios. In the long run, if clicks don't convert, your paid mobile advertising will have little value.
13. Know the Value of a Sale
If the value of a sale is $1000, and you are able to obtain 100% of the needed searches organically to fill your order quota, then you don't need to rely on PPC. If the value of one visitor is higher than the CPC, then it is definitely worth investing in. Great pay for click campaigns make more sense at a lower cost if your organic search results already have solid user engagement. Site visitor engagement remains as solid proof to Google that your website's landing pages have something going right.
14. Combine Metrics for Better Mobile User Insights
When evaluating the AdWords accounts that you manage, consider that an Ad with 30 clicks has enough data so that you can be confident of making a solid decision. "Visitors" and "Conversions" are close metrics to look at. An inevitable mobile advertising shift is happening to be more contextualized and create consumer-friendly ads because interstitial ads only alienate mobile consumers rather than boost relationships or deliver real return on investment. Read all your key metrics and tweak to honor what they want. Remember how small a mobile screen is and maximize your mobile advertising on them.
15. Mobile Local Ad Optimization
Analyze your past and current user data more from the AdWords Settings Tab and implement the right Bid Adjustments that reflect mobile user preferences. If you are targeting all US, adding the United States as a whole and not the individual states will force you to perform an additional step and cross-reference your Dimensions/Analytics Geo reports and end up doing the same thing.
Local Ads rely much on location details for effectiveness. Google always takes about the proximity factor and how much it matters for capturing search intent. Geographically specific mobile Ads for specific brick and mortar stores mean that reaching your local audience is your priority. It is the atomic unit that builds out your local Ad. You may gain ancillary eyeballs if local content is not clear. Use local business schema on your landing pages to indicate the area served as well as use industry niche markup.
When people search using the "nearby" or "near me" on Google.com or Google Maps (for example, "dentist near me"), they may see local search ads that feature your business locations. Add your business logo on Google Maps, which naturally increases the visibility and accessibility of your website in mobile search.
Mobile Marketing Trends Change just as fast as Mobile Technology
Mobile marketing winners are typically those who possess the ability to follow trends fast by adopting a tactic before others in your market do. And at the same time, never ignore the timeless marketing basics that move the needle. Every aspect of digital marketing is, by definition, an area where you should follow your audience. Do two businesses are exactly alike. You will need to read and understand your data smartly as well as keep up with the fast pace of mobile marketing trend changes that are rapidly advancing due to improved mobile technology. Consider the COVID-19 crisis as one example. In particular, all healthcare sites must update their Google Business Listing.
Asif Khan talks***** about the integration of QR codes, using facial recognition, leveraging AR capabilities in Location Marketing. QR stands for 'Quick Response' and was originally invented in Japan for tracking components in factories. Today they provide a way of effectively adding web-based content for integrated campaigns to use with a digital offer and drive engagement with your business brand, ultimately leading to interactions on a website through a mobile experience.
Mobile Rich Image Ads: According to Moz, "Across the board, what we've seen is that paid searches on average, in all of Google, gets between 2% and 3% of all clicks, of all searches result in a paid click. Organic, it's something between about 47% and 57% of all searches result in an organic click". The article title How Google AdWords (PPC) Does and Doesn't Affect Organic Results by Rand Fishkin goes on to talk about his research on mobile rich image ads vs desktop and how that influences CTR. In the end, "if you bid in certain cases, you may find that you will actually change the click-through rate curve for the entire SERP and change that click-through rate opportunity for the keyword.
16. Leverage Video Ads
Google AdWords is about text Ads and display Ads, while Video Ads are sourced from the Google's own YouTube platform. It is best to let them complement each other. Whether you prefer starting with one or the other, using them in conjunction will produce even better results. US ad buyers in search of the best return on investment (ROI) are using the Google platform first, and Facebook second; both make Video Ad Marketing easy.
eMarketer predicts that one in four individuals of the global population will use a mobile device to watch video monthly, which will be an 11.9 percent increase from last year.
Additionally, reports that "64% of live streamers have engaged with ads", adding video content for mobile viewers will align better with their media consumption preferences.
"52% of those viewers prefer free, ad-supported live streaming over a subscription or à la carte services", according to Marketing Drive's take on the June 2018 IBA's Live Video Streaming Report.
17. Use Mobile Apps and Implement MobileApplication Schema
Create a schema markup strategy that can be leveraged in AdWords. Structured data in the format of schema markup can have multiple uses, both for earned and paid search. With the increasing percentage of smartphones usage, many companies now have mobile applications and can then create advanced AdWords strategies to personalize user experiences. Add schema MobileApplication markup on your sites. More websites are using dedicated landing pages for their mobile applications. Mobile marketing success means more than trendiness and novel headline to deliver what a growing number of connected consumers want. New marketing research from Google indicates that consumers are searching for what's important to them through mobile devices. In this way, they are clearly expressing what they want. We need to hear those messages. These user cues lay the foundation for app marketers to find people who will love their app experience.
18. Be Transparent
Mobile buyers are hyper-transparency sensitive. They want to know what is happening with data collected about them and are more empowered than ever. The GDPR's reach to US markets has caused a growing realization among advertising professionals that better online transparency may mean more web traffic and sales. "Fake news" scandals and Facebook's misuse of user's trust has surfaced the value of trustworthiness in all forms of media advertising. Use factual content and prove your trustworthiness with FactClaim Schema.
Transparency is key across the e-commerce buyer's journey, say from a product selection on a mobile device to if checkout and shipping is finalized on a desktop; the only surprises that your customers encounter should be pleasant. Make sure that you inform site visitors of your cookie policy and offer detailed product descriptions and high-quality product images to make it easy for your customers to feel confident in their purchasing decisions. Site policies should be easy to find in the content of a page, perhaps under "details see our site".
Mobile ad networks encounter the challenges of user transparency. Struggling advertisers who now request a user's GAID (phone ID) may be missing a significant segment of mobile web traffic, knowing that in-app traffic currently makes up a small portion of the overall mobile traffic.
"You should also be transparent when it comes to fees and policies. The most common reason for shopping cart abandonment is that extra costs are too high. Too often these costs aren't listed until the final step of the checkout process, which can cause customers to leave the site before completing their purchase. In fact, 23% of abandoned carts stem from customers being unable to see or calculate total order cost up-front." – Digital Commerce 360*
19. Use Multi-variant Testing
Decipher which ad bombs and if Ad Variation A has the better impression rate and CTR amounts over Ad Variation B. Know when an Ad, that even if it has a high CTR, is not a winner in terms of cost balance to sales. Google Analytics lets you evaluate two ideas and then see clicks versus conversions to find the best Ad copy variations. Multi-variant testing lets you come up with the best Ad headline. AdWords managers gain confidence by seeing over time how performance relates to Ad tests. It is easier than ever to know how your ads perform across devices.
* Mobile Ad Photos: Great imagery helps site visitors connect with your brand and message. Use images that engage buyer's emotions and help them connect to your ads' intent once they connect with your business. Keep current with image guidelines for specific forms of advertising. Image ads and App promotion ads need a well-chosen image to immediately connect with the viewer. Both Google and Bing continue to test images in search text ads. Adhering to Ad image best practices will improve your Click-Through-Rate and user engagement.
* Ad Timing and Quality: Marketers are paying more attention to the "timing" of their mobile ad. That's because mobile users are typically more on-the-go and they prefer that their search is not disrupted with what they were currently doing. That means that timing seems is more critical followed by relevance and a quality ad. Continual messages accomplish less than one that is high-quality and served up at the right time.
If you irritate your mobile audience, they can quickly resort to ad blocking. The "less is more" approach can produce successful mobile marketing results. Marketers that place more thought on being empathetic with user preferences and shift their perspective from being intrusive and interruptive to being more human will find a better following. And then using JSON-LD snippet markup helps search engines understand your landing page content better.
20. Have a Better Mobile Landing Page Than Everyone Else
This is the page that will be producing revenue for your business, so build in adequate time for testing and for teaks that lead to improvements. The perfect landing page produces traffic that is only achieved by testing properly. Let users show you what your ideal landing page is and should be. Multiple surveys and tests so far prove that fast-loading retail AMP landing pages don't keep someone waiting after the click and out-perform others.
Keep it direct to the search and minimal above the fold.
To encourage the viewer to scroll down, engage the user and entice them to want to learn more.
Don't risk boring the reader with too many technical specifications. Know what you are selling. For example, you are selling a FitBit, you are not selling the technology behind it. Buyers care about benefits first and features second versus how a product is made.
Make them one page in length. Avoid clutter.
Typically, they should not be accessible from another page on the website, making measurements easier.
Be tightly themed to searcher intent.
Express content that assures the reader of quality and relevancy.
Let the reader be in charge. Focus less on company history. They can search and learn that.
What are the Components of a High-Converting Mobile Landing Page?
Here is a list of common components of highly-converting landing pages accesses on mobile devices:
Content that shows why they should trust your business
Benefits of the product or services (speeds up internal work flows, healthiest diet)
Unique selling point (USP)
Clear customer service examples of how purchases are managed if something goes wrong (no fear monger tone)
Features that display/talk about solutions
Trust elements (company guarantee, user testimonials, volume of sold of orders, security seals)
Complete a strong story in natural language
Make your offer clear and provide compelling call to action "get your own now"
Easy customer journey and shopping cart flow throughout
The purpose of the ad is to gain a relevant click. You don't need a click from someone who is seeking something else and immediately leaves your site. A/B tests need to be equal to produce trusted data for making bid and Ad copy changes. Be on top of this and stop tests before running the risk of breaking down your overall click-through rate (CTR). Your goal behind your AdWords spend is to win the highest CRT for the search. Gaining it means that your Ad is shown more often and at less cost to you.
Agile Processes Produce the Best AdWords Mobile Marketing Results
Give yourself and your marketing team an agile process from the get-go. Make sure everyone has a focus on users. It is the most effective tactic for achieving short-term marketing success. Whether planning a new AdWords campaign or introducing a new digital application for health care or making it easier to manage content creation, user-centered projects prove up strong every time for real and tangible benefits. Seeing things from the user's perspective offers a huge political value for every business. Focusing on users also serves as a way to navigate through bureaucracy and force divergent interests to agree and partner toward a common goal.
For example, know if a local competitor is running a new promotion or winning a mobile featured snippett that you have a chance to capture. Half of all home furnishing mobile researchers say that retail promotions and discounts affected their purchase decision, and we find that is reflective of mobile shoppers in general.
Use Google Mobile Ads SDK for Native Ads in Android, iOS Application
Mobile native advertising is a popular type of paid media where showing mobile ads follows the natural form and function of the user experience in which it is placed. Native ads are paid-for spots that attract and gain a relevant and targeted audience with the intent to drive profitable customer action by personalizing or enhancing the consumer behavior. This makes them more apt to stand out in search for a competitive edge, to be viewed and clicked by users.
Mobile native ad formats aim to benefit both buyers and sellers through an integrated plan to execute and evaluate mobile native ad campaigns. To accommodate new mobile device user preferences, as of March 14, 2018, Google's native express ad format is discontinued; marketers using paid mobile advertising are directed to now use the Google Mobile Ads SDK.
Mobile Apps are popular because of the many ways a marketer can customize them. Native advertising can be modified for best display on any screen. App design makes it easy to creatively display Ads to appear like an inherent part of the app. It yields a higher CTR and a more positive user experience.
GDPR Changes Google AdWords Conversion Tracking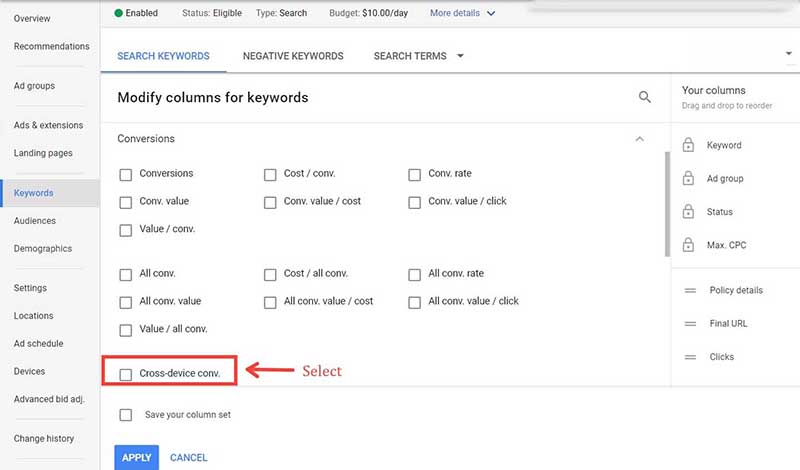 How do I get tracking on my Google Ads mobile marketing?
By default, paid marketers only get tracking for:
Number of clicks
Number of impressions
You don't automatically see the number of conversions. Google AdWords provides accountable marketing results, which is a killer aspect of mobile marketing. Search clicks, on their own, do not provide you with an indicator of a real lead coming through. You have to modify your columns to actually see conversions in AdWords new interface. Google leaves getting conversion tracking results up to AdWords Campaign Managers who must have the skills to know how to do this to gain conversion tracking results. It is quite a rich "ah-ha" moment to see these conversion results.
See what converts on mobile is harder to find in the new AdWords interface. It is under the wrench and "conversions". It used to be one conversion tag on your "thank you" page, now Google wants it across your site, too. Now you need a global tag across your site. Conversion Linker, as well as other recent Google updates, are the result of Intelligent Tracking Prevention (ITP) being added to the Safari browser, which many find confusing as there is yet little documentation. Once you have the global tag on, you will need to update your tracking code to an event. No worries about your remarketing tracking code, it is inbuilt with the new global tag.
Google's AdWords interface has now been updated with this message: "The global site tag adds visitors to your basic remarketing lists and sets new cookies on your domain, which will store information about the ad click that brought a user to your website. You must install this tag on every page of your site."
ITP and AdWords data were formerly tracked using third-party cookies. The purging of third-party cookies becomes more of an issue under the GDPR, and could prevent companies in the United States "from tracking the source of AdWords conversions that occur in Safari. This would break AdWords click attribution on almost half of all mobile searches", according to Jeff Sauers, owner of PPC Course.
"Google's solution to ITP is to push all the AdWords ad click data that used to get tracked via a third-party cookie into a first party cookie. This is the same way Google Analytics tracks conversion data. Tracking via first-party cookies falls into compliance with ITP." – Jeff Sauer
Cross-device conversions should be included; these are conversions that are tabulated whenever a user interacts with an ad on one device, and later converts on a different device or browser. This metric shows how your ads influence conversions that happen across multiple devices and browsers, such as someone whose first interaction is on mobile and later completes the purchase on desktop. This makes it important to test that Google is crawling and indexing your mobile site.
Google sent emails that offer the following information:
To help ensure conversions are reported accurately in your AdWords account, we'll be making three changes, consistent with Apple's recommendations for ad attribution:
1. If you have auto-tagging enabled and a Google Analytics tag on your website, we'll begin to set a new Google Analytics cookie on that site's domain, which will store information about the ad click that brought a user to your site. If you have linked your AdWords and Google Analytics accounts, the AdWords conversion tracking tag will be able to use that click information.
2. AdWords will continue to report conversions for users who have recently interacted with Google services and domains.
3. AdWords will also use statistical modeling to estimate website conversions that could not be measured from Safari, and include them in your AdWords reporting
"The idea is that relevance can help to create a better user experience when it comes to delivering ads to target audiences, especially for the mobile environment that now dominates everything we do in business and life." – Steve Olenski on Forbes***
"I think paid is a solid investment so long as you can prove a good ROI. My frustration comes when folks refuse to invest in organic because it takes a long time to show a similar return. Give it time, energy, and creativity, and organic can vastly outperform paid (but you have to be willing to stick with it, learn, iterate, and improve)." – Rand Fishkin
The Future of Mobile Marketing
AdWords is changing, and more and more it lets digital marketers align with the shopping habits of mobile users. Apps and mobile native advertising is on the increase and more integrated than ever with the Google Assistant for immediate consumer responses. Some former AdWords optimization practices and options don't even apply anymore. Ten years ago advertisers weren't forced to push mobile advertising to the same extent. Now, as mobile users surpass the level of desktop users, it is time to adjust and keep measuring cross-device user actions.
A mobile marketing approach may well take longer, but shaping a mobile-first advertising foundation saves businesses time and money in the future and your campaigns can experience a better set up for success. Mobile advertisers increasingly seek more granularities in targeting capabilities to reach consumers on mobile devices. To be sure, your ideal customers are there, too.
Mobile Advertising Checklist Conclusion
Every little bit of improvement contributes to your success and makes your site more mobile-accessible and user-friendly – Search Bots and Voice Assistants notice! All forms of web traffic are paid for in one way or the other, if you pay for the click from the search result, or if you pay for SEO services, time costs money. In our experience, mobile marketing optimization around every user experience is where most businesses need to focus in 2020.
We have to stop limiting ourselves to desktop or mobile optimization. We cannot afford to assume that everyone will stop and build iOS apps. That also is not the single sole experience. We have to see anyone who consumes content on all devices and in any situation. Hill Web Marketing believes that businesses are best served when walls come down between the paid side and the organic side.
Over 2/3 of the people who get through the average customer journey still abandon a purchase. Andrey Lipattsev, Partner Development Manager at Google, says "We make it hard!" In the mobile-first world, if your sites are not convenient for mobile users, your business will undoubtedly lose a needed chunk of your market share to more mobile-ready competitors. Mobile marketing is one of today's big deals and by all accounts will become an even more important aspect in the near future.
Check back soon; we will have a handy Mobile Advertising Checklist PDF downloadable version available.
Obtaining the best mobile advertising ROI requires timing and testing. Hill Web Marketing can help you create relevance and emotional connections to take the relationship between the mobile user and your brand to the next level. Start with a Mobile Site Audit
* https://www.digitalcommerce360.com/2018/04/19/5-ways-online-retailers-can-improve-their-conversion-rates/
** https://www.thinkwithgoogle.com/marketing-resources/micro-moments/how-home-furnishing-brands-can-turn-browsers-buyers/
*** https://www.forbes.com/sites/steveolenski/2017/01/17/when-it-comes-to-mobile-advertising-relevancy-is-not-the-only-key-to-success/
**** https://www.thinkwithgoogle.com/marketing-strategies/app-and-mobile/mobile-search-consumer-behavior-data/
***** https://thelbma.com/podcasts/
Oracle and code samples are licensed under the Apache 2.0 license and we provide creative commons attribution 3.0 were it applies.