How to Build Brand Trust and Brand Equity with Consumers
Updated 3.5.2023
Retail sales are dependent on trusted consumer relationships and brand-loyal followers. The first data point is consumer trust. Brand trust is something that every online business must earn. You cannot buy consumer trust. It is about being trustworthy and demonstrating that over time. Established trust is the key factor when building consumer relationships at every stage in the buyer's journey.
If you sell e-Commerce products, you're selling trust. How to build brand trust should be a top priority. Visibility in mobile product carousels will help you reach shoppers on cross-device platforms. Everything combines to create your brand.
What is brand trust?
Brand trust is the level of consumers' expectation that a brand's product, service, trustworthiness, and company behavior align with the promises the business has made. Successful companies make it a priority strategy every time the annual business plan review comes up. You can learn your brand's trust factor by conducting Google brand entity research.
Audience research is a foundational task in knowing what your target audience wants, how they make purchases, and what questions need answering. The level of trust you have with your audience is discovered through reputation research.
Establishing Brand Trust is all about the Customer Experience
Two-thirds of life is about showing up. Be present where the consumer already is – and do so without the consumer feeling like they are being sold to. Potential buyers need to trust your business whether it is online or offline. Protect your brand and avoid a negative comment going viral on social. Identity user-generated content to switch from "this is why we believe we are great as a brand" to "how a user finds us great as a brand".
Consumer trust exchange happens at every touchpoint across the customer journey. Your interactions with consumers should display consistency, frequency, and diversity to build a relational connection. This article will help you get over brand trust impediments. Where business leaders have the confidence to build brands, the mechanism of how brands are built and maintained can move forward.
The education task that we must embrace links directly to commercial performance. Brand trust is helped or hindered every day. Being successful involves innovation and attention to everyday communications and tasks.
Ways businesses daily communicate with their target audience:
Text message marketing and SMS responses
Social connections
Engagement with website content
Phone calls
Podcasts, video, live streaming, and webinars
Communication is so easy today, we may not always think of it when we're speaking as a form of building trust. Search marketing specialists have multiple accessible ways to communicate; you should consider it part of your ongoing marketing and as part of building a sense of community within your client base.
How do You Build Brand Trust?
Key steps to evoking user trust exchange:
Be present for mobile users
Use natural language
Be transparent about user privacy
Research your audience needs
Remove friction about security concerns
Don't just talk about your brand – rather look at a single customer view and manage expectations. Responses that focus on what the consumer meant with their questions and how your product benefits them. Brands need to trigger positive emotions, be engaging, be informative, distinctive, and memorable. Standing out in a crowded market niche is no small task.
Marketers must anticipate how brand awareness and trust factors are changing and adapt their efforts. You need an objective way to evaluate brand metrics in order to be successful in a new digital reality. You'll make no other business investment that will last longer or get used more than your brand name. It affects your combined organic search and paid search marketing efforts. If an ad isn't seen, it can't have an impact, influence buyer perception, or build brand trust. That's why measuring your brand's viewability matters.
The 6 Best Ways to Build Consumer Trust
1. Be Present for Mobile Users
Speak to them mobile everyday moments – it is the little things that add up. Consumers want to know you before making a purchase. This means that your site must have a UX design and taxonomy for products that works for mobile advertising and engagement. It starts by simply being present on mobile, which is the same as saying you must show up fast enough or they leave. Brand trust and brand loyalty are heavily influenced by consumer involvement.
Encourage a culture of consumer reviews
Relationships are not static. One tap on a mobile device can mean a person leaves a genuine opinion by creating a Google review. Reviews can be the start of communication. Even negative reviews provide businesses an opportunity to value consumer opinion. It can be a pivot to more consumer involvement and trigger genuine trust in your brand and the quality of your customer services. Follow-up on every form of customer feedback fast and at scale.
Being authentic and present involves consistently engaging with your customers on mobile. Should you ever make a mistake -and we all do – own it. Offer solutions, answers, and authentic storytelling. This engages your customers and helps build relationships, which ultimately builds trust. 8 out of 10 consumers mistrust brand ads; they trust their own network. And they are most likely engaging with that network all day from a mobile device.
Provide immediate answers
It is always easier to build recurring revenue streams that find and convert a new sales lead. Buyer trust usually originates from the voice of their family, friends, and other consumers versus your brand messages. This is the reason why consumer reviews are so important, especially for companies in a competitive niche like those saturated with healthcare reviews.
People don't care about your backlinks; they care about what people are saying about you. What consumers have to say is your bedrock of future data-influenced decisions. Save time. They are easy market research. Gain a solid understanding of users' questions, concerns, and overall needs.
Take time to use Google's tools to find ways to answer more questions. Make it easy for them to identify your areas of expertise and determine how you will provide them value.
Monitor how well your target audience trusts your brand by watching on relevant review sites, such as Google My Business, Yelp, Facebook, Trustpilot, or industry-specific review sources. You can track brand mentions and consumer conversations on social media with social media management tools like Hootsuite and SEMrush. The point is – you must show up on mobile!
"The struggle for brands to show up in these moments (the myriad of digital touchpoints in a buyer journey) — and influence purchase behavior — is real. We're seeing organizations starting to adapt their talent, processes, and tools to deal with these levels of unprecedented complexity, but it's one of the top challenges marketers tell me they face."

"Machine learning algorithms can help you find and engage high-value customers who'll drive growth for your brand."- Jason Spero, VP of Global Performance Media at Google
Your brand can use Artificial Intelligence to predictive the behavior behind consumer needs. This will empower you to drive and deliver truly authentic and mobile experiences that shoppers can relate to.
2. Use Natural Language to Establish Your Brand Voice
Google introduced its BERT update that addresses the current search ranking system last week. It favors natural language in content meant for consumer consumption. It quickly generated chatter within the SEO community about if SEO strategies need to change. That is not the intent behind BERT. It is easy to get focused on dollars and ROI because that is vital to our job. but it will help to write the best content for your users.
Business growth demands making a lot of right decisions that protect and expand your brand footprint. Often SEO professionals go with content with shorter head terms because they drive the most search volume. — rather than the typically in-depth conversational queries that BERT is devised for. BERT's intention is to assist Google to better understand searchers' intent when they search using natural language. Rather apply your attention to writing for your audiences, real people.
Every team player who is involved in digital marketing needs to understand that any tiny aspect from color, tone, to a single word can make or break your marketing campaign. In sum, they establish your Business Voice and that is what consumers "hear" when your brand name surfaces.
Against the current backdrop of consumer skepticism, brands that build real trust have a remarkable advantage. If search engines recognize that your site visitors and consumers trust you, then you have earned GoogleBot's trust. The technology giant cares that the people that they send to your site will not be disappointed. Your content needs to be in the natural language that the average consumer uses and easily relates to. Once you have Google's trust, you can leverage it to build consumer confidence in your brand.
So, that brings up a commonly asked question. How do Internet searchers identify which brand to trust?
New Ways that Searchers can Identify Your Brand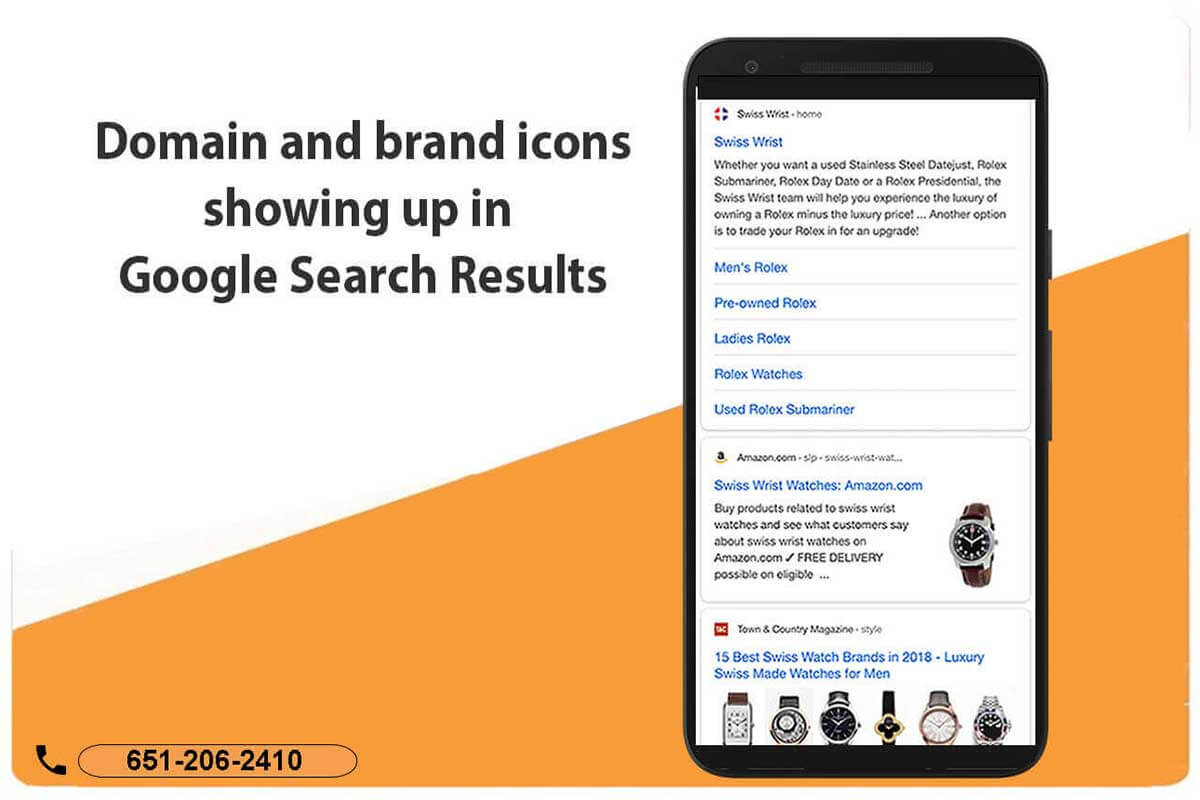 Icons from domains and brands are now showing up in both mobile and desktop Google search results.
This increased the ways that a site's brand can gain front and center visibility immediately in Google SERPs. At a glance, searchers can better understand where information is coming from, associate it with a brand, and more easily decide what links they want to click on. This is one ideal way that small businesses can compete with big brands. It leads to winning clicks and user actions right on Google SERPs.
Achieving authenticity and brand trust comes down to your company's values, your business goals unrelated to profit, your local community culture, etc. All this shapes your brand's unique and authentic voice. When you demonstrate that you care about others and giving back to your community, trust is born and nurtured. Be relatable and factual in your published content.
Are you writing code and content for humans or machines? Also, watch for fake news that may tarnish your brand's trust. In the era of "fake news," it more vital than ever that trust in the media has hit rock bottom in the United States. Buyers in the United States are trusting their peers less too, with fewer people believing the point of view of "someone like me." Be consumer-centric across your entire enterprise. That means that everyone from your sales team to your content writers, and public speakers make it easy for others to relate to you by using natural language.
Consumer's faith in your brand comes with the expectation that building trust is the number one job for CEO's, and that it's more important than producing high-quality products and services. Google is trying to simplify life and search for people. The best brand nurturing tip is to do the same.
Use conversational text in your web content
If you take one thing away from this point, know that the language used in voice search isn't the same as the language used in traditional desktop searches. Different searchers may be searching for essentially the same thing, but the manner in which they search is different. In search, Google is relying more on natural language processing (NLP)
On a desktop computer, most people use computer language.
When simply taking to activate a search, most people use human language.
Research indicates that voice-activated searches have longer tails, which points to the value of using long-tail keywords that best match conversational human speech. You can also use speakable markup with SpeakableSpecification to extend your brand reach. Where topical expertise is needed, hiring an expert in the subject is best.
3. Be Transparent about User Privacy
Respect user privacy and data collection concerns. Be open and honest in your privacy statement.
Improving your site's security is one aspect of the development of your brand. First, make sure your customers feel safe when they shop with you. Have a clear privacy policy, empower site visitors to select their personal data collection levels, and ensure that all URLs are HTTPS.
Is your data platform selling to another advertiser? If so, the user deserves to know. Marketers have a sea of options to test and learn what impact using third-party services means when it comes to users' trust levels. Incentivize users to let you use their data to serve them better. Digital advertisers are losing "free end-user data" and need to evolve post GDPR and user transparency and privacy trends. Respecting user consensus builds brand trust.
Minimum viable products and blockchain need real application.
As information is distributed, the distributed nature of the network is best with the personal management of that data system. The main product here is transparency for industries. Everyone should see the same picture. Shoppers run when they feel "hooks" or pushed.
Because blockchain involves an exchange of finances, users need to trust how your brand uses technology. It affects your brand trust and how your advertising, especially if you're an international retailer with a shopping cart that uses bitcoin payments. Storing user data and making records into blocks is highly secure but also too expensive for many.
Users interface with your brand simultaneously. Unification of your marketing approach can demonstrate respecting their privacy across every way that you engage with them offline and online. Technology is table stakes; it's about real people. Know what makes people tick. This is the core of all marketing. We talk about leveraging dataset schema, but, also, your website, email marketing, social media marketing, and advertising needs a differentiator that reaches your target consumer.
"71% of consumers worry about brands' handling of personal data." – Marketing Dive*
4. Research and Listen to your Audience Needs
The top value of marketing research is it let's you know your consumers. Timely and continual market research helps you keep your pulse on your niche industry.
Tereza Litsa's July 3, 2019 Why brands are losing consumer trust and how technology can help re-earn it article, informs us that "62% of the respondents have growing concerns about product experience", and that "69% of the respondents have growing concerns about brands' impact on society". These statistics are wake-up calls to retailers. The content of your landing pages should closely align with search intent, be fast, and build confidence in your brand.
Research proves that consumers value three core things before trusting a brand:
Customer experience buying that product
Product experience after a purchase
How brand's ad messaging and truth factors impact society
Winning consumer confidence takes effort. The work invested will set up apart. Desktop conversions are still important, but seek to boost your mobile user engagement metrics by embracing PWA's and AMP today. Users will trust that you care about their experience if you focus on mobile – it's where they are at.
Once brand trust is established, serious buyers proceed to the next steps of the sale, ongoing brand engagement, and advocating for your business. Litsa concludes that "a brand's impact on society seems to be the most popular reason that consumers lose trust in a brand. Whether it's the fact that a brand is silent over societal issues or they fail to address them in the most authentic way, it's a deal-breaker for consumers who expect brands to express their values".
If studies are scarce in your niche that fully investigate brand trust and brand affect between the company and consumer relationship, do more research yourself.
5. Remove friction about security concerns
Online security has grown in its strategic importance on brand loyalty and building business credibility with consumers. Every new site now has to incorporate HTTPS to gain user trust, meaning the connection is encrypted between your browser and the server. Digital transformation has forced issues of identity verification and authentication. The future of eCommerce security involves rethinking digital identity for most brands.
Whether or not consumers trust a brand must now be prioritized as a key feature of every product containing software, regardless if it's a purely digital product or a physical product containing software. Andrew Burt's March 4, 2019, Cybersecurity Is Putting Customer Trust at the Center of Competition article says that "This makes trust both the most important aspect of any commercial interaction and the hardest to measure. If we don't trust the maker, we simply don't know what it is we're getting. And because trust cannot be proven, it must be signaled — through branding, marketing, and more".
Make sure your customers feel safe when they shop with you.
So how much weight should companies place on brand trust?
6. Select Excellent Ad Placement to Protect Your Brand
Conversely, poor ad placement has negative consequences on your brand's trust factor. How a consumer assesses the quality of a brand's digital ad's environment is the most important, while ad relevance continues as a top concern for marketers to focus on. The most significant opportunity for brands to focus on lies at the intersection of these two factors. Both messaging consumers with relevant ads AND ensuring the ads are displaying in a high-quality content environment are necessary for United States brands.
Your brand messages are tasked with the need to capture consumer attention and diving business outcomes. The November 7, 2019 The Ripple Effect article reports on findings on how consumer perceive a brand when its advertisements appear in different quality environments.
It reports the following content quality assumptions that user's make about brands.
81% of U.S. consumers find it annoying when a brand appears in a low-quality environment.
Within this same consumer pool, 52% feel less favorably toward a brand is visible here.
62% will stop engaging a brand altogether if its ads appear adjacent to low quality content.
Select specific ad placements where you choose where your brand shows up.
Your Google Ads manager can select to run ads on the Display Network but only on placements that are hand-picked by using "managed placements". For example, if you sell video editing services and want your ads to appear on a particular website or a specific page about video creation, add it as a managed placement.
If you know of a site or platform that your customers regularly visit, that may be an ideal managed placement. Consider, if your target audience spends a lot of time on somesite.com and you want your ads to appear there, select it as a managed placement.
What is Brand Equity and why is it Important?
To best implement the 5 steps to building your brand trust listed above, it helps to understand what "brand equity" is.
Brand Equity is the trust factor that shapes your brand value and helps to build brand trust. It is consumers the perceived value of your company over others selling similar products. The equity of your brand is critical to revenue because, if your brand has positive brand equity, your product prices and services can be more than other generic products or those for sale by your competitors. Your brand should show up in visual search. Brand-building goes beyond the marketing department and involves understanding the commercial value that your brand can bring.
What does all this mean for your brand?
To sum it up, buyers have issues if engaging your brand means:
👉 They don't feel safe on your site
👉 Your content is too fluffy and comes across as insecure
👉 Doesn't align with how they form brand loyalty
👉 They have seldom heard or you or you are hard to find
👉 Your messages and interactions with them are not personalized
👉 Not relevant and fails to match their search intent
👉 Getting answers and information is behind a form
Implementing business type schema and other forms of product structured data will help your brand be found online.
The secret to high brand engagement and brand equity takes an ongoing effort to build brand trust and authority. Your brand trust management strategies may benefit from revisiting them. It is important to track brand reach over time. Ask yourself how your brand is perceived. Make sure that consumers believe that your brand delivers to the bottom line. Brand investment needs a balanced approach to short-term and long-term objectives that can adjust to market pressures.
Another great way to improve your brand SERP is to use Organization schema and other essential markup types. When it comes to building your brand's domain, topic-relevant articles by an authoritative author help.
Brand Loyalty Boosts Lifetime Profits
A focus on driving brand loyalty and brand equity may help you keep marketing budgets in check.
Erica Sweeney's February 7, 2019 Expectations around brand trust jump 250% year-over-year article announced study findings from the Brands Key Report. I discovered that "A loyalty increase of 7% can boost lifetime profits per customer by as much as 85%, and a loyalty increase of 3% can correlate to a 10% cost reduction, depending on the sector". It finds that brands typically spend up to 11 times more on recruiting new clientele than retaining existing ones.
Customer-based brand equity in a technologically fast-paced, connected, and a constrained environment has become a necessary commodity. Obtaining buy-in and funding to support building brand trust is often the hardest aspect for digital marketers. "Trust has become the connective tissue between brands and loyalty," according to Robert Passikoff, president of Brand Keys. So you can see why we believe that consumer-based brand equity is an area of investment that should not be suppressed or delayed.
It means that conducting a consumer behavioral analysis may help you tweak your brand trust-building efforts. If you increase your brand's trust factor, you can expect it will directly increase your search marketing reach to attract more shoppers. Entities with a strong and trusted brand are more likely to win visibility in Google Top Stories – which offers you site remarkable click-through rates.
So, what do you do if your business brand has been directly and falsely attacked?
How to Manage "Brand Fake News" and "Deep Fake Reviews"
Having a strong brand trust history is your best defense to mitigate a deep fake attack.
Create more news to put your best foot forward and push a deep fake review down.
Start early to earn brand trust so that people go, "Wait a minute, that cannot be true."
You don't sell your value proposition; focus on your people and your values.
Address your mistakes in a meaningful and genuine way.
Advertise in a way that inspires loyalty; be a brand that people want to associate with.
Know which values and ethics reflect the heartbeat of your target audience.
Be willing to take a risk by aligning yourself with a stance that matters to you and them. It may help your brand come across as more genuine. Priorite adding Local Business Schema to your web pages, which helps to control your brand footprint.
Build a Personal Brand Equity Model
The overall consumer perception of your name and business brand may be different than you think. Building a personal brand starts with a brand equity model. It is critical to monitor negative brand equity and positive brand performance. Consumer perception is your brand lifeline. Consider if you move from one place of work to another. Your personal brand equity will follow you wherever you go in your career. So it is important to have someone who really knows what SEO is helping you promote your brand. Today, it is much more than just building your domain authority through backlinks, and is much more about generating a strong knowledge graph.
While 47 percent of buyers feel confident of a brand's trustworthiness for its products alone, 55 percent report trusting a brand when it offers both a valuable product and treats its customers well, according to The 2019 Edelman Trust Barometer Special Report.
A positive brand experience is also established when a site visitor finds it informative, useful, and free of technical errors that may impede a positive shopping experience. This directly impacts your consumer brand equity.
"Despite consumers' call for advocacy and brands to reflect their personal beliefs, brands are largely failing the trust test. Shockingly, just one-in-three respondents said that they trust most of the brands they buy and use." –
What generates the strongest brand trust?
It is essential to understand that brand trust and the brand effect is generated through consumers' experiences with a brand. Consumers do not form any subjective perceptions about brands before consuming them. Therefore companies should focus on creating unique experiences between their consumers and brands. Companies can induce consumer experience with brands through the appropriate coordination of marketing communication elements such as maps advertising, price, packaging, symbols, logos, slogans, store location.
"Brand trust is a big deal for marketers in 2019. It's time to be proactive about it. Your brand trust relies on what you say to your customers, how you say it, and how you prioritize their needs." – Content Marketing Institute***
CONCLUSION
Both B2B and B2C customers seek many of the same elements when they interact with brands. They look for professionalism, expertise, and trusted information before they proceed on their purchase journey. By following the guidelines in this article, you can build long-lasting brand trust and long-term relationships with your target customers that rival even the most profitable competitor.
Trust is a foundational attribute in buying consideration. People expect brands to keep their promises. You earn that trust by taking action that makes a difference. If you're interested in exploring the process of building trust for your brand to build relationally with your consumers, Hill Web Marketing would love to help.
Hill Web Marketing's brand building services start at $1500 (Offer runs through July 31, 2024). We provide brand building services to build consumer trust. Gain the visibility your business deserves across all channels — from content marketing, social media marketing, paid search, mobile advertising, and web design to direct mail, print fulfillment and more. You can get started by developing an understanding of core vocabulary used in our Search Marketing FAQ page.
* https://www.marketingdive.com/news/71-of-consumers-worry-about-brands-handling-of-personal-data-study-finds/523417/
** http://www.isma.info/uploads/files/080-brand-trust-and-brand-affect–their-strategic-importance-on-brand-loyalty-.pdf
*** https://contentmarketinginstitute.com/2019/03/steps-brand-trust/