Trends in How Consumers Shop Using Visual Search
Updated 12.7.2021
Visual Search has become the growing trend of flexible and modular assets used to support commerce experiences.
Visual search trends are shaping how consumers find products and information. When people want to explore a topic, they are turning to image search for it. The images that your site uses for a product, person, place, or entity may be categorized into your site's ontology. When images are properly added to a site, it assists people who rely on visual search for content about a specific product or topic.
Voice-activated searches are initiated by speaking with the human voice; visual search is done easily by anyone with a good smartphone camera who takes a picture. This new way of conducting a product search through photo media is a fairly new technology, but is already far into development, with numerous apps and services that already leverage it for mobile advertising. This again is another new exciting feature that will definitely influence SEO in the future. This article will help inform you of what you need to know today.
"Images are the closest you can get the shopper to your product."
What is Visual Search?
Visual search lets Internet users conduct a search using images for a specific item, which may yield exactly what they are looking for. Relevant images served to users of visual search may gain better results than traditional search provides. This actually opens up a whole new world for online retail optimization as it expands to a new level of search efficiency for consumers.
GoogleAds announced on December 7, 2021 that it will now display image extensions (and dynamic image extensions) to desktop devices. It says, "When the update rolls out in a few weeks, advertisers already using image extensions for mobile devices will automatically show those extensions on desktop as well."
Do Visuals have an Important Role in Google Ads?
Yes. You can showcase your products or services in compelling visual ways on the Google Ads platform. Google added new Ad tools in July 2020 that offer more Visual Options to paid search managers. Given the advanced technology in Google Lens, digital marketers can now better reach customers on websites that partner with Google.
You can showcase Shopping ads by gaining an image and description that expands when clicked. Then it can display several related product options, as well as information about the store.
What is a Google display ad?
Consumers tend to shop visually and not think in terms of an "display ad". They are the visual-based ads that consumers find compelling in search or while reading an article, watching a YouTube video, or when using a mobile app. Images help buyers feel like if they click on a URL it will match their search intent.
What are image alt attributes?
Image alt attributes are tags that help a site get more targeted traffic when alt tags provide text that explains the image. The required alt attribute provides an alternate text for media in situations when the image fails to be displayed. The alt attribute offers alternative details for an image if a person for some reason cannot view it; common causes are a slow connection, image src attribute errors, or if the person searching uses a screen reader. The Alt tag exists foremost to aid usability; they should be unique to each image.
Sites that have images and don't get the expected traffic are not caused by Google Bot failing, it is caused by the site itself. Things like alt attributes and an image's position are needed by Google for mobile indexing. Because they are invisible, unless you scroll over them, it is easy for many web developers and casual SEOs to forget them. Look at the rendered HTML in your Google Search Console and not just the charted results.
The way images search results works has changed. First, know what you mean to achieve in image search and how people might use visual search to get answers and arrive on your web pages. Audit consumer behavior and know how your visuals help users who actually want to go about purchasing a product or consuming information that is on your site. Determine if searches that are qualified traffic on your topic use voice, text, or image searching to get what they want to find.
Use image formats that indicated to the searcher that they can reach the goal of their search intent by clicking to one site over another. Gary Illyes gave an example of the value of visual image search to people conducting a search. It helps the publisher reach the right audience that can benefit most from your content. "If they are looking for a recipe of apple pie, then we don't just want to show them something that is unrelated, like an image of just apples." They can visually quickly recognize an apple pie over a blueberry pie before they click on a web page to gain the recipe.
What is image lazy loading?
Lazy loading images is the process of loading images on websites asynchronously. This means after the above-the-fold content is fully loaded and displayed, only then do they appear in the browser's viewport. This means that if users don't scroll all the way down, image media assets positioned at the bottom of the page are not initially loaded. They are only loaded as a person scrolls down and may actually see them. B2B sites find this an essential mobile search strategy to show images of product variations.
Using native lazy loading helps take care of issues in page load speed. Lazy loading is a good strategy that only loads images when the user is about to see them. Images below the fold appear on the screen when a user scrolls down the page or over it. To make sure you're implementing lazy-loading in a search-friendly way, follow Google's lazy-loading guidelines*****. Because images can be quite costly on bandwidth and performance, fixing images and lazy-loaded content issues often need to be higher on the task list of a web designer.
Chrome's Lighthouse is a tool that provides more technical insights than Google's Page Speed tool. Each can help at the SEOs level of technical expertise to fix SEO problems and reach their end goal.
Many of these answers are provided by Google's search team at an event that Aleyda Solis hosted and can be found in the Crawling Monday's Dec 16, 2019 episode. Presenters included Google's Google Webmaster Trends Analysts: John Mueller, Martin Splitt, Gary Illyes, Daniel Waisberg, and Lizzi Harvey.
When the Google Crawler runs into a higher percentage of technical SEO errors, this may trigger a lower crawl budget. So, for example, if you add a new product, JSON-LD schema helps search engines tie the product image to the web page for more relevant SERPs.
How Visual Search is Transforming the Modern Shopping Experience
Increased smartphone and internet penetration rates have granted more shoppers the ability to snap, upload, and find pictures in-the-moment wherever they are.
Now that AI-driven technological innovations exist that are helping retailers increase these visual search touchpoints, we all need to pay more attention to the images on our websites and in our Ad copy. Go for gaining rich snippets in immediate SERPs!
This means providing a machine or system a photo as input, and receiving in return a related image as output. The applications of this technology in search marketing are mind-boggling. They already range from personal recommendations to augmented reality.
Let's look at some visual search studies and statistics:
Gartner: Improving Visual Search Improves Revenue
"By 2021, early adopter brands that redesign their websites to support visual and voice search will increase digital commerce revenue by 30 percent," predicts Gartner. The Gartner Top Strategic Predictions for 2018 and Beyond article ** by Kasey Panetta talks about the exploding popularity of using Google Image Search.
It is already more dominant for consumers who prefer mobile search modes. Companies are feeling forced to experiment to identify the best ways to capitalize on this new consumer shift. "This search type enables marketers to gather more robust information about consumer habits, and early responders will see an increase in conversion rates, revenue, new customers and customer satisfaction", Panetta believes.
BrightLocal Study Proves that Images Make Your Products Discoverable on Google & Beyond
Image search trends are more important for SEO than ever; if we ignore them, we fail at a consumer-centric marketing approach.
Studies about visual search trends have signaled how consumers shop or consume online content for some time. BrightLocal's April 12, 2011 survey found that consumers were more likely to buy a product that has high-quality images with it at that time. And the visual search trend is growing.
Their Where do Local Business Websites Get Their Traffic? survey report discovered that "60% of consumers are more likely to contact a business that has an image showing up in local search results".
The study is compelling to switch up our ways. "And, while we expel tremendous energy optimizing our website's text and headings, trying to make it more appealing to search engine crawlers, we often ignore a critical element – the images on our website", concludes Myles Anderson, Founder and CEO at Bright Local.
Emarketer
Around three-quarters of U.S. internet users regularly or always search for visual content prior to making a purchase, according to eMarketer; only 3% never do. Ann Marie Kerwin, Content Strategist and Executive Editor at Emarketer published Visual Commerce 2017: How Image Recognition and Augmentation Are Changing Retail on June 8, 201, visual e-Commerce has emerged on the back of the mobile revolution and advancement in Artificial Intelligence.
Clearly, success in online shopping sales is driven significantly through product images. They can create a positive experience for potential customers. Think of when you have looked buy something and how if the site features multiple professional images for a product, that helps reduce buyer uncertainty. Indirectly, professional and optimized images result in improved conversion and lower product return rates.
Jumpshot
Google Images search nabs approximately 26 percent of all search queries, according to Jumpshot and Moz**.
We consider this important as Google Images offers an ideal marketing opportunity to gain new quality traffic. Optimized product images can drive new customer acquisition for eCommerce websites. Making it easy for prospective buyers to discover up-to-date and accurate product information like images is foundational to completing a successful buyer experience on Google Images.
Google Image-driven Shopping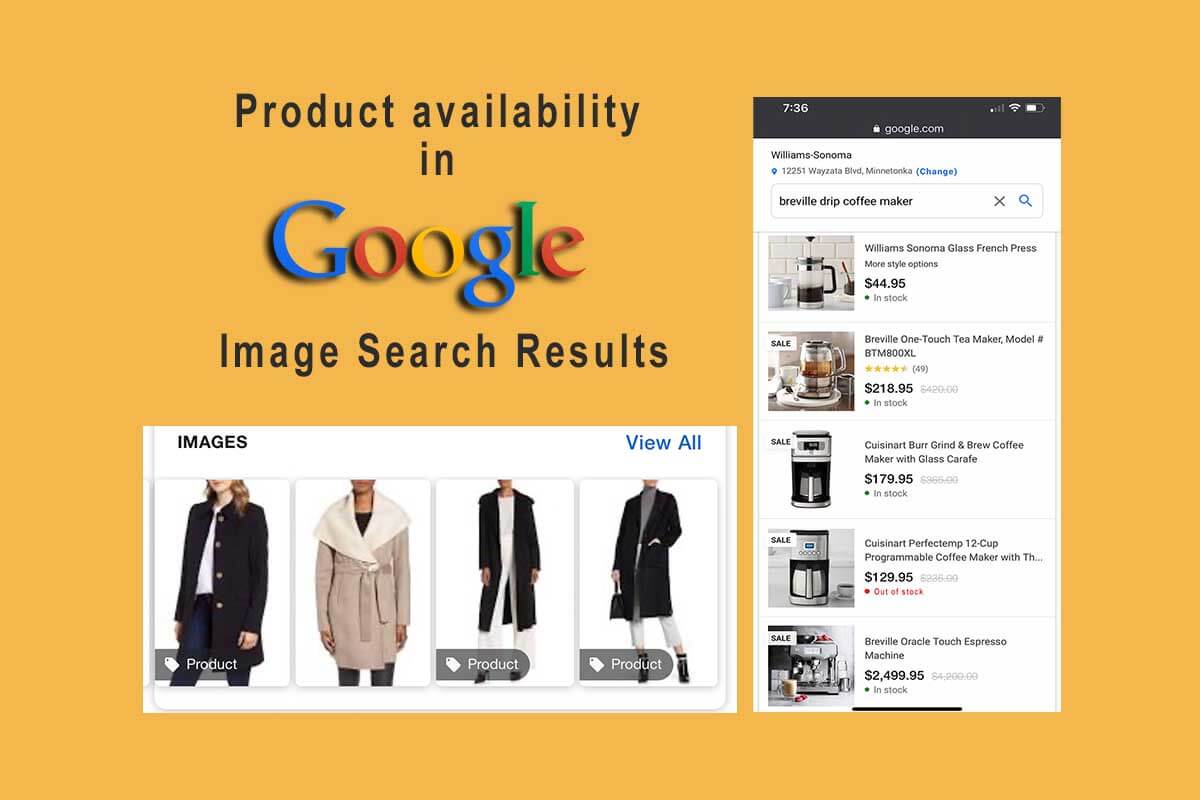 The Google Merchant Center aids consumers who rely on visual search; it drive thems toward their final purchase.
Whether using Google Ads or organic search marketing, Google image search results are creating more shoppable experiences anywhere. Google Image-driven Shopping shows product availability, prices, sale items, and more. Note the "product" tag in the women's wool coat image carousel on some but not all images of coats for sale. While search engines are not reliant on it, JSON-LD product markup makes it easier to show up for purchase intent search queries.
In March 2019, Google revealed a new method for retailers to promote products that show up directly in image search through shoppable ads. While it permits retailers to highlight multiple products within a single ad unit, earned search has more ways that image can accompany new featured snippets formats directly on Google-owned search result pages. Showcase Shopping ads partner with Google Images and offer shoppers a more inspirational and rich visual experience.
Not only that, Google now shows product availability, price, a description, and more schema markup directly in image search results. While we suspect this may be a test result or evolves soon, currently Google used green for a product that is available and a red dot or text if it's not. Image search is becoming a product search destination – meaning that shoppers don't have to leave Google SERPs to make a visual "yes" or "no" to each click option.
With updates to Google product feeds, it is easier to modify your product information in real-time to match related queries from high intent searches or buyers. New image feature in Google's product feed is excellent for retail brands and digital marketers looking to properly display their product information – including images – in real-time.
This burgeoning form of Google Search can be your storefront display with proper product markup with consumer aggregate reviews. This has become a must-have for every eCommerce or retail shopping site. Implementing structured data markup ensures that all major search engines can interpret your product images and related attributes. The tech giant urges businesses to incorporate markup on your product pages so they can provide detailed product information in Google rich search results – that includes Google Image Search results. Search queries that demonstrate high purchase intent may see product price, availability, and review ratings that inspire confidence. Google provides reports for Product Featured Snippets in it's Search Console. Use it to better annotate your product information.
So, you may be asking, what group of consumers is adopting this the most?
Trending: Delivering Intelligent Image Recognition Solutions
ViSenze, the artificial intelligence company powering visual commerce, announced results on August 29, 2019 of its study of Gen Z and millennial consumers. It found that 62 percent wanted visual search capabilities when they shop online. Millennial Consumers Want Visual Search Capabilities, More Than Any Other New Technology was first published by Kristen Georgetteon and had been widely quoted.
"The study further found that 62 percent of respondents want visual search capabilities enabling them to quickly discover and identify the products on their mobile devices that they're inspired by and seek to purchase."
Digital marketers are on the continual journey of figuring out how to integrate this growing visual search trend into effective SEO strategies. Be flexible and go with this heavier emphasis on an image-based web presence. The visual search revolution is a happening! We recommend being an early adopter of visual search technology.
It points to the need to make it easy for shoppers. Shorten the path to action for next-generation consumers who prefer to search and discover on the visual web.
Determine Web Traffic Volume Coming from Image Search
The basic thing is to make pages fast for users. And since images are the common culprit of slow loading pages, it is important to test and try reach an ideal desktop and AMP page speed of all visual content for better ranking on SERPs. Google uses both its own lab data field data from real people who use your site and report it. You need to know which image metrics are most important for your site's users. For example, user actions on your page may be impeded by the time it takes to load everything before they can use it. Image SEO tools often give a score, but that avoids getting the details you need.
As of December 2019, pages' load speed are either categorized as:
This means that you should not be happy settling with mediocre; you need to an exceptionally fast loading site.
Invest in using Google's commercial API for recognizing entities in objects and text on images. Discover what image load speed means to the person trying to take an action on your landing page. You can also use Google Images to grasp a new topic that you are considering writing about. You need to know what matters to you and the people visiting your site in order to even select tools to use to improve your images' load speed.
"So instead of organic search being nearly half as effective (1.55% vs 2.97%) it's approximately 75% as effective (2.19% vs 2.97%). In October of 2019 44.8% of traffic came from image search." – AJ Kohn of blindfiveyearold.com
Search engines may only index web pages that it can serve right away and doesn't run into 404 pages, redirect loops, or pages bogged with image high bandwidth issues. A real bottleneck is often the bandwidth demanded by un-optimized and poorly placed images.
Determine Consumer Consumption Patterns of Visual Content
Search technology is advancing at an exciting pace and requires a comprehensive approach. Imagery is growing in importance as it is both easy to consume and search engines are getting better at matching search queries to visual content. Upload WebP images versus the traditional jpg or png file format.
A WebP file is an image file format developed by Google in 2010. It permits users to save an image in either lossy or lossless image format. Google stated that the compression efficiency of the format can be up to 34% smaller than the equivalent JPEG or PNG file format. It is an image format employing both lossy and lossless compression. It is currently developed by Google, based on technology acquired with the purchase of On2 Technologies.
How to Upload an Image File to a Web Page
Instruct each individual who may be uploading images to your site about Image Guiddelines and Best Practices.
Images are a huge part of page weight and SEO warning messages. Just because the image shows up on the page after uploading it, doesn't automatically mean that is all that is needed.
6 Basic Steps When Adding an Image to a Web Page:
Select a unique image that visually represents your topic well.
Edit and create it in the right size for each use specification.
Name the image URL using correct formats and optimized keyword inclusion tactics.
Compress the image for uploading to a web page.
Add correct schema markup syntax to each pages's featured image.
Test each page for its image elements before submitting the page to search engines.
Search engines need to know what that image entity is about and how it relates to your text content.
You may be getting messages from SEMrush like this one: "681 resources are formatted as page link". One common reason that sites are given this notice is when each image is not only added to the page it's intended to be included in, but the image itself is made a page. The code generating the issue may look like this for www.somesite.com – "resources are formatted as page link" Check your code. It is better not to format the image call as a page link.
Google Visual Discovery Search and Image Datasets
Use Images Datasets to stand out from the others in the Battle for Clicks.
Google Public Data consists of many valuable sources. You can use Google datasets to animate charts and graphs to support your topic points. Many eyes of many shoppers can visual appreciate these representations of data sets. When an image is searched for and leads to your related webpage, you've helped the user get just the information that meets their search intent.
Be sure to include the data src attribute.
New Google High Resolution Images in SERPS
Associate your images better to your content topics and prepare them for the new advanced image search results.
Too often images that we don't want are in the crawler arena. Also, GoogleBot may have issues with lazy loaded images with JavaScript-only pages or AMP pages. So use log files to know precisely how search engines and servers manage your images. Also, use a CDN to source your high-resolution images. A search marketing expert should know how to link to these images properly with the best metadata to boost them in search.
It helps to create and insert image carousels in new Google Sites, but you can win visibility in Google immediate SERPs product carousels, without them added to a page. When optimizing an e-Commerce retailer site, you'll can gain special SERP treatment when your 3D product will launch in the viewer. It assists the buyer when they can use artificial reality to place and preview a possible product surcease in their homes.
We much prefer the "Visit Site" button over the "View Image" button. Then they can see both the image and the context.
Google's Mobile Image-based Search Interface
Google is already relying more heavily on its new mobile image-based search interface. In 2019, we saw it used as a supplement to the Google Maps 3 Pack for local searches and it displays local results visually based on an image that best matches the search intent. Google is offering local business sites more incentive to add loads of images to their Google Business Listing and GMB profiles. A new "search by photos" option is now provided in Google search results for an increasing number of local business niches.
"It obviously relies on Google's ability to understand the content of an image that has been uploaded to the business's listing. We have seen similar examples of Google's image understanding recently where we saw Google swapping out images in the local pack based on the user query. Google is clearly using sophisticated image recognition in this endeavor and is quite successful at it." – Jeff Blumenthals article New Google Local Discovery Search by Photos
Google provides photos of similar places in its knowledge graph or other featured snippets.
Google image search assists consumers using "Search by Photos" or who are search photos of places. It is easy to understand why some businesses are upset if Google displays their competitors' product images in their company's knowledge panel, but Google's intent is to make searching easier for the searcher. So if the person conducting the search wants more options, they already have suggestions from Google. Because SEO's and SEM professionals do not have control over this, it is best to embrace it and make the most of it.
Focus on making your business show up favorable, in a manner that fits consumers' shopping preferences, as often as possible.
But this isn't just a Google feature.
New Features in Bing Visual Search
Internet users that depend on Windows will now find it possible to initiate Bing visual searches directly from the search bar. People can add a full or partial screenshot and then search for objects in that image. That means you have no need to open up another browser. The image feature is initially rolling out to U.S. residents, with international markets to gain it shortly.
Visual Search Adoption, Visual Proof, and Augmented Reality
The online world is visual – now how consumer search is more visual, too.
Local visual search is on the rise. Proof of it is found in the investments that Bing, Google, and other search engines are making. People now have the ability to use a smartphone camera to search objects, products, or places offline when performing a local search. Image search technology and advanced smartphone camera have made a significant impact on local search strategies. Google's recent "search by photos" is only one of several examples. Another is how Google Maps uses matching learning to provide walking directions.
Use good data to find how consumers are using photo search in everyday life. Shorten time to interactive. Align this with what you want people to do on your site. Images should support how consumers engage you and how it fits your end business goals. They are not just placeholders to dazzle viewers with visual appeal, as important as that is. As well as "speaking" of your brand, images should also use strategic use of color that compels the right action.
Additional Visual Search Optimization Tips
Add author trust indicators.
Let readers know who authored your content pieces. Add an author bio with an author image. People recognize and follow trusted topic experts.
Add share links. Make it easy for readers to push out your images and content on social media.
Get on a better host. For example, Bluehost, iPage, and Hostgator have a great affiliate program but have a detrimental factor when it comes to when the first information displays on a page. This is a server issue. Rather, use Big Scoops, Linode servers on Cloudways, Kinsta, Agathon Hosting, or Google Compute Engine.
Use correct attachment files settings. Attachment files are WordPress low content pages that just contain the image or media piece. You do not want them indexed by Google or Bing or even generated. It is the epitome of low-value, thin, or duplicate content. One tool is Yoast SEO Search Index Purge plugin to purge attachment files out of your index. Only then should you use 301 redirects and submit and a new sitemap. You have to manually use this plugin; do not expect WordPress to automate your image optimization steps. After using the plugin, remove it.
Reduce the number of browser requests. Combine images where possible so that there are fewer requests that browsers have to open and display before rendering a page. It is nice to have easy-to-follow images on your How-To pages, but you have much more to do. Number your process shots for each image that is needed to support your topic.
Defer Ad loading. There are many plugins that aid here (but each adds load time). For example, Ad Thrive doesn't have the best settings by default. You don't want ad images and content to be reducing your own changes to e competitive for your content writing on each page.
Visual Search Tool – Use TinEye****. It is a simple and straightforward visual search tool. All you have to do in upload from your files, paste or enter an image URL. Then the tool searches through billions of photos to match the best results. You can also use to discovery anywhere your image may be posted online. If someone has not given your proper credit for you, you can now ask. Sometimes, it is a simple way to gain a backlink to the page that image resides on.
Another tool is the Intersection Observer API. It provides a way for developers to know when a web page's performance hits hiccups or visual bandwidth issue.
What Visual Search Means to your Business
Your product pages must have a fast page load time to compete online in 'commerce to you'.
Visual search engines have already grown in popularity with consumers, especially since mobile has been initiating innovations that make mobile shopping increasingly interactive. Whether a consumer prefers the Bing quality visual search engine or Google's for their browser, they love expanding their search to find quick visuals of their purchase options.
It is more than about getting image results, users find extra information in tandem with image results, especially if the images are linked to your blogs, news sites, or your AMP product landing pages. Google and Bing are highly recognized for seeking to provide quality images and quality information in high-value content. If you need a go-to visual search engine, we find that Google Image Search is hard to beat.
According to Analyst Jason Daigler*, "The future of digital commerce is 'commerce to you'. In preparation for it, application leaders must balance increased customer expectations with new channels and new technologies, which will help them focus on customer outcomes and deliver superior customer experiences."
We have yet to learn what criteria exist for showing Google showing specific images. The listings in the local pack and search by photos box sometimes directly corresponded and sometimes did not. One thing that we do know is that Google Lens is taking search into a new area of visual media saturation. Typically, once they have extensively tested, they will integrate and roll into new core what works best for users. We anticipate that it will present new opportunities to gain double exposure: in the local pack and the search by photos box.
RECAP: 4 Primary Steps to Align your Site for Visual Search
Provide great photos for every major product and menu item.
Add them to your Google My Business Listing.
Be willing to pay for more professional and unique images.
Add JSON image markup to all products, audit and resolve schema errors quickly.
The role of a search engine remains consistent – to understand business entities, what they do and what they sell, in order to match users' search queries to immediate and trusted sources. Some speculate that Visual Search will either parallel or surpass Voice Search – the modern shopper is empowered more to make their own choices.
"Once again Google is ringing the image bell and local merchants need to pay attention. Your listing will win or lose its conversion battle based on the images that Google chooses to show. It means that not only will you need multiple images for every important product category that you sell and want to show for, but it means that the images need to be done so well that they stand out from the competitors in the battle for clicks. It appears only in mobile results right now and is distinct from "interesting finds" and "discover more places," which are also photo-centric boxes in SERPs." – Mike Blumenthal***
If you have questions about visual search or image optimization in general, call Jeannie Hill and let's talk.
In the Longer-term, Search will be More Visual
That doesn't mean that it will take away from content writing; it means that consumers are likely to find it often after clicking on a "More Photos" like or image featured snippet. Businesses should start now to consider emerging technologies—, like: wearables, voice, and augmented reality surfacing your images. You can only layer them onto your current image optimization efforts to contribute to business growth AFTER you have the basics of compression, metadata, size, uniqueness, and placement down.
Your content marketing strategy should center around creating a user experience that shows relevancy to the searcher's query and answers it thoroughly. Anyone who is reading your articles will want images to illustrate those articles.
"Visual search is everything visual. Cloud Vision works on both, and Google can make image recognition on both. Object indexing is the 'keyword'. I think, in many cases, this is what the future of image search is about." – Gianluca Fiorelli
"As processing becomes more powerful, we may see more entity and concept recognition in visual experiences in stories and videos. Currently, the way this visual information gets provided is primarily through images. Google Images has been a fundamental part of Google Search since Jennifer Lopez's dress in 2001. However, over the last few years, images have crept into first page SERP; in featured snippets, image thumbnails, carousels, and more." – Eric Enge
Conclusion
Hill Web Marketing can help make auditing your image data easier; we'll find ways that you can reduce your site's processing load. Gain the benefits of a deep technical SEO audit. We will audit and look at the placeholder image on each page. Your site may perform better with smaller file sizes where appropriate. I cannot count the many times Hill Web Marketing's services are enlisted and we find that no one uploaded images pre-optimized.
How people use search as well as image search technology is rapidly changing. Digital marketing leads need to start preparing their teams for consumers' preferences use voice and virtual assistants as well as smartphone cameras like they formerly used text in the traditional search box. Consumers access information and express buying intent often by starting their purchase research by initiating a visual search.
* https://www.scribd.com/document/422958987/Digital-Commerce-Technologies
** https://moz.com/blog/state-of-searcher-behavior-revealed + https://www.gartner.com/smarterwithgartner/gartner-top-strategic-predictions-for-2018-and-beyond/
*** http://blumenthals.com/blog/2019/10/10/new-google-local-discovery-search-by-photos/
**** https://tineye.com/
***** https://developers.google.com/search/docs/guides/javascript-seo-basics#web-components