How to keep Healthcare Google Business Listings Updated
Updated 8.13.2021
At a time when the volume of medical searches is exploding, people need to quickly find the right medical providers in their geo-locations.
Your Google Business Listing updates help you stay in customers' minds and are a key part of a strong local search marketing strategy. Managing a healthcare facility's Google Business profile requires more marketing tasks and search strategies than most owners are aware of. It matters how well your Google My Business (GMB) Listing has been set up. But the set-up is only the beginning; it should be part of daily business interactions and marketing strategies.
Your Google My Business listing is your new home page.
It is that important for every business. However, few business niches are as personal and vital to our well-being as healthcare. Individuals are seldom more in need of immediate and accurate business details as the day that a medical care need comes up. First, build trust as a medical service provider within your local community. This helps prepare local residents for medical visits before they need them. Your healthcare marketing strategy must be effective to reach new patients.
What happens if I lapse on my Google Business Listing engagement?
SEO is a long-term, home-run game. A strong and effective Google Business Listing requires daily if not weekly management at a minimum. Your business may be temporarily closed for safety reasons due to the coronavirus or for another reason. But the good thing is that being active and present online is easily done whether your doors are open or not. In fact, it may be an ideal time as you are freed up to make videos, write, prepare owned-media assets, and plan.
You've invested in increasing online leads and building data quality by a consistent online brand presence. A COVID-19 crisis or another event may interrupt daily business routines. Other businesses may panic or underestimate the impact of an emotional decision to become more conservative on their 3 to 6-month marketing spend.
As their daily engagement slips, their publishing tempo diminishes, and likely their review volume slides downward by being less present. If you remain steady and invested while others respond as if patients have fewer needs during a crisis, they will lose traction across channels to you. It's your opportunity to push ahead and come out on top.
Rather than take a "wait and see" approach, be present and prepare for market rebounds. If your business sells retail goods or healthcare services, you most likely quality for leveraging Product Collections on Google My Business.
Are temporary changes to my Google Business Listing permitted?
Yes. You may want to temporarily expand your service coverage to include telemedicine services. In some situations, common office visits, mental health counseling, pain or stress management, and preventive health screenings work remotely. It is sometimes best to visit with a doctor from a patient's home. During times of personal health vulnerabilities or concerns about putting others at risk, one-on-one or home visits reduce taking unnecessary chances.
You may be THE best brain surgeon in the Twin Cities and have an amazing website, but that matters little if your customers can't find you online and get help. Nor do you want them to find outdated business information.
Can Google add "Temporarily Closed" to healthcare business listings without owner engagement?
Local Google search results in health searches using Google Duplex
Yes. Reports that the "temporarily closed" label is not always initiated by the business owner are occurring. Using Duplex Artificial Intelligence (AI) technology, Google knows if businesses have not taken the imitative themselves to indicate a temporary closure. In this case, the search giant may. If you don't have time or are not current on GMB management requirements to keep an eye on your listings, hiring someone is best. You can point people to a virtual tour of your office to make introductions while closed. Your copy should clearly voice that the health and safety of your patients, partners, and employees is a top priority.
CAUTION: Too frequent or too many edits may trigger a suspension in some cases. It's better to know how to prioritize key updates. Start slow, save, and monitor between each update. Avoid implementing too many edits simultaneously. It is best to have changes made by a trained Google My Business professional or a Google Local Guide.
Remember that anyone can suggest edits to your listing and notify Google if they believe that your GMB details are incorrect. Google will review them and then may either ignore the user suggestion or make updates. Google may push Temporarily Closed to businesses that are ordered closed by local and state governments.
Why is a Healthcare facility's Google Business Profile so important?
Medical practices that claim and optimize their Business Profile on Google are deemed more credible and accessible.
Consider your Google My Business profile a durable intellectual property asset that provides your business with a significant competitive advantage in an increasingly intelligent world. Google Search is developing GMB more and more. It is where you have a good measure of content control. Consider it a broker of consumer relationships and customer experiences.
Patients seek to know the integrity, trust, and quality of clinical care of a medical practice before ever making contact. Your GMB listing is vital to creating a strong online presence. It may be the most important thing you do so that people can find you in online search. Your name, address, phone number, description, and images of your buildings help people use Google Maps to arrive on-site with ease. Images added to Google Visual Search help new patients identify your location when driving there for the first time.
Margi Murphy, reports that David Feinberg, VP of Google Health, announced that "around 7 percent of Google's daily searches were health-related. The March 10, 2019 Dr Google will see you now: Search giant wants to cash in on your medical queries article states that "Google's total daily health-related searches amount to 70,000 each minute". A planned and persistent effort on your part will help you win a share of that.
Health organizations are pressed to update key business information to help patients during the COVID-19 pandemic. The tech giant uses deep learning to source your posts, articles and QandA to answer people's questions – if your GMB profile and site are sufficiently prepared.
No-Cost, Highly-Effective Healthcare Digital Marketing Strategies
Not only is owning a Business Profile on Google completely free, it populates key business information on Google Maps and in Google search:
Your registered business name
Your business logo
A concise description that explains your core medical services
Your full business address
Your open hours, including public holiday adjustments
How to contact your clinic or hospital
Google offers your business profile as a high-impact listing for brands looking for local exposure. Google's Local Search results list near-by healthcare organizations to provide personalized options for medical queries. A well-optimized listing will help you gain prominence in appropriate data and increase your chances for inclusion in Google local pack displays.
So, lets dive into how you can maximize how often your healthcare facility's local listing is found.
How your Healthcare Business can Standout in Medical Listings
1. Optimize your digital brand with a complete Business Profile on Google
2. Upload quality photos of your healthcare practice
3. Share a descriptive list of services
4. Prepare concise answers to frequently asked questions
5. Create in-depth educational content
6. Make it easy to "book an appointment"
7. Respond quickly and positively to reviews
8. Reach local audiences through Google Map Ads
1. Optimize your digital brand with a complete Business Profile on Google
Digital marketers can handle listings with nuance and GMB updating in positive ways.
You need consistent Name, Address, and Phone numbers everywhere that your business shows up online and offline. In the Twin Cities alone, there are many healthcare providers with similar names. You can reduce confusion both for people and search engines by using the exact same NAP everywhere that you can control or influence.
Be advised as to Google leveraging Duplex AI technology to request that businesses confirm their updated business hours. This way Google hopes to show people accurate information when people are using its Search and Maps platforms. It states that "research shows that complete profiles are twice as likely to be perceived as credible, so fill in every section and add as much information as possible".
Given the current situation with the Coronavirus (COVID-19), or something similar, give your customers up-to-date details about your business:
Update any changed business hours of operation by adjusting your opening and closing times.
Refresh your business description so that patients feel informed and connected during on-location closures. Let them know you care by adding the extra precautions your business is undertaking.
Double check that your phone number is correct. Forward calls so that customers can connect with you.
More complete and confirmed business data broadens your scope of trust and value. It can be saved and used in Google Dataset Search. The medical condition knowledge graph is evolving over time. It first surfaced in 2015. Today, healthcare niche specialties like a cancer treatment center or an Orofacial Pain Specialist can tremendously gain by owning a Google Knowledge Graph.
Current versions are a huge stride towards making the pure knowledge graphs a foundational piece of "local search". Stay current with your schema implementation as Google updates markup frequently.
2. Upload quality photos and videos of your healthcare practice
Make your Google Business Profiles rich with photos of both your interior and exterior physical locations. Prospective patients are keen to see what your office is like before deciding whether to book an appointment. Upload photos of your doctors, support staff offering services, buildings, and facilities. Include images of examination and treatment rooms, patient reception, and other public-facing spaces. Let them see on-site car or bike parking facilities and that you have thought of people with handicap needs.
Viewing images of your practice may help prospective patients feel more confident about choosing you and what to expect. Use images on your pages that have sufficient resolution and hire someone who uses the correct JSON-LD markup and image sizes. This lets you present your space as professional and welcoming.
If any of your services switch from free to being fee-based, highlight the value of these healthcare services through video content.
Review and keep creative elements — tone, web copy, visuals, keywords, placements — timely, appropriate, and relevant to current patient needs.
3. Share a descriptive list of services and attributes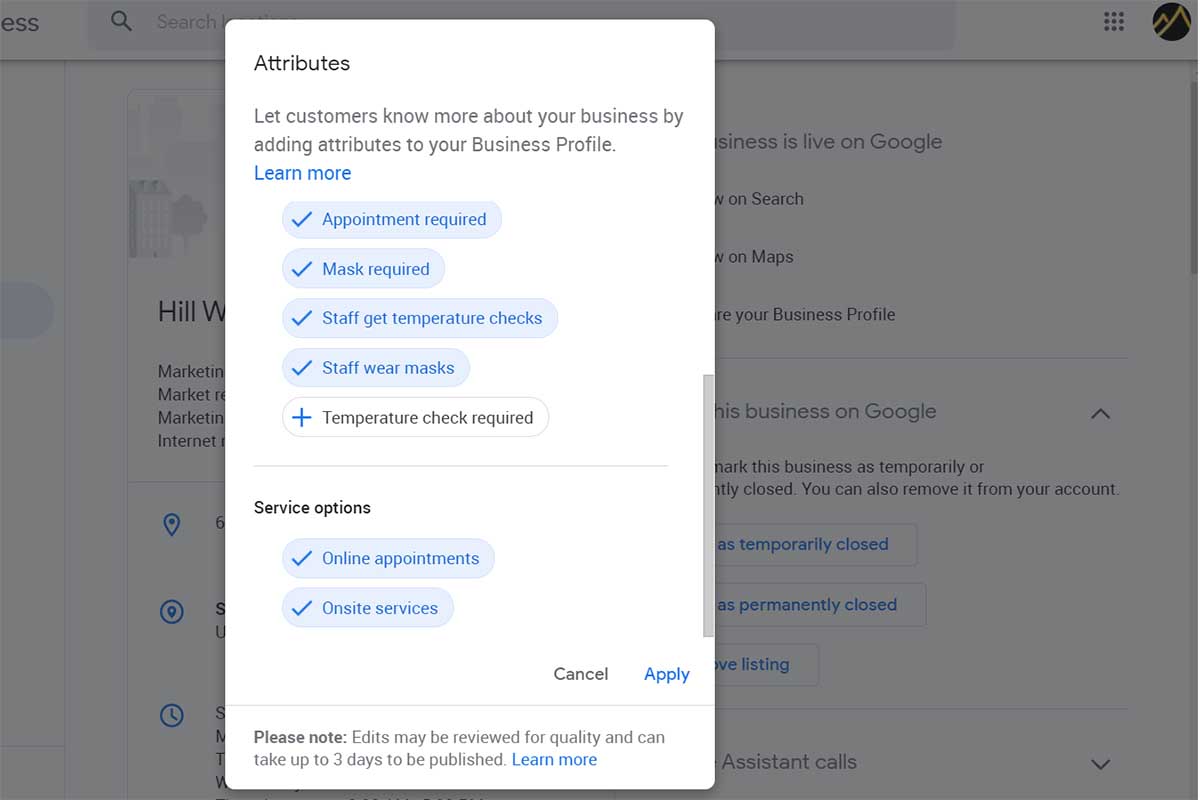 Use the new Google Business Listing attributes that fit your business. You can quickly demonstrate that you seek to ensure the safety of your patients and client relationships. Local SEO is much about a business's local relationships.
What are new Google Business Listing attributes?
Currently there are several that show healthy and safety responsibilities:
Appointment required.
Mask required.
Staff get temperature checks.
Staff wear masks.
Temperature checks required.
Online appointments.
Onsite services.
Prospective patients all-to-often delay a doctor visit until one is necessary. You can stand out among in-the-moment searches when they see that your clinic or hospital offers precisely what they're looking for. Whether that's for a dental cleaning, elective surgery, or an emergency pain management plan.
To win those clicks and calls from individuals looking for what you offer, include a complete list of your services. Which words you choose matters: most prospective patients won't understand medical degree copy. Your list of services should include the search phrases that people searching commonly use for your particular services. A local family dentist that specializes in maxillofacial surgery will do better to list this procedure as a tooth extraction. A Twin Cities podiatrist should use the words "foot doctor".
This not only covers your business services offered or core products for sale, it can include much more.
What supplemental healthcare services can my business provide?
Curbside to-go orders.
Home delivery.
Hosting remote events and training.
Effective virtual group chat conversations.
Virtual one-on-one remote assistance and guidance.
Running an online forum to answer consumer's questions.
Enable service teams to monitor medical equipment remotely.
Analyze healthcare devices via apps and online software (example: devices used for electromyogram analysis and blood pressure monitoring).
Patient follow-up, E-commerce transactions and work-life in general is transitioning increasingly to a digital world. From coaching via mobile connections to meetings, from training to events, increasingly more of our professional interactions are moving from the "real world" to virtual spaces.
Smartphones empower our society to use video capability or any device fitted with video technology. For some medical appointments, a quick check-in over the phone even without video capabilities suffices. Learn how to use remote tools like Skype, Join.me, Zoom, Google Hangouts, Camtasia, or Promo for creating video content.
4. Prepare concise answers to frequently asked questions
Accurate business listing and medical answers protect patients from misinformation and wrong medical assumptions. Promoting helpful online answers is only one part of your responsibility and opportunity to provide value to medical search queries. Your business can stand out with medically proven methods for those seeking medical treatment. When your office is closed on weekends, holidays, or during an emergency, recognize that's when less time is spent commuting, so often people have more time to spend on consuming information.
Your GMB question and answer feature lets you address common questions with immediate responses. As well, Google Posts are ideal for educational content and getting event announcements noticed by the people who need the information most.
Develop a chatbot to help your over-tasked businesses or reduced staff during the COVID-19 crisis to respond more quickly to consumer requests. Your business can take a lead in voice-activated medical query searches and People Also Ask featured snippets.
5. Create in-depth educational content
Everything that you write on your site can be pulled by Google and other search engines. All forms of communications and media should be focused on what your viewers need. The COVID-19 pandemic demonstrates a time of great need for in-depth articles that educate your target audience. At a time when many non-emergency health services may be temporarily closed, people are turning to the web for educational content that fills in temporarily when asking a doctor is not easy to do.
Many patients are home and have time to conduct searches during life disruptions. Extreme fluctuations in customer demand are less stressful if you have already prepared informative and high-performance evergreen content. These web pages can act like added front desk capacity. If your patients can find the resources they need on your website, incoming calls can be more effective with further directives and service options.
To build patient's trust level in your business, add sourced factual content.
If you are a dentist, consider adding content like:
How often do I change my toothbrush during COVID-19?
Does one toothpaste or mouthwash do a better job of killing bacteria in my mouth?
What does our family do for dental needs during the Coronavirus outbreak?
6. Make it easy to "book an appointment" online
You can make it easy for potential and existing customers to schedule appointments right in your Google Knowledge Graph.
How to set up appointment bookings through a provider:
Sign in to your Google My Business account
Select the menu option "click Bookings"
Research and choose the trusted provider of your choice
Check in 3 days to a week to see if your scheduling account is automatically linked
Lastly, ensure that your website link to your appointment page is functioning correctly.
7. Healthcare patient reviews
Healthcare consumer reviews provided voluntarily on Google are valuable information about your business to both you and your new customers seeking a provider like you. Google business reviews display next to your listing in both Maps and Search. Those highly visible gold review stars help your business get recognized in Google-owned search result pages.
For many patients, it's hard to share intimate details about their life and personal health when in a doctor's presence. If they know that others have found you to be understanding and communicative, it drops barriers beforehand. It is easier than ever for someone to leave a review but harder to gain them. We suggest asking in person when possible. Your patient reviews that are within your related content pages can boost your E-A-T as a YMYL site.
Google Maps uses a manual review system to identify and remove fake reviews and misleading information about healthcare locations. The integrity of patient reviews is very important to the technology giant. It provides a clear means for you to be informed of and manage your Google reviews.
8. Reach local audiences through Google Map Ads
When it comes to mobile advertising on Google Maps, strict ad policies must be adhered to. This includes a sensitive events policy. Google "prohibits advertising that may try to capitalize on tragic events such as a natural disaster, conflict, or death. Since January we've blocked hundreds of thousands of ads attempting to capitalize on the coronavirus pandemic, and last week we announced a temporary ban on all ads for medical masks and respirators".
Here again, you'll have Google Image Guidelines to adhere to. If you sell medical products, start by ensuring proper eCommerce technical SEO on page and then add products here. Products in your GMB profile help increase your chances of showing up in Google's Product Carouselsct Carousels.
How do I know if my Multiple Location Google Profile is done right?
Don't wait till you learn that Google has removed your business listing. It can do so much heavy lifting for building revenue streams that it is worth auditing your profile. Google platform rules and options change; this is not meant to run on autopilot. For your healthcare business to be successful, this may be your top SEO priority.
There are many types of professional site audits. This is off-site and requires the skills of professional GMB auditor.
Healthcare sites with multiple locations can be particularly complex, for example, if you have more than one orthopedic surgeon, and each individual also has a personal Google Business Listing. If you are looking for help you to manage this, a med school applicant many not be ideal. Someone schooled in medicine may have no or few Google Search skills to help you draw new potential customer volume. It takes someone who has not only created a Google Account before, but who studies this realm of search continuously and can lead market success.
Since healthcare sites fall in the more volatile YMYL category, you'll need to stay apprised of algorithm updates that may impact your SEO strategies.
How to set-up a multiple location Google Business Profile?
Google permits business owners to claim multi-location business listings. First, a few conditions must first be met. The applying business must:
Have a minimum of 10 locations.
Not be a service business.
Not be an agency managing multiple clients.
A fully, correctly created multiple location GMB profile involves:
Knowing which type of Google Business Listing is best for you.
Verifying your business.
Knowing which primary category is best.
Integrates with a mobile app.
Has time set aside to respond to reviews.
Like all communications, your business profile should reflect a customer-centric approach to building lasting relationships. Consider an outbound link within your site at least once to your GMB to build entity relationships.
On your website, you'll want to integrate the same basic business information into your Local Business schema.
SUMMARY
Take your place as a lead Twin Cities healthcare provider.
Organic search is a zero-sum arena; your wins or setbacks are precisely balanced by the gains or losses of similar businesses in competitive SERPs. It is very much an active, responding, aggressive space – especially in the healthcare niche. Only by actively moving forward are you able to avoid falling behind. Provide needed answers to common healthcare questions.
Key changes and new GMB features occur on a regular basis. Hill Web Marketing can help you prioritize your workflow and manage your Google accounts.