What is Google Now and How to Use Google Now Cards to get in Front of Internet Buyers?
Its latest updates may just transform it into the perfect smartphone and an ideal way to reach digital shoppers."Google Now is one of the more ambitious evolutions of Google's search software. The idea is simple — predict what you'll want or need to know before you know you need or want it, and serve it up in an easy-to-read format. And the execution has been excellent," states the Android community*****.
According to Wikipedia, "Google Now is an intelligent personal assistant developed by Google. Google Now is available within the Google Search mobile application for Android and iOS, as well as the Google Chrome web browser on personal computers. Google Now uses a natural language user interface to answer questions, make recommendations, and perform actions by delegating requests to a set of web services. Along with answering user-initiated queries, Google cards proactively delivers to users more information that it predicts (based on their search habits) they may want."
Google Now is a voice-activated digital assistant which takes on the many years of investment in artificial intelligence to a higher level of understanding Internet users' search queries. It advances Google's voice search and natural language deciphering capabilitiesto a higher tier, while empowering users to complete everyday tasks like researching a product, booking show tickets or a dinner restaurant reservation.
QUESTION: What are Google Now Cards?
ANSWER: Google Now cards intuitively offer a lot of information at a glance. Android users who have a Nexus or Google Play edition device can swipe a finger up from the bottom of any screen on that mobile device. With the Google Now Launcher installed, swipe left when on your phone's Home screen. Google Now Cards updated to being the Google feed experience, and has since been updated to being Google Discover.
It integrated with the Google Assistant to support Google's role as an answer engine.
What's the difference between Google Now, the Google Assistant, and Google Discover?
When Google Now was initially rolled out, it provided users with search results. The more advanced Google Assistant seeks to make those search results more accessible and often in a question answer format. They all are forms of advancing voice-activated Google Search technology. The goal seems to be offering people who use Google Search better information in a more conversational, personalized, and more accessible format. The technology giant behind Google Discover seeks to be your friendly semantic search go-to for answers and solutions.
How do People Use Google Now Cards?
Google instructs us on how to see cards in your Google feed a few different ways******:
iPHONE and iPAD: Choose which apps & websites show cards
You'll automatically see cards from some apps and websites when they're relevant.
To get cards from apps and websites, you need to have Web & App Activity turned on; To control which apps and websites display cards in your feed, follow these steps:
On your iPhone or iPad, open the Google app
At the top left, tap your profile image.
In the Settings menu that appears, tap Feed Apps & Websites.
Choose which apps and websites show cards in your feed. (If you don't see a list of apps and websites, turn on "Apps & Websites" at the top of the screen.)

To turn on cards from a certain app or website: Turn on the switch next to its name.
To turn off cards from a certain app or website: Turn off the switch next to its name.

At the top right, select Done.
ANDROID: Choose which apps & websites show cards
You'll automatically see cards from some apps and websites when they're relevant. Find out which apps and websites offer cards*******.
To show up in Google Discover, both B2C and B2B business types need a specific marketing strategy. To get cards from apps and websites, you need to have Web & App Activity turned on; To control which apps and websites display cards in your feed, follow these steps:
On your Android phone or tablet, open the Google app
At the bottom right, tap Menu Customize Apps & websites.
Choose which apps and websites show cards. (If you don't see a list of apps and websites, tap Receive Now cards from apps and websites? Yes.)
To turn on cards from a certain app or website: Tap Continue receiving Now cards from ____? Yes.
To turn off cards from a certain app or website: Tap Continue receiving Now cards from ____?nbsp;No.
What are Recent Updates to Google Discover?
Google is updating both its Assistant and Discover in preparation for the Pixel Tablet. The change in Google Discover is already rolling out to existing tablets, such as the Samsung's Tab S8 with Google app 14.2.7.26 (current beta). Its user interface display is updating from two columns of articles to three, meaning that your feed now goes edge-to-edge.
Viewers currently see the Google logo and their profile avatar moved to the top corners. The navigation rail in the Google app is cleaned up without the empty space. Another functional update is Google now places all articles in cards with faint outlines; at the same time, cover images get smaller.
What are Google activity cards?
Google announced new activity cards in 2019 that was designed to help people pick up where they left off in their search. Activity cards display at the top of search results for logged-in users when repeating a search on the same a topic. Businesses can also set up automated FAQ messaging within Google Business Profiles. This is also an effective way to show up immediately to mobile users asking common questions that you can answer.
History of Google Now
Google Now was first announced at the annual I/O event in 2012. As with every effective business plan, it intends to meet a real need and do so better than anyone else does. At its introduction Google said it will give Internet users search results before searching for them and will quickly match the search intent.  Currently, in August 2016, this statement has become more of a reality. Having already gained much about every user, it is stunning how accurate Google Now is at offering up search options; for the on-the-go user, it definitely saves time. This update may be a paced rollout. Conversational AI is much about immediacy and relevancy.
As a leader in voice assistants, the search giant is taking recognition for its new Google features and rich cards. It can accurately acknowledge and interpret what a searcher asks it (within reason, of course); and simple web searches are just the beginning. With so many simultaneous advances in earned and paid search, its voice features aren't well recognized yet. This article hopes to shed light on the topic. As with many valuable mobile search options, it takes time to become an expert on Google Now Android assistant.
As of this August, your Google Now feed may be displaying a new card, it's called "Explore Interests". One simple tap on it opens up a menu, which allows users to manually add choice sports, movies, famous individuals, or stocks they follow to their interest feed.
Google is Expanding from a Search Engine to a "Live" Cloud Search Engine
Google In Apps beta for the Google's Android search app, version 6.5, renames some of its primary features. If you check your Settings, Now Cards have been renamed to Feed, and Now on Tap is named "Screen search".
If you find clarifying the various Google products and developments from each other confusing, you are not alone. In simple English, Google is seeking to be your first choice when seeking information through a search, from any device and in every format available including visible knowledge graphs. "It makes sense that Now is turning into the Google feed and the Google screen search, just as the upcoming Google voice assistant will be called the Google assistant," explains The Verge in its September 11, 2016 article, The Google Now name appears to be going away. At the same time, your opportunities to build-out your Google Business Listing are expanding.
What are Some Google Discover Category Interest Options?
• Art and  Design
• Auto and Vehicles
• Beauty
• Dating
• Events
• Food and Drink
• House and Home
• Parenting
The new categories will be available to iOS users and Android device owners on Google Play within 60 days. A comprehensive list of category examples, including the new additions, are available here.
If you're not pleased with your cards in mobile search results, you can always inform Google Now of your interests. For example, you can tell Google Now that you prefer your weather cards displayed in degrees in Celsius versus Fahrenheit, or to stop displaying cards within another subject category. Go ahead and null an entire category of cards that you don't use, for example, cards about recent news stories that you feel read up on.
From what we can see, Google may intend to use its own algorithms to determine an individual's niche interests by analyzing prior searches, which sites you have visited, and your app downloads. It seems like it will use future Google Assistant conversations. You can add popular news to the Google Now feed manually.
This trains Google as to a searcher's preferences and can be used by Deep Learning to meet user intent.
Upcoming UPDATE for Google Now Cards
Expanding from its early days of "personalized cards", the future of this Google feature intends to offer results that are more contextual. Google is experimenting with a new 'Upcoming' tab that will offer additional cards on related happenings nearby. According to Ausdriod***, "Google's latest beta version of its app brings new 'Upcoming' tab that organises urgent and timely information".
Beta users behind Google's progressive with on this feature are testing out a second tab under the Dashboard moniker. For those who have come to love the weather, sports, and news cards, the plan is to continue having them under the first tab with the little newspaper icon.
What we glean so far is that it will read through updates in your Gmail or on your Google calendar to add useful morsels of information to display. The Upcoming tab features cards which offer information like: to-do tasks, scheduled travels, airline flights, dinner reservations, and calendar appointments. Check back for news of its formal release. This can deliver local news of interest to add to how consumers use the Google Maps local pack.
This comes after renaming "Google Now" to "Feed". So expect future evolutions since attempts to also add a new widget that shows notifications more front and center on your home screen are in progress.
Google is one of many amazing web applications that continually evolves and innovates to keep us all hooked by making life simpler. Digital marketers can leverage its new features to help you stand out in Google Mobile Search. If you are now enthused to start using Google Now for notes, reminders, goals, package tracking, nearby attractions, or scheduling events, consider going a step further and have your SmartWatch Blue toothed to your mobile phone. New device users love the convenience of such communications from their wrist; you can notch up your local search optimization strategies for just such individuals.
5 Steps to Select Google Now Category Options for an App or Game
Indicating a new interest category for an app or game can be done in five easy steps:
1. Sign in to the Google Play Developer Console.
2. Indicate the app of your choice.
3. Click Store Listing from the left menu.
4. Find "Categorization," and select an application type and category.
5. Next, return to the top and click Save draft (for new apps) or Submit update (for present apps).
For a complete list of all voice commands visit Greenbot.com. This June 6, 2016, article titled "A list of all the Google Now voice commands" is very thorough. Test it out in combination with your interests selected from the above category options. Your options are likely to grow over time.
10 Top Reasons Why Users Love Google Now
Google Now was created for the on-the-go individual who seeks convenience as much as anything else when shopping or researching before making a decision. Google has taken immense strides to ensure that convenience, which is limited previously by the need to use buttons or navigate to a specific screen, takes advanced form.
1. Google Now works from any screen, even the lock screen. All you have to do is navigate to the primary Google Now page, tap the mobile menu icon in the top left corner, select 'Settings', then 'Voice' and then end with 'OK Google detection'. Switch all the toggles to "on" and enjoy the ability to launch Google Now by saying "OK Google" on any screen, regardless if it is the lock screen or if the screen is set to off while charging. The typical swipes and taps are eliminated.
2. Google Now notes for later recall what you last asked it to do. That means that if you later ask an additional follow-up question,  it already recognizes what you are talking about. For example, if you previously asked it 'How far is it to the Mall of America?' , then you can follow that up with 'how far is it back to my hotel?' or 'what is the best place to park there?' and Google will know you're still talking about the Bloomington MOA, saving you time, effort, and make it more negligible that you are requesting an answer from a robot. Landing pages with schema enhancements perform stronger.
3. Hand-free Use. Most Google Now settings are quite easily accessible with a simple toggle method. Using just a voiced command it is easy to request that Google to do it for you.  Try asking it to turn Wi-Fi or your phone's Bluetooth, open Google Maps or to switch on your flashlight. Too tired to set an alarm? Just ask Google Now to do it as you fall asleep. It can decipher commands beyond the usual speech recognition of words like "set an alarm for…", and knows what is meant by "wake us up at…", or a timer such as "bake for 45 minutes" for example.
This works for accessing your documents and then dictating draft notes that you can use at a later time. No need to lose your great ideas for your next web page just because your hands aren't free. You can also say "Open Instagram" and so it happens!
4. Google Now is great for setting personal reminders. Its flexibility goes beyond what many similar platforms offer location-based familiarity with time-based options, but with Google Now, they can be location-based instead. It is meant for such things as quick reminders such as pay my phone bill when I get home, or to send a thank you note when reaching the office. And you will get a nice reminder when you reach the indicated location. You can also ask it for information about what is in your calendar for a certain day or occasion; this can reduce the embarrassment of forgotten appointments or tasks.
Healthcare sites that want to show up in Top Stories and Google Discovery should carefully consider how to improve their content for E-A-T.
5. You can select the voice of your choice. While you could choose the Spanish or French language, if you speak English, you still have multiple Google Now voice search options to select from. There's the UK English one, an Ireland's English, New Zealand English, and the US plus an everywhere else one. Most individuals select the language most native to their location, but you can change it by navigating to the Google Now settings screen, selecting 'Voice', then 'Languages' and opting for English (UK) if you wish for a fun British English voice.
6. Easy use for language translation. The ability to use a translate card in Google Now on Tap has been around for some time. Chrome on Android has been used widely already for its translation functionality. A decided difference between Google Now on Tap and Chrome is that Android device users can use Now on Tap to translate words within an app, a new ability for Android lovers.
7. Google Now on Tap now offers a Discovery feature. Android users are able to simply tap the new "Discover" button to see a stream of alternate content that is relevant to content already displayed on their screen. For example, tapping the Discover button on an article about the presidential election, we were presented a wide range of content, from news articles about Trump and Hillary Clinton to video collections centered on this hot topic.
8. Use of Search by Image for scanning barcodes / QR codes. Google introduced this as an easy way to scan the barcode of any item for purchase at a storefront. It allows prospective buyers to quickly find and read previous user reviews for the item, which often confirms a pensive buyer to make a purchase decision.
9. Google Now lets you customize how you utilize it.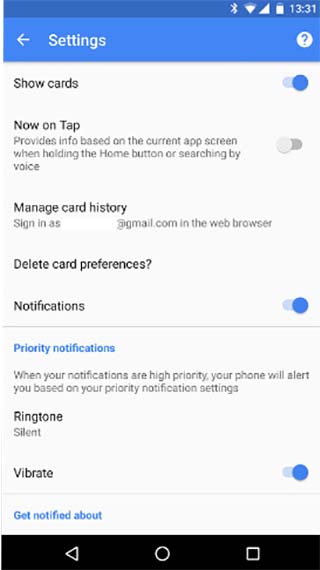 If your daily route frequently includes traffic issues, use these cards for information to pop up when needed. You can select your interest and follow what matters most to you. Go to your Google Now screen, tap the menu and choose the 'Customise' option. Now you can select which if any apps can display cards, the geolocations you are seeking alerts for, current news for your favorite sport or Olympic teams, ominous weather alerts, and much more. Enjoy your favorite tunes. Just say "skip" when the next song in the lineup isn't your favorite.
Up till now, the only way to control suggestions was by eradicating them. If Google presumes incorrectly whether one would like to see a specific website's news on their Now feed, we can customize it by selecting a "Not interested in X" option and eliminate obtaining similar updates ever again. Google Now has become significantly more customizable.
Under your Accounts and privacy settings, you can indicate nicknames, select web history, and decide how the Voice settings should function, including the "Ok Google" signal word detection. Additionally, an option is provided to dictate what Phone search covers. In Google Now cards, it is possible to check your card history, delete your setting preferences, select if you want Google notification alerts, and indicate what topics you want to be notified for. If you select Now on Tap and toggle it to "on", you can hold down the Home button on any screen and Google will search it and hopefully return beneficial related information.
10. Prompt a text message, tweet, email, or phone call. With a quick voice command, you can send text messages and initiate phone calls without picking up your phone – as long as it is nearby. By stating "text *name* and then your *message* the task is taken care of for you. You will be asked to confirm before the action is taken.  For moments when speed is critical, it accomplishes what you previously could only do by hand. Likewise, this works for sending emails and even tweets by saying "post to Twitter *tweet*".
Example Instant Messaging Communications
Show me my recent text messages. (Then follow voice prompts)
Phone[Tom] (also works with relationships: Call [husband])
Call [Heater] using my speakerphone
Text [Reuben] [loved the package that arrived yesterday]
Send an email to [Sally Hutchinson], subject, [marketing plan], message, [I think we are ready to move forward.]
Post to [Twitter]: [I just arrived  safely in Washington DC!]
What is the proper way to say [I hope you're not late]?
[Send a note to self] to [Next Google+ post].
Adhere to Google Guidelines for Google Now Search Results
To be found online, don't try bend the rules to fit your ideal scenario; start with a working knowledge of the Webmaster Guidelines and Google Search Console. When someone asked John Muller on Twitter* to "sir can ask your team to review my website to check if a sneaky mobile redirect is still there?" he was called out for scraping the playstore. Rather than being self-focused, Google Now is all about pleasing the end user.
The end user is showing a preference for smartphones with larger screens for easier navigation and use. Flagship smartphones from leading technology manufacturers have been offering bigger and more powerful screen options in recent years. To get more individuals to use Google Now, the ability to get more done on a mobile device is paramount. Samsung has taken the lead in making large-screen smartphones, followed quickly by Apple. Apple's first smartphones with screens over 5-inches debuted with the iPhone 6 back in 2014.
Android smartphones permit more customization of smartphone home screens than the iOS version with resizable widgets that display real-time information.  This prominent feature on Android devices has tipped purchasing decisions for a bracket of choosy buyers. When prospective buyers have more flexibility, they tend to respond favorably.
How Google Determines When and Which Now Cards are Displayed
When deciding which cards to offer, Google Now utilizes information from your Android device and from your use of additional Google products. Google Now leverages its store of big data from your personal Google Account. Adding local business schema helps to gain more visibility in rich results. This largely determines by the settings you turn on or off. These may include Internet and app activity, device information, and location history. Google says that "Some Now cards are shown based on your home location. If your home location isn't available, Google Now may use your work location or your device's current location."
You may already be alerted to that fact that when logged in, Google scans your Gmail, looking for confirmation communications and other insights that might trigger helpful Google alerts and reminders. This is also used to display "relevant" ads next to your Gmail messages, which is a nice benefit for businesses marketing via Google AdWords services.
Types of Google Cards
What types of Google Cards can people select?
New types of Google cards are emerging, adding to those we have become familiar with. Some in particular can really boost your brand. Each of them contains specific and unique information that will match a related searcher's intent. Currently, cards for everything don't exist, but here is a list.
Popular types of content cards shown in a Google Knowledge Graph Card:
A Person
Weather reports
Sport team scores
Recent Tweets
Movies and show times
Recipes
Images
Business entities
Business store locations
While our list is already fairly extensive, the opportunities available are greater. Because these cards are so visual and quickly served up, they grab the eye over "traditional blue link" listings. If your brand can get listed in any of these cards, you'll drive very targeted traffic back to your site. ECommerce sites that have JSON and Microdata implemented are helping potential buyers find their products easier.
How do I update my interests for Google Discover?
It is easy to update your topic interests using the Google App. Using the App on our mobile device, find More Interests. Now select the Your Interest section and next scroll downward toward the bottom. Finally, with only a tap on the plus sign you can add the desired topic to the Google Discover Feeds.
How do businesses get in a Google Knowledge Card?
1. Provide great content with high contextual relevance. Amazingly in the digital space, this is about relational connections. What we see in the KG's is largely the result of queries that contextually fit. One thing knowledge cards can tell us is what qualifies as good content from Google's take on it. The content that it considers best, often wins the featured card, even though the actual site that it pulls from may rank several positions below the knowledge card! These cards are a top search trend that uses Artificial Intelligence.
2. Use Schema markup to tag your important website entities. We prefer JSON-LD when adding schema markup to make the context of your content easy to understand. Someone who is familiar with testing and coding can add it directly onto your page, if the content it references is visible to the viewer, and it doesn't impact web designers cascading style sheets (CSS) or the HyperText Markup Language (HTML) used. While it can be done this way, there are still good reasons to generate a tag in tag manager and adding the code in this remote manner.
This certainly prompts digital marketers to seek out how to show up in a knowledge card. Hire a professional to conduct a SERP analysis to determine if you business shows up in Google Knowledge Cards.Below are two ways to leverage knowledge graph cards for advertising to mobile users.
Google Cards Provide Personalized Alerts, Reminders, and Recommendations
Arash Ghaemi, Denver SEO Expert, quoted Internet Live Stats on Quora February 2, 2019 stating that "Google now processes over 40,000 search queries every second on average, which translates to over 3.5 billion searches per day and 1.2 trillion searches per year worldwide."  Out of all those searches, you can manage what Google shows you, when and why.
People can select the types of cards they want to see in Google Discover through their Google app or when browsing the web on a mobile device.
"With more than 1 billion active users in 190 countries around the world, Google Play continues to be an important distribution platform for you to build a global audience, To help you get your mobile advertising and apps in front of more users, it's important to make them more quickly and easily discoverable in Google Play. That's why we rolled out major features, such as Search Ads, Indie Corner, store listing experiments, and more, over the past year." – Sarah Karam, Google Play apps business development lead
"Nothing epitomizes this recent shift better than Google Now: Google's smart digital assistant is designed to do a lot of the jobs a real flesh-and-blood assistant does, learning about your habits and preferences and tailoring your mobile experience accordingly." – Techradar
"If you're rocking an Android handset then you're probably familiar with Google Now, the tech giant's digital voice assistant which is there to fulfill your every request 24/7, but chances are, you're not using it to its full potential. Google's been a bit rubbish when it comes to actually showing off what Now can do, which is a shame, because it's rather brilliant, and very powerful." – stufftv.com
Interesting Statistics Supporting Use of Google Now (Discover)
* According to analytics and app marketing firm Localytics, Android users spend 29% more time in an app on their devices than iPhone owners do. You can use deep learning to better match mobile users' search intent. (http://info.localytics.com/blog/5-inch-devices-have-23-more-app-engagement)
* People launch apps 21% more on large devices and smartphones with 5-inch or greater screens have a 3.53% longer average app session length than smaller phones***.
* Google now processes over 40,000 search queries every second on average, which translates to over 3.5 billion searches per day and 1.2 trillion searches per year worldwide. (http://www.internetlivestats.com/google-search-statistics/)
* Smartphone penetration has reached 86 percent of U.S. broadband households and 48 percent of smartphone owners between the ages of 18 and 24 currently use voice recognition software. (http://www.fiercewireless.com/developer/siri-leads-google-now-usage-study-shows)
* As of June 2015, Google's share of the U.S. organic mobile search market is 86%****
Use Google Now Cards to find the healthcare information you need now. Or the recipe you need before you reach home, determine the number of calories in a dish before ordering it at a restaurant, or to learn how many pages a book has before ordering it. If it doesn't work, be patient. Mobile Syrup** comments that "Unfortunately for those interested in the feature, a Google representative told TechCrunch that Explore Interests is currently an experiment the company is testing, so rollout may not take place for a while, if ever — though today's internet buzz will likely confirm to the company just how much interest there is in such an option".
With so much transition in Google Search, every answer seems to generate more questions.
Is Google Headed toward Providing more Queryless Search Experiences?
Yes. Google's intent all along is to offer applicable and trusted content before a person even enters a search. It also intends to answer more search queries right in Google's immediate search result pages. In a predictive way, Google attempted and continues this endeavor, to uncover useful information to satisfy users. After all, its true consumer is the searcher. Google Discover also takes Google's vision for search as a whole another step further.
They want to support a visual, queryless search experience that takes users on a journey right in their own sphere. Rather than waiting for users to search questions that they may ask, it attempts to catalog content in advance with the more related search intent ahead of time. This is your opportunity to be visible in Google Rich Cards. It also highlights thumbnail pictures to attract users to an article or blog post, adding more and more rich results.
This rebranding to Google Discover remains true to the enterprise's objective, while it extends new features, advanced tools, and new exciting opportunities for effective SEO. It will demand that search marketers maintain an agile marketing process.
Has the Google Now launcher been retired?
Yes, it appears like the Google Now Launcher was officially retired during past updates. First discovered by Android Central, Google Now's launcher is currently incompatible with most modern Android smartphones, according to news from the Google Play Store. For persons still using the launcher, it may continue to be rolled in.
Summary
Contact Jeannie Hill at 651-206-2410 to improve your business's visiblity in Google Cards.
Another thing that you can do is use it from your mobile home screen: if Google Now is assigned to a double tap on the home button gesture, then you can just swipe a right gesture on the Smart Launcher 3 Pro. Know the pride of when your website shows Google in apps search that your site has Android apps that shows cards in SERP displays.
Google Now Card  with flight reservation courtesy of Flicker.
* https://twitter.com/JohnMu/status/762956022621278209
** http://mobilesyrup.com/2016/08/09/google-now-tests-a-more-customizable-experience-with-explore-interests-feature/
*** https://arc.applause.com/2016/05/04/android-apps-usage-samsung-iphone/
*** https://ausdroid.net/2016/10/20/googles-latest-beta-version-app-brings-new-upcoming-tab-organises-urgent-timely-information/
**** http://expandedramblings.com/index.php/by-the-numbers-a-gigantic-list-of-google-stats-and-facts/
***** http://www.androidcentral.com/google-now
****** https://support.google.com/websearch/answer/6101479
******* https://www.google.com/landing/now/integrations.html