How can Service-Based Businesses Sell on the SERP?
Service business types tend to be in information-rich categories with many ways to show up on the SERP.
Consumers ask a lot of questions to service-based business types. These are trust-based transactions that are often more complex because they involve multiple decision-makers. If you wonder why people are reluctant to make purchase decisions even when presented with clear solutions, research shows the top reason is they lack confidence in trusting the source. When your business earns the featured snippet (FS), people see your business immediately and know you did something right to be there.
Google Shopping results have favored retail products for some time but now it seems Google is testing showing service-based businesses more often in Google Search featured snippets.
How closely do you look for opportunities to win sales leads from search engine results pages (SERPs)? Do you just assume that is only for eCommerce businesses? Even if you are a service-based business, analyze changing SERPs to discover new ways that SEO should be done. If your articles are findable, add value – your business may show up in AI answer SERPs.
Does Schema Markup Help Increase SERP Service Sales on the SERP?
Yes. Traditional SEOs who still live where page metadata is their primary focus, love how schema markup can bring searchers to your service pages. Google is hugely advancing how retail products are featured on SERPs.
Images can be your best friend when you need to describe what it is you're selling. We are all familiar with how Google's Product Carousels are prominent on both desktop and mobile SERPs if you want to buy a product you put in a shopping cart. In an instant, you can gain multiple visually rich ways to shop for a sweater, running shoes, a snow blower, etc.
But how does someone selling a service gain the same kind of opportunity to sell on the SERP?
If you sell a service, you can gain these featured snippet types: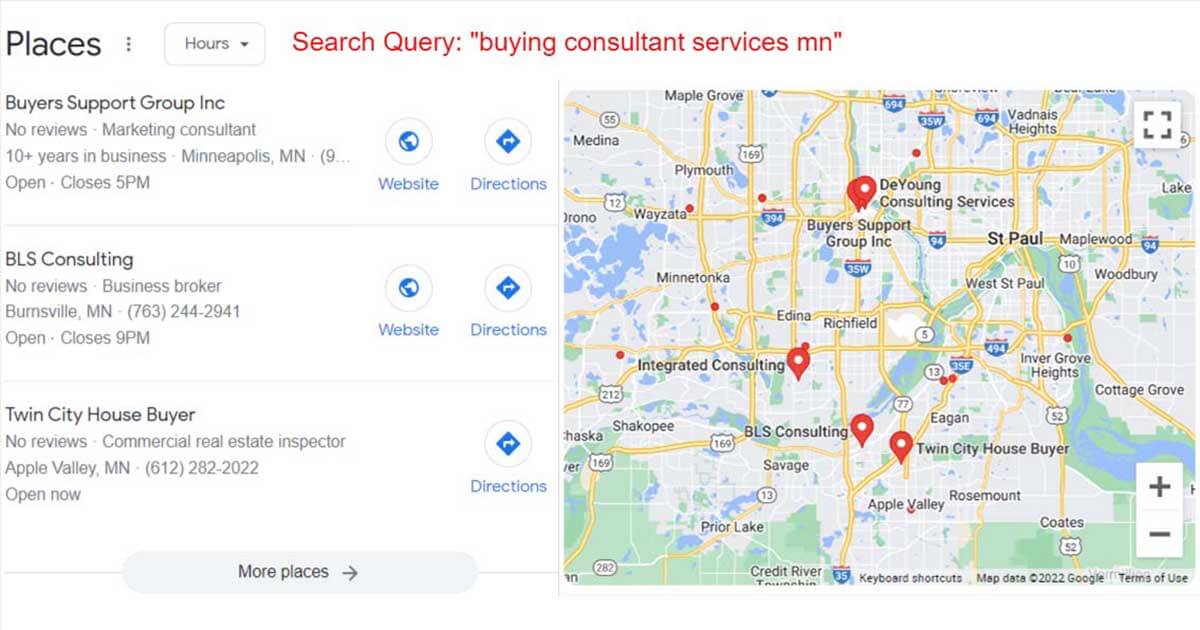 Places
Product listings ads (PLAs).
Knowledge panels.
Images and Image Thumbnails
Star Reviews.
Social media (Example: Twitter Cards).
Related searches.
Series.
Using Series Schema Markup
This type of markup is ideal for service-based companies that how host training events, or TV broadcasts. It is a great way to promote an event series. It also is effective for non-profits that host events and want to increase participation. Schema audits start by understanding your business niche and related opportunities. For example, the CreativeWorkSeriesis dedicated to TV broadcasts. If you run sequential events that build expertise or knowledge, then EventSeries structured data informs search engines of the events you wish to increase attendance for.
You can also nest Offer schema and superEvent as well as subEvent. The more details you provide the more clear search engines are about your content. This increases your likelihood of showing up in service-based business SERP when you do not sell shopping cart items.
Use Schema Markup to Highlight your Professional Services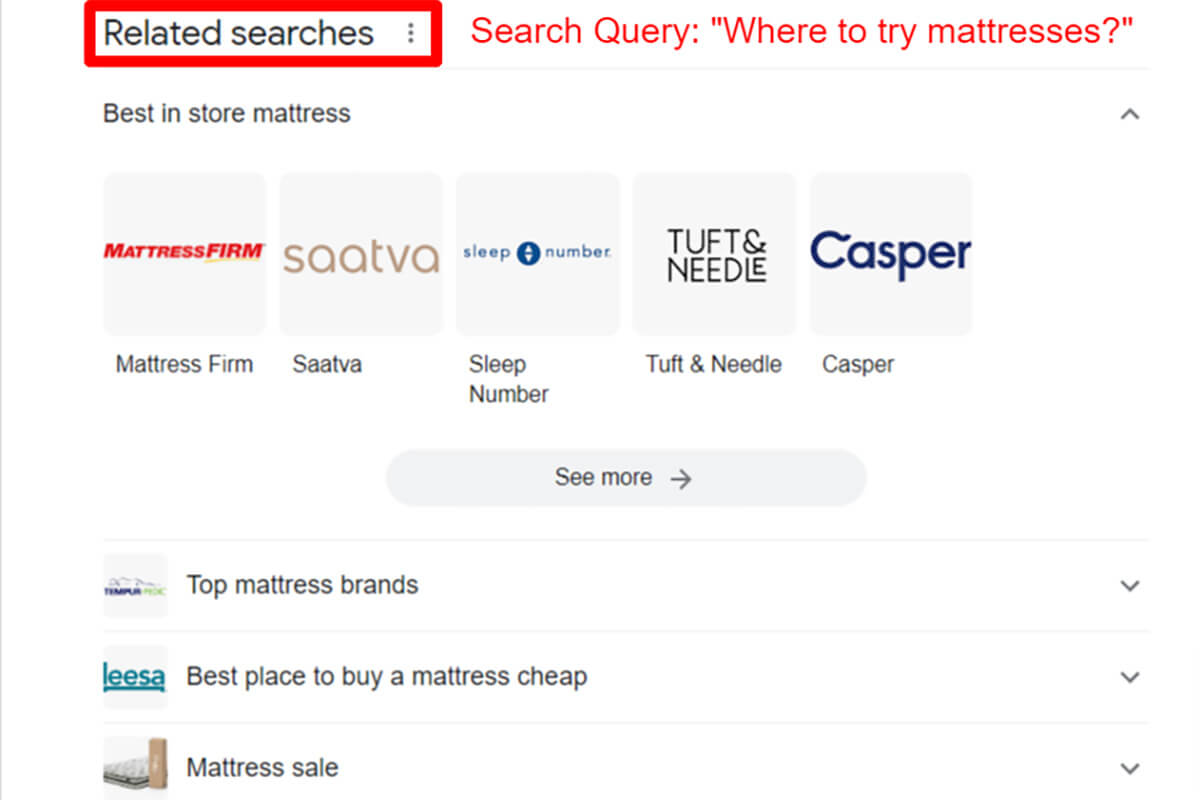 Google's Related Searches SERP feature displays brands for informational queries.
I was asked how a consultancy service providing mattress reviews and in-store opportunities to compare mattress types would work. That is a great question. If you've built your brand SERP, you may show up in "Related Searches". In this example, the real search intent is to find where to go to feel, touch, and lie on mattresses before making a purchase. Sleep is vital to our well-being and an orthopedic mattress, for example, can be an expensive purchase. The person looking for where to "experience" a mattress can be taken from an informational query to a transactional query.
This service-based business will likely earn more SERP visibility by further research on how to build brand reputation.
And unlike human users, search engines like to reading structured code as well as metadata tags. To make your pages findable and qualified for featured snippets, think past unique title tags, meta description text, and compelling h1 headlines to your pages – add structured data markup. using descriptive, targeted keywords.
Optimize Evergreen Content that Introduces and Sells Your Services
To inspire searchers to click your link in the SERPs, think about all of the different contexts related to the question/topic/keyword on a page. Start with your evergreen content that supplies your evergreen content funnel. Today, your sales team may receive a call from SERP data without your site even getting the click-through. This still counts as a conversion – it is just harder to know how to count.
For legal services, consulting services, and other service-type firms, these snippets and boxes provide another way to show up organically on the first page of Google search results. If Google thinks you provide the best, most relevant answer to a specific question, it scrapes your content to display on the page, often along with a thumbnail image and link to page it sites on.
The Discover feed in Google Chrome provides a visually grabbing new card type called "Image Recommendations". It links to Google image search which can show service images, tables, charts, infographics, gifs, and more. Service-type businesses should be using multiple ways to help potential clients understand what service you sell through rich imagery.
Here is an example of star reviews showing up in immediate SERPs. The query is for "bike repair shop" (not buying a bike). Consumers leave reviews that are very powerful for driving businesses to repair services.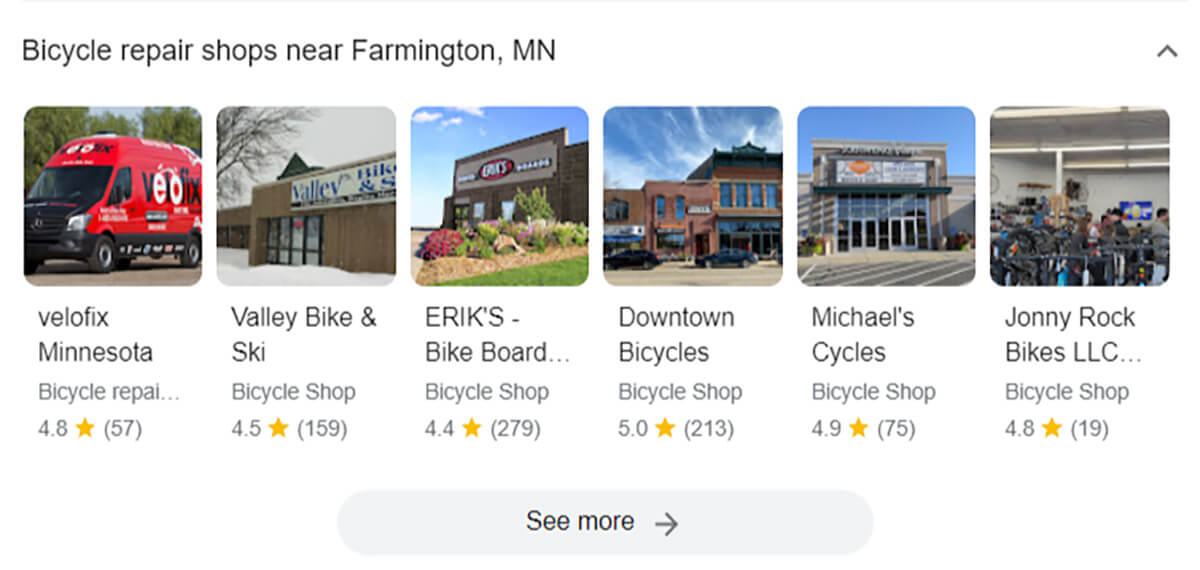 Diversify by Using Universal Search, (Blended Search, Enhanced Search)
With more people searching by images to find answers and service providers, it's important to pay close attention to the images that you use. Follow Google's guidelines; use the correct formats and sizes to gain inclusion on featured snippets. There are many structure data types that can inform search engines of your business and what your images are about, too.
Use FAQ schema markup to show up in People Also Ask Boxes, Related Questions, and People Also Search For.
Use Aggregate Review Markup for client reviews.
Use HowTo schema with images for each step. For example, if you provide landscape services, create an article on "How to Create a Fun Pattern when Mowing Your Lawn".
NewsArticle schema markup can help win visibility in Top Stories, Discover, Places,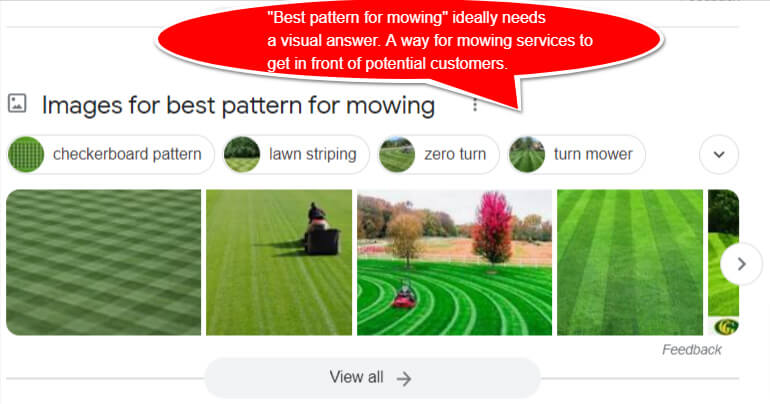 I was asked how a consultancy service works to build a Google Scholar's author panel. That is a great question and may lead to the author becoming better known for his servcies. If you've built your brand SERP, you may show up in an author panel and then lose it. "Related Searches" are also a powerful way to build your presence. Someone who has become regared as a topic expert on a service offers the type of author opinion content that Google Quality Rater Guidelines are looking for.
This service-based business needs to answer the shoppers' questions before they will buy. This can be done by getting featured on the SERPs. Hire an expert schema markup auditor to find the best opportunities.
What is New in Google SERPs for Service-type Businesses?
Tops Stories are expanding and work for service-type businesses. With more people using Google Lens and visual search options, the tech giant is trying out more image-rich SERP displays. 2023 already sees more coupon and promo features as well as "From the web" and "Other sites say".
"Coupons & Promos"
Here in Q4 of 2022, Google introduces new organic search labels For Coupons & Promos. After one of its own surveys, Google reported that this year 43% of purchases plan to start their search by looking for deals and sales more than last year.
For years you've been able to add an "Offer" and provide a coupon directly in your posts make within your Google Business Profile. This may be "20% off" in the month of November for our consulting services. Or "15% Off and new Chiropractic service package". Now people looking for such services can also view a Coupon or Promo label right in Google real estate.
"From the web"
This SERP feature displays a box that includes multiple answers to a query based on what Google deems user want and sources it trusts. Most often it consists of two to five web results; each entity has 20-25 words drawn from each page, like a summary, and an action link. We've observed that when "From the web" answers display, they replace other featured snippet types.
"Other sites say"
This displays more often below a featured snippet(s) but offers searchers additional options via its "Other sites say" section. It typically selects three pages that further answer the question or topic and presents a concise content snippet (sentence fragments) and provides links to the pages to learn more.
The above boxes intend to provide searchers with additional options that Google assess as highly relevant and potentially helpful content.
Make your Service-Based Business Stand out on the SERPs
Now that you understand that visual featured snippets aren't just for retailers, leverage ways to win Google SERP clicks and conversions. Remember, Google doesn't rank websites. Google ranks web pages. Make sure that your local service pages provide real value. In order to rank for the service name, it'll take a dedicated, highly effective landing page that goes in-depth for that service. You don't want one page about all your services; it will lack natural advantage in search because it's too general.
Call Hill Web Marketing at 651-206-2410 to increase your chances to Gain Rich Snippet Search Results