How to Use New Google Search Console Insights
Google is introducing new Search Console Insights via beta; it is live for some website for beta testing.
What are the new Search Console Insights meant for?
They are generated with the intent to increase an understanding of how audiences discover their site's content from a Google Search perspective. It will also provide key data showing what types of content resonates with their site visitors. This will lend additional clues for search engine optimization to help support creating valuable content. We see this especially useful for evergreen content hubs and stronger sales funnels. Google wants to provide a new experience tailored for content creators and publishers.
In June 2020 Google beginning generating emails that offered invites to participate. Today, through Twitter, Google tweeted "we're starting to roll out a new experience to beta testers: Search Console Insights".* This seems to incorporate ideas that the technology giant has gained from feedback it collects and considers the most helpful. The company has and does welcome user feedback.
Where does new Google Search Console Insights gather data from?
This new experience is generated by data combined from both each business's Search Console insights and Google Analytics data.
What is new in Google Search Insights?
What are your best performing pieces of content?
How are your new pieces of content performing?
How do people discover your content across the web?
What are your site's top and trending queries on Google Search?
What other sites and articles link to your site's content and did you get any new links?
What is Covered in the Combined Search Console and Google Analytics Report?
We have been monitoring this and find these combined SEO content reports:
1. The Google Search Console Insights initially displays a business overview of your website with a thumbnail of your site favicon and a report of "all-time page views."
2. It next has a section titled "your new content" – this displays how well your fresh content is performing on Google Search. It informs you as to the date that Google discovered the content, the numbers of views the content had and the length of time that people spend consuming that new content by reading it.
3. Another section highlights page views and average page view duration that is summarized for a date range; it additionally shows it day by day on a graph.
4. The How People Find Your Pages part reveals your top traffic channels, encompassing organic search, social and direct search. You can learn your total views, time on pages and the percentage breakdown per content piece. There is a section for your overall "your most popular content" that also shows the articles, images, total views and dwell time on the page. The Core Web Vitals report highlights where PageSpeed can be improved.
5. Currently it contains a referring link report from other domains. This section also breaks down the top referring links and newest links.
6. It is the first time that a social media report has been introduced within the Google Search Console. It shows page views and page view duration through your social media marketing efforts. Individual social networks, such as Facebook, Twitter, Instagram, Pinterest, and possible more are coming.
How can a Person Gain Search Console Insights?
According to Google, for those who are Search Console Insights beta users, access is obtained three different ways:
1. The link that was provided in the official onboarding email you already received from us.
2. Search for "search console insights" on Google and click the relevant result – it will link to this page.
3. Access it from the "Search Console in Search results" feature. If you search on Google for a query that your beta listed site ranks for, you should then see a Google powered result titled "Search performance for this query" at the top. That result will contain an entry point to Search Console Insights.
How can I Request Becoming a Search Console Insights Beta Tester?
It is not a matter of requesting access or acceptance. It is a closed, internal beta pilot project that is currently only available to a group of users that Google has selected. Those receiving Google's official invite email for a specific site know who they are. "We hope to open it for more users and to allow the beta group users to add more sites to it over time – stay tuned for more news and updates about this in the future." Google states.
Until you have access, e-Commerce sites in particular should use every performance report available to refine and improve your product pages. The key purpose of the more advanced user reports are to make it clearer what your target audiences discovers on your site's and what in particular resonates well with them. It can be used to help shape your buyer personas. Another use for SEOs is better aligning new content to provide value and each interaction along the customer journey.
What does it take when creating content that consumers and Google will favor?
It requires a fixed mindset when creating content for target market. A good click through rate is only gained through quality and unique content that people need. As the sea of online content seems at flood stage, finding and cataloging truly valuable and unique content is a high priority. Recently Google released a list of suggested questions that content creators and publishers should ask before writing new content.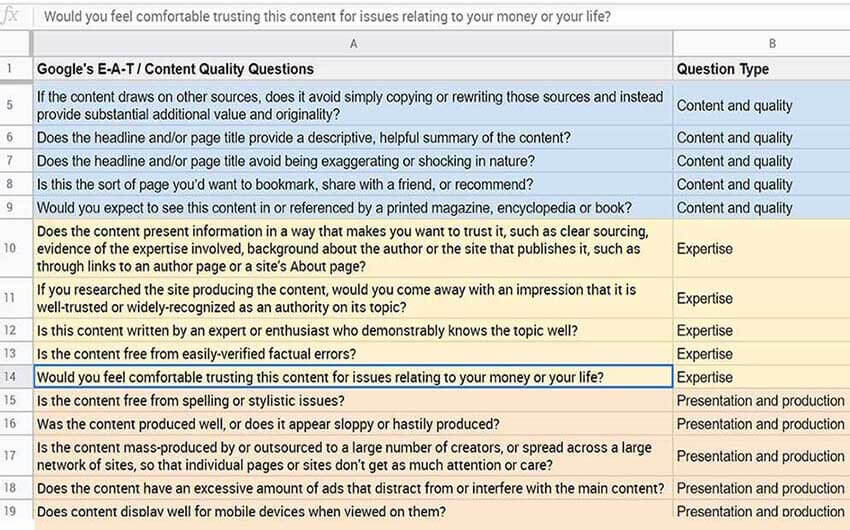 Here's how your content needs to measure up:
1. Content and quality.
2. Expertise.
3. Presentation and production.
The above list is cornerstone to what effective SEO is. Apply these top priorities for improving your evergreen content first.
When are New Search Console Insights coming to more sites?
Google is not specifying a time line, other than it hope to expand to more sites soon. Notably, Search Console Insights beta has arrived shortly after the Core Web Vitals surfaced in Search Console Reports. Both provide deeper data; the former coming from the Chrome User Experience Report, which Google owns. it reflects actual usage data on your website from global users. While it is now broadly recognized that more user experiences are happening in immediate Google search results, here we see Google's strong dedication to make their reports more useful to web masters and search marketers overall.
Making the most of important insights from Google reports aid businesses with a growth mindset.
SUMMARY
For most businesses, the majority of their organic web traffic comes from GoogleBot. That means that the more you know about how your site is performing within Google Search matters a lot. We know that Google has asked that structured data to be engaged fully as new opportunities become available. For sites that are doing so, they can expect to be rewarded with more useful reports.
Call 651-206-2410. We can help your business Glean Key Insights from your SEO Reports.
* https://twitter.com/googlewmc/status/1295331912911859717